"Dear God, Save Me": How Ultrarunning Helps Carol Seppilu Keep Going
She shot herself at age 16. As an adult, she's found ultrarunning as a means to cope with depression and build a supportive community.
Heading out the door? Read this article on the new Outside+ app available now on iOS devices for members! Download the app.
On the starting line of the Leadville Trail 100 on Saturday, a runner whose scars on her face and tracheostomy tube in her windpipe will indicate she has already endured more challenges than any ultramarathon will throw at her.
When Carol Seppilu was just 16 years old, drunk and despondent after multiple friends had died by suicide, she pointed a gun at herself. She pulled the trigger and shot her face. The damage was so severe, doctors thought she'd never speak or see again.
"I remember being on the stretcher and everyone was screaming…and everything started to fade away," says Seppilu, 36, who lives in Nome, Alaska. "Gradually I couldn't see anyone or hear anyone. It was darkness. It was the most terrifying feeling I've ever felt. I begged God, 'Dear God, save me.'"
During her stay in the intensive care unit she almost died, but she recalls a dream in which her great grandfathers assured her that not only would she survive, but she'd go on to accomplish great things.
But first, she had to endure multiple surgeries to reconstruct her face—and learn to breathe with the help of the tracheostomy tube. But those were just physical aspects of her recovery. The psychological healing has been equally challenging. As an adult, Seppilu has coped with depression and at one point struggled with weight gain, too.
With the encouragement of a friend in 2014, Seppilu considered running. It was hard to get out of bed, but she willed herself out one morning, which became a life-changing decision.
"I pushed myself out, and I decided to go for a run," she says. "I could only run a block at a time."
One block at a time evolved into a few miles at a time and at some point Seppilu realized that the farther she ran, the better she felt. A year into it, she ran an eight-mile race and followed it up with a half marathon. By 2017, she discovered ultrarunning and finished the Resurrection Pass 50 Miler, near Anchorage.
It was at the 50 miler that Seppilu made another big decision, to remove the white bandage she had worn to cover the scars on her face. Nervous about showing her wounds, she ultimately discovered that the ultrarunning community would support her.
"All of them said something positive like 'Way to go! Wow! You're doing great! Good job!'" Seppilu recalls. "It made me feel better."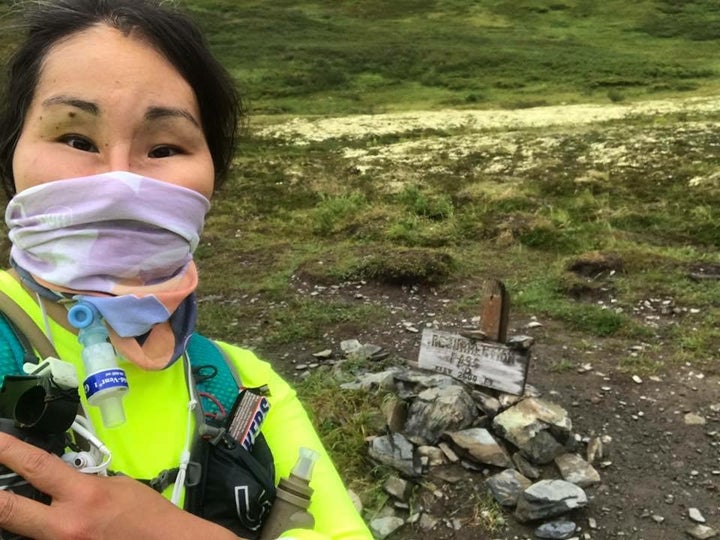 She's six ultramarathons in now and hoping that Leadville is her first 100-mile finish. Seppilu twice attempted the Hitchcock Experience 100 in Iowa, dropping out after 50 miles the first time and 85 miles on her second try.
Her coach, Sean Meissner, says that Seppilu has the chops to run 100 miles on the right day.
"She's inherently tough, which is something I can't train or teach," Meissner says. "You either have it or you don't."
On Saturday, she will go up and over Hope Pass, which peaks at 12,600 feet, in the Colorado Rockies twice to complete the Leadville Trail 100. Seppilu, of course, can put that challenge into perspective.
"Running ultras is kind of like my life," Seppilu says. "They are very difficult, but when you endure the hardships [and] pain and make it through successfully, you feel triumphant. It's a feeling that I can't seem to find anywhere else."
Logging about 70 miles a week, Seppilu diligently plans her workouts around her 12-hour workdays at a local elder care home, where she cooks native meals for residents and organizes cultural activities, like traditional Eskimo dance.
Running friend Kristin Riall describes Seppilu as a "low-key badass" who quietly inspires people in her community.
"She has overcome some really serious challenges, both medically and personally, and yet there she is, ready to run every day," Riall says. "A lot of people in Nome struggle to lead healthy lifestyles and Carol is a beacon of hope to them."
Seppilu has also been a beacon of hope as a suicide prevention advocate in a state that has one of the highest suicide rates in the United States, according to the Centers for Disease Control. She has shared her story throughout the region and served on Alaska's suicide prevention council—substance abuse and the loss of cultural identity contribute to the problem her community, Seppilu says.
"I think the biggest thing we can do as a people is to strengthen our culture," she says.
Seppilu continues to treat her own depression by staying active and maintaining a connection to nature. She enjoys climbing into the mountains to run, even during Alaska's long, cold and dark winters and cherishes the solitude of the mountains.
"Running ultras helps me to be stronger physically, mentally, and emotionally," she says. "I need that especially in my life, because I've been through some pretty tough situations. I shouldn't be here, but I am."