One Orange Is The New Black Star Launched An Inspirational Website
Lorraine Toussaint balances everything but never forgets to give thanks for everything in the process.
Heading out the door? Read this article on the new Outside+ app available now on iOS devices for members! Download the app.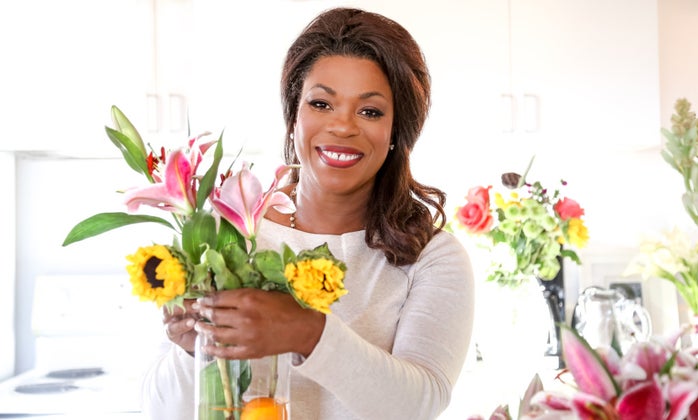 You may know her as villainous Vee on the hit series Orange Is the New Black or Morris Chestnut on Fox's Rosewood, but for actress Lorraine Toussaint, life off the screen is far from the drama.
Lorraine Toussaint began a fast-paced career in the arts after graduating from world-renowned Julliard. From the stage to the screen, Toussaint quickly grabbed attention from fans, directors and producers, leaving her with little time to sleep, "There are only so many hours in a day and I try to get them done," Toussaint explains. "I function okay with a little sleep and I rest when I can during any free time."
And if running from one set to another isn't busy enough, she launched her own website EverydayLovely, where she devotes time to express her daily motto. "Every day isn't perfect, but I use the website to show how I go through things just like everyone else," says Toussaint
An artist, actress, writer, blogger and mom, Toussaint shares how she maintains her healthy lifestyle while working.
How to balance work, family and life
"You know, I'm almost 56 years old, and I just try not to think about it. There are so many things that I want to do, but there are so many hours in a day. So my attitude is, "I best get on with it". I sleep less, but that's okay. Since time is so valuable, I don't waste energy on activities or people that I'm not passionate. So I'm selective as to where I place my attention."
Related: What Made This Orange Is The New Black Star Run A Marathon?
What is Everyday Lovely?
"I have a few philosophies in life, and those are worth sharing, and that's what Everyday Lovely is for. I really do value every day of my life. It's lovely. Not that I haven't suffered from tragedy or loss. I have. You can't live life fully without knowing some of these things. You can't love without loss."
How to live lovely
"The glass is always half full. I always look up and know there is something lovely, kind, beautiful and peaceful about the human experience. That's what Everyday Lovely is all about. This is how I get through every day."
How to make time
"Be a little bit selfish every day. It's important to teach your kids that you deserve private time, personal time. It could be a massage, run or meditation, but set time aside.
Women need to make time for themselves. It might sound selfish, but I give myself my own time. Women are just giving and caretakers and love every one. It's important to recognize when you're running on empty. When I start to get overworked, I go out for a walk or a hike. I get active. I get with nature, which refreshes me. If you're tired, meditate, look at the sky, be present, get out in nature. Don't sit down and watch TV. It's important to go natural.
In order to give to your friends and family, you need to give to yourself. I probably don't do it as much as I need to, but I try to make it a priority."
Related: 3 Runs You Can Do On Busy Days