Mount Marathon: One Of The U.S.'s Most Challenging 5Ks
Held on July 4, the Mount Marathon Race in Seward, Alaska challenges competitors on one of the most difficult 5K courses in the U.S.
Heading out the door? Read this article on the new Outside+ app available now on iOS devices for members! Download the app.
Feels Like The Olympics
The Mount Marathon Race has an uncanny way of evoking reverence and awe in even the grittiest of endurance athletes.
From jaw-dropping hills to treacherous terrain, the legendary mountain race held on the Fourth of July every year in Seward, Alaska is the fiercest of 5-kilometer runs.
This year's women's champion, Olympic cross-country skier Jessica Yeaton, competed for Australia in the 2018 Winter Games in Pyeongchang. She is no stranger to tough races, but was still blown away by her first time racing on Marathon Mountain.
"This race is in a category of its own," says the 26-year-old who lives in Anchorage. "The technical aspect is unmatched."
Facing such a brutal effort, runners rely on the roaring energy from the crowd.  Spectators, especially friends and family of the runners, play a huge role in lifting spirits when Marathon Mountain inevitably takes its toll.
"This is the only race I've ever run that can compare to an Olympic crowd," Yeaton says. "This feels like the Olympics."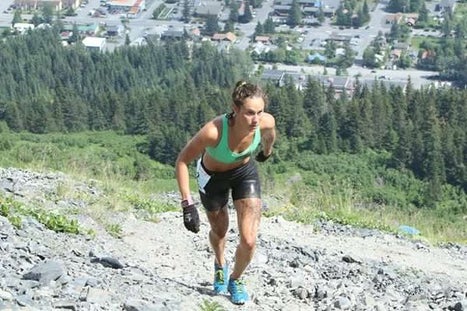 A Race Like No Other 
The Mount Marathon Race, first organized in Seward in 1915 and considered one of the oldest footraces in the United States, is inarguably unique.
Although the roundtrip race distance of Marathon Mountain is only between 3.1 and 3.5 miles, depending on the route, runners must navigate steep slopes that average 34 degrees, slippery streams, jutting tree roots and narrow paths with thick brush. With a vertical gain of 2,675 feet, the climb up makes even the strongest legs scream for mercy.
And the way down is by no measure easier.
On the descent, runners must contend with heart-pounding drop-offs and downhill surfaces that are so slick they need to slide down them on their butts.
Twenty-eight-year-old Denali Foldager-Strabel, this year's runner-up in the women's race, says scrapes all over her body have prevented her from taking a hot shower.
"When you slide on your butt, you will get cuts and raspberries everywhere on your skin, and rug burns you don't know are there until you hit the shower," the veteran Mount Marathon competitor explains.
Instead of a shower after the race, she took a dip in the river.
Many racers wear gloves to protect their hands during the slides and climbs, but event organizers also encourage helmets, goggles and elbow and knee pads.
First-time Mount Marathon runners are required to do the entire course in advance of race day. They are also required to attend a safety discussion, or as one competitor puts it: the "How Not To Die" meeting.
In 2012, someone did die. Michael LeMaitre, a 66-year-old rookie Mount Marathon racer, was last seen about 200 feet from the top of the mountain and has been missing ever since. Despite extensive searches, his body has never been recovered, and the details of his death remain a mystery.
The serious risk of major injury or death is why the event isn't open to just anyone.
The men's and women's fields are limited to 350 people each, and all competitors must have previous mountain race experience.
Runners can earn spots based on past performances in the Mount Marathon and other mountain races, but most people gain entry through the event's lottery.
There is also a junior race that is limited to a total of 300 boys and girls under the age of 18. Although the junior runners only go halfway up the mountain before descending, the race is no less grueling.
"It still feels so long," the girls' winner Kendall Kramer, 16, tells Women's Running. "You think you are almost at the turnaround point and you never are. That's the beauty of the race — you just keep going. There is no easy route."
As if the mountain itself isn't daunting enough, competitors also don't know what kind of weather they will face on race day.
This year, warm and sunny weather posed another challenge, with many runners drenching themselves in water before the start.
"Fortunately, our runners didn't suffer from heat-related illnesses," says Jen Leahy, spokeswoman for the Seward Chamber of Commerce, the race's organizer. "We arranged for extra water and ice on and near the mountain as a precautionary measure. And many of our spectators worked as trail angels, hauling water, sports drinks, beer and ice up the mountain to share with runners."
Foldager-Strabel says the heat hit her hard on the climb up, and she knew she had to soar on the downhill, where racers are especially vulnerable to falls and flops.
"I guess I'm known as someone who doesn't mind falling," says Foldager-Strabel, whose parents have completed the race so many times they are local icons. "I was like, 'Okay, if you fall you have to pop back up."
Her fearlessness paid off.  The Seward native set a new downhill record, running a blazing 11:27 as she came off the mountain to snag second place.
"After you finish, you feel like Wonder Woman," she says.
'I Did It, And That's What Matters'
"Wonder Woman" status isn't reserved for only the elite runners. Just completing the race, without injury, is an enormous feat for most Mount Marathon runners.
Genia Van Wormer, a 58-year-old from Paducah, Kentucky, conquered the mountain every year from 1997 to 2007 before taking a hiatus from the race. This year, she returned to push her limits once again.
It was her hardest Mount Marathon. Van Wormer struggled with tight quads throughout the race, but one painful step at a time she made it to the top and back down.
"Once I hit the bottom of the mountain, the spectators give you all the strength you need to get this race in the books," she says. "The last thirty yards my five-year-old grandson took my hand and finished with me. Thrilling."
She finished in 2:22 and took 259th place out of 264 women, capping a long journey that started well before race day.
"My first goal was to train and reach the start line uninjured. Achieved," she says. "My second was to set a great example to my children and grandchildren and finish the race strong. Achieved."
Crossing the finish line of the Mount Marathon was also a huge victory for 51-year-old Jody Robershaw.
The former Anchorage resident who now lives in San Diego, California got into endurance and adventure races later in life.
"As I approached 50, I wanted to come home and take on this beautiful mountain in Seward," she recalls. "It's just so damn Alaskan, and it also represented who I'd become."
After unsuccessfully trying to get into the Mount Marathon several times through the lottery, Robershaw finally won bib numbers last year and this year.
In her most recent Mount Marathon run, she focused on soaking in the exceptional experience.
"It wasn't about specific race time or placing goals," she says. "It was about not letting fear keep me from doing something truly epic and crazy fun."
Robershaw finished in 219th place, but "who cares?" she says. "The crowd sure didn't nor my friends and family.  To them, I did it, and that's what matters."
Related:
What Losing My Way On An Unfamiliar Trail Taught Me
The Ambitious Runner's Call To Adventure Racing