Meet Yuki Chorney, the Masters Athlete Who Takes Race Day Dressing to the Next Level
Each year, the 50-year-old runner designs and creates unique outfits for dozens of races.
Heading out the door? Read this article on the new Outside+ app available now on iOS devices for members! Download the app.
For Yuki Chorney, race day begins months in advance. Sure, that includes the training plans for local 5Ks to her 20th Boston Marathon this April. Additionally, it includes preparations for the ultimate race threads.
Not for every race, but for the vast majority, Chorney, 50, of Mont Vernon, New Hampshire, creates a unique race outfit tailored to specific themes. These aren't just costumes purchased online. They are pieced and stitched together, each more elaborate than the last.
Glitter, rhinestones, veils, pageant dresses, and even a corset have helped her stand out in the crowd. It's something Chorney has built up over the past decade. What started as a way to liven up her own running goals has become something her fellow racers look forward to and cheers up strangers during hard parts of races.
She also hopes it inspires others to express themselves while on the run.
"You gotta do it for fun, and it is super fun," she told Women's Running. "You just gotta make it your own. You need to keep it fresh and a way to keep it going. I do it because I love meeting new people. You'll be amazed at what you can make. Trust me."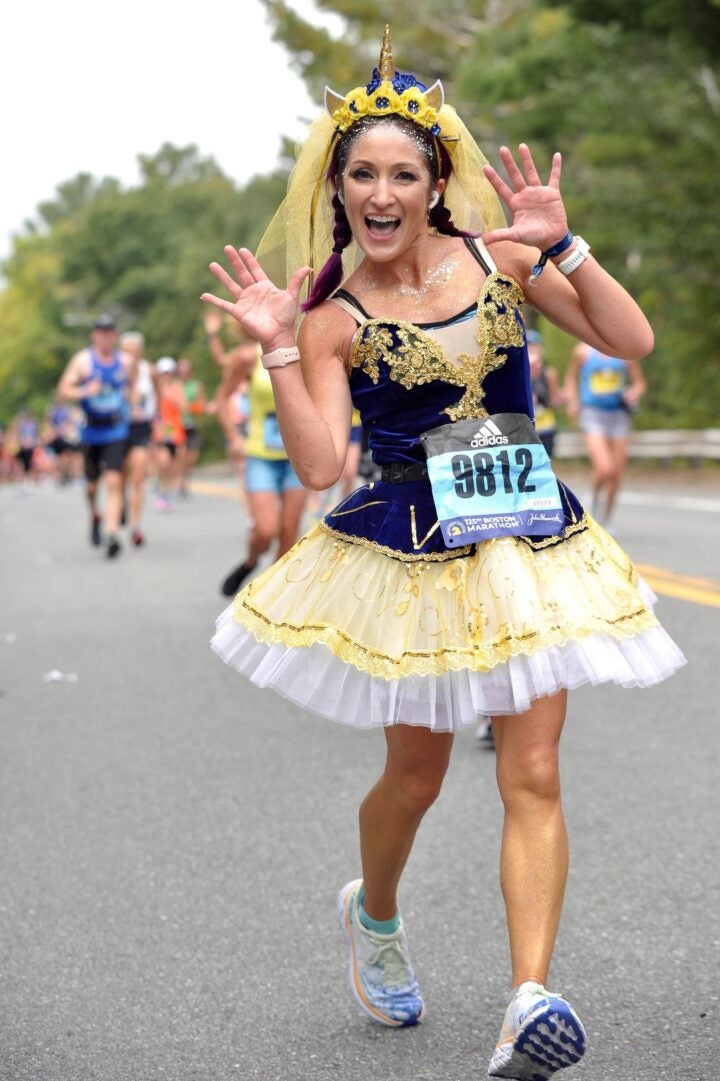 RELATED: Races That Are One Big Costume Party
Make The Run Fun
Chorney has been a runner for 27 years since her parents convinced her to join their running club. Unexpectedly, she enjoyed it and the challenge.
She started with goals of going faster. While occasional holiday-themed runs that she dressed up for with her parents were trickled in, she focused on times. That worked for over a decade until the early 2010s. She was still setting PRs, but she found them unsatisfying.
"I just felt like I didn't have a purpose," she said. "Like I wanted to do something more in running. Then some friends said I should be a coach with Girls on the Run."
The nationwide nonprofit has local groups all over the country that combine an experience-based curriculum built to empower young girls through movement and build confidence and decision making skills. 
For Chorney, it was just what she needed. Not only did she love her new connection to running and her team, she cherished the atmosphere at group events.
RELATED: Molly Seidel Proves Performance and Fun Can Coincide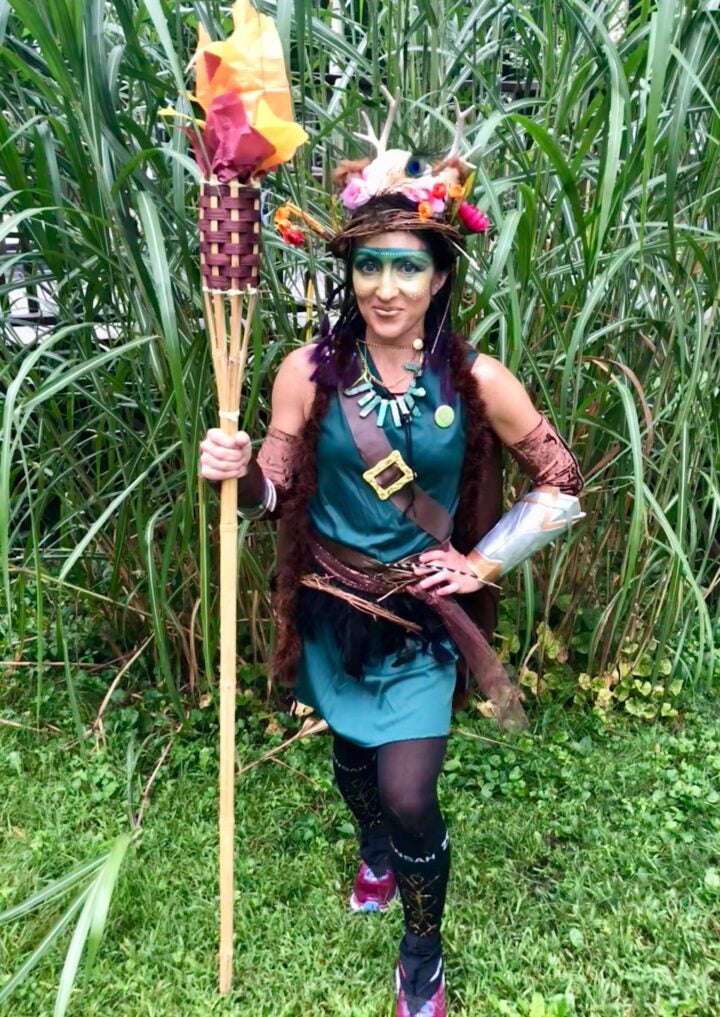 "I went to that first Girls on the Run 5K and they had tattoo stations, crazy hair stations, face painting, and bubbles," Chorney said. "I'd never been to an event like that. It had a festival feel to it. It was the most fun I had ever had running."
Using that energy, she brainstormed ideas. It started small the first year with decorated bandanas, but it quickly outgrew that.
All-out outfits became a season project. Makeup kits were created. Themes were developed. Everything from warrior princesses to rainbow unicorns lined up at the end of each season, each decked out in the coolest costumes.
"We'd get there early as a team and do the makeup together and get ready," Chorney said. "And the girls had so much fun during race prep and the race. We would just have fun, and we'd be feeling good about ourselves and confident. I remember thinking, Wow! This is running."
After six years, Chorney made the decision to stop coaching. She still participates at Girls on the Run races though. You may see her and her unicorn sweeper team each year.
But even prior to her departure, a question lingered in her mind: "Why can't I do this at regular events, too?"
RELATED: Keira D'Amato Recruits Some Impressive Friends to Keep the Fun in Running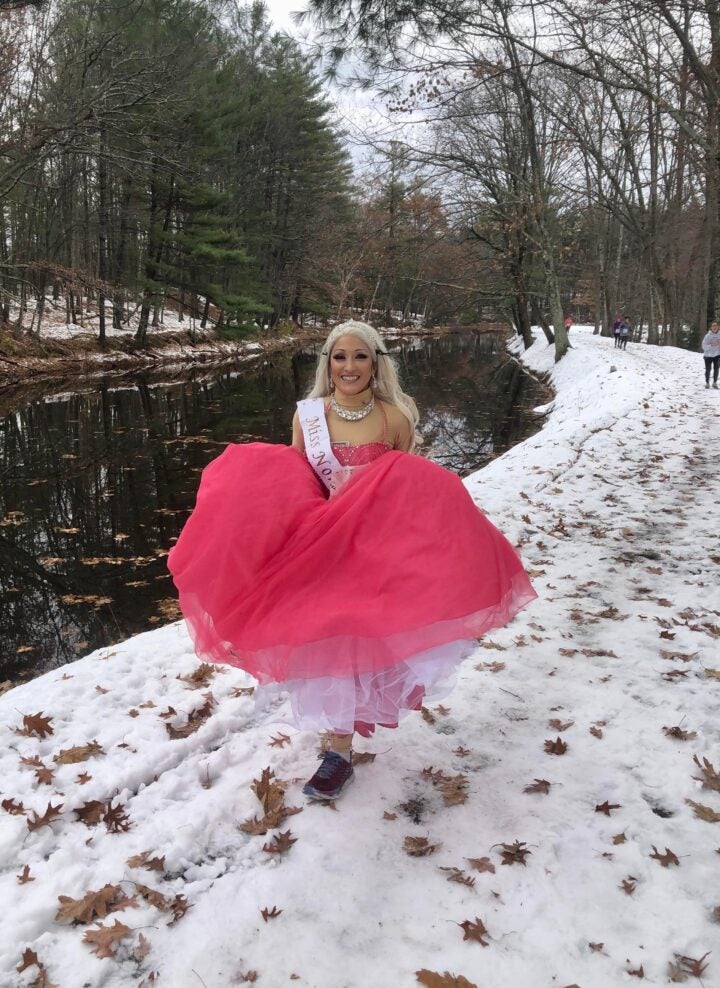 Why Dress Up?
For the 2017 Boston Marathon, Chorney had qualified again for her 12th in a row and 16th overall. Happy to run her favorite event again, she wanted to bring that same spirit she found with Girls on the Run.
Throwing some sparkles in her hair and matching glitter outfit, she completed the infamous 26.2 with a newfound appreciation. 
"I just built on it from there," she said. "I'd do group costumes and people would challenge me. That kept me going. It was so cool to see what else I could create."
The process for piecing together outfits varies. Starting with her initial idea, she pieces it together from head to toe. Well, she picks out the pieces usually at craft stores, yard sales and consignment shops. Her dad is her seamster.
"I cannot sew for the life of me," Chorney said. "I do like to make my own headpieces and I do a lot of things with a glue gun and also do my rhinestones. For my NYC Marathon outfit last year, it took me so many hours and over two months because I did each rhinestone. It's all worth it."
The result of all of her work are hundreds of outfits, individually created for each event. In 2021, she wore a handmade outfit for 25 of the 40 races she did. This varied from 5Ks with her Millenium Running group in New Hampshire to marathons and ultramarathons.
RELATED: How Jeannie Rice Has Kept Running Fresh and Fun Through the Decades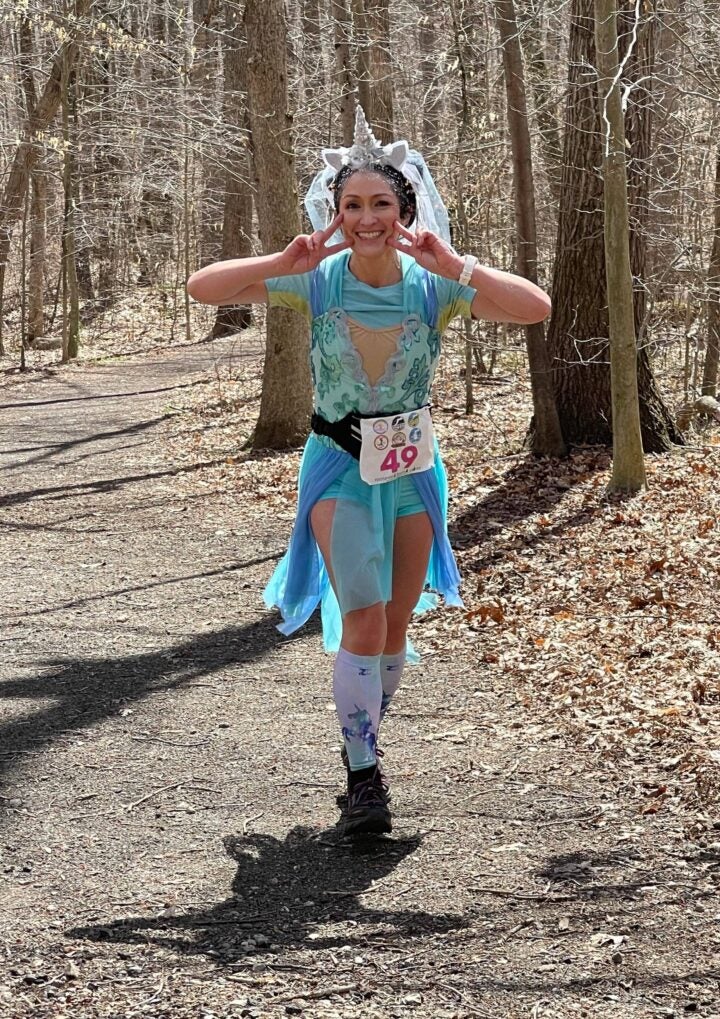 Of those, she has her favorites. That list boasts a sugar skull outfit, a Day of the Dead costume, a full-length, pink pageant gown, and four princesses for each race of Disney's Dopey Challenge. The toughest have been outfit changes she's done during ultras and the fall fairy costume that included a corset ("that one was difficult to breathe in").
She also admits it's a labor of love. It costs money. She watches countless YouTube tutorials for hair and makeup ideas. It even can take an hour to do her makeup on race morning using waterproof products.
"I used to judge people for wearing makeup for races," she said. "Now, I can't go out there without it. An outfit isn't complete without the face or the wig. For me, it has to look complete."
It's all worth it because it brings people smiles and is "the best conversation starter."
"It's just fun, I don't know what else to say," Chorney added. "People come up to me all the time. In fact, they mostly ask, 'Are you going to wear that the whole time,' or, 'Are you going to hold that torch up the entire time?' I get comments that it's awesome or crazy. Either way, I get to meet so many interesting people and that's really the best part."
RELATED: Read This Before You Race In Costume(Opens in a new browser tab)
No Finish in Sight
Chorney has big plans for 2023. Already signed up for 30 races this year, she's got a lot of ideas in progress.
The biggest? Her 20th running, and 15th consecutive, Boston Marathon in April. She went big last year. Apparently, she'll go bigger.
"That costume is already in the works," she said. "It's gotta be big for my 20th, so I'm doing all the things. You'll see."
As for what she hopes beyond just the personal pride she has in her creations, Chorney said she hopes to see more people express themselves at events in the future.
"I have so many people ask how they can do this and then come back later and say they did it and it's the best thing they ever did," she said. "What I always say is pick something you're comfortable with and pick something of interest to you. If you go out there as not authentically you, it won't feel comfortable and you may not feel confident. The tutu is always a safe place to start, for men and women. Then you can go and make it your own and have fun."