4 Tips To Help You Create A Great Running Playlist
If you're in need of a workout pick-me-up, follow these four steps and create the perfect playlist for your next sweat session.
Heading out the door? Read this article on the new Outside+ app available now on iOS devices for members! Download the app.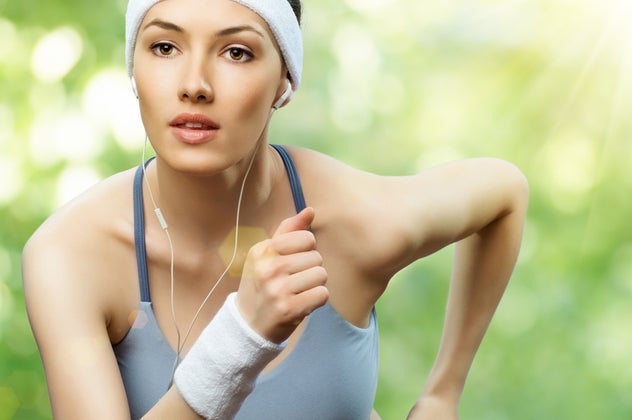 *Content courtesy of acefitness.org
If you've had a fulfilling cardio workout lately, you know what it's like when all the fitness stars align. Your shorts stay put, your socks don't rub, you ate just long enough ago to have energy, but not so recently that you taste that energy bar. It's not too hot, not too cold, and chances are you have incredible music in your ears driving you to cover one more mile, climb five more flights of stairs, push 10 more minutes or kick up the intensity of your workout just to prove you can.
Music Magic
Without question, music is a powerful motivator for exercise. Current research shows that cardio workouts completed while listening to music result in a consistently higher level of exercise intensity in comparison to breaking a sweat while watching TV, though exercisers perceive both workouts to be of the same difficulty level. Translation: Watching TV can actually make cardio feel harder, while the right music can make it feel easier—it's like magic.
Playlist Prep
All playlists, however, are not created equal. You'll get the most bang for your buck (or $1.29) by working out to faster-tempo, high-energy tracks. Before your next run or ride, carve out a few minutes to create a catch-all playlist in iTunes or Spotify to hold your favorite high-energy tracks. Title it "Cardio Madness" (or a name that reminds you this is the place to file all new songs perfect for pushing you during your workouts), and spend a few minutes running through old cardio playlists and pulling out the "best of" to add to this list. With everything now in one place you can begin to design the perfect playlist for today's challenge.
Steady State or Interval?
Next, decide the type of cardio workout you'll be doing. If you plan to keep a steady, consistent level of effort for the duration of the workout, stack together tracks with punch from beginning to end. You can't afford a moment of downtime if you want to keep your energy up. It works well to choose shorter songs (three to five minutes) as opposed to longer remixes. Think of it like changing the station on the radio. The more often you change the song, the more often your brain re-engages with the music and you stay in the moment. This gives you fewer opportunities to settle in and devolve into the self-defeating, "How much longer?!" dialogue that creeps in when your mind drifts away from the present.
For an interval-based workout where the time really flies, pull together more lengthy remixes for bouts of moderate-intensity work punctuated with fun, fast, short songs that inspire you to pull out all the stops with a race-pace effort. Let changes in music energy guide your workout while you mentally unplug and go with the flow.
Now, Hear This!
Beyond tempo, you can further enhance your results by choosing tunes with positive messages and motivating lyrics. A catchy hook can serve as a powerful mantra, urging you on when you feel ready to hang it up. The titles of songs are the best clues for finding tracks that fit the bill. For example, "Loser of the Year" by Simple Plan? Not the best pick. "Stronger (What Doesn't Kill You)" by Kelly Clarkson? Now that is right on the money.
What songs are always part of your workout playlist? Tweet us @womensrunning to share your favorites!
About the Author: Julz Arney is the Education Programs Director and Lead Master Trainer for Schwinn® Cycling, a master trainer for Indo-Row™, SHOCKWAVE, BOSU®, and Gatorade, a dedicated student of yoga, and an AFAA-certified instructor.