Here's What Everyday Runners Taught An Elite About Running
Yes, we all know a thing or two about the spirit of a runner and the magic of coffee.
Heading out the door? Read this article on the new Outside+ app available now on iOS devices for members! Download the app.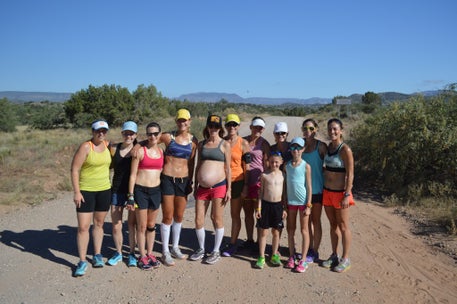 I've been attending running camps for the past seven years. I've been a camper, a counselor, a speaker, and, most recently, a host of our own camp here in Flagstaff, Ariz. There's a magic that exists within a running camp that can only be understood if you attend one personally. Over the years, I took little pieces of each camp that I attended and decided I wanted to recreate that magic, Bruce-style. Six weeks ago we announced we'd be hosting our first adult running camp, where we wanted runners to come "Live and Train like the Pros Do." We had a few apprehensions with people wondering, "Do I need to be super fast and 'hardcore' to attend?" No way, we answered! There were no speed limits or levels of criteria. All we asked was that you had a love for running, a willingness to try new things, a thirst for knowledge and could take a chance on our first camp. The idea behind living and training like pros was to show you what our daily lives and training schedules looked like. We hoped to make you jealous—but also very tired come the end of the day.
Related: One Runner Says This Happens In The First 7 Minutes Of A Run
Upon reflecting about camp, I am filled with gratitude and relief. The relief comes with knowing we took a chance on ourselves by launching this camp, and we believe it was a huge success. Why? No one got lost, injured or felt isolated. Flagstaff did all the work for us as we were blessed with near-perfect temps for the entire camp, and each trail we ran on blew the campers away. We had one-on-one time with all of the campers and were able to keep track and advise how long and far each camper should run each day. I am grateful that each camper was willing to take a chance on the unknown and find the right excuse they needed to book their trip and attend camp. It can be a scary thing to enter a situation in which you have no expectations, are unfamiliar with your surroundings and people, but come together simply because of a passion you have. That's the driving force behind all of this though: our shared passion for running. The passion we as runners have makes decisions easier, unites strangers, allows us to get out of our comfort zone, and fills us with hope for the future. It's this passion that ignited the fire in me to host a running camp. This passion led strangers from all over the country with different backgrounds to bond during camp and leave as friends. It allowed us to sit around a camp fire and share our deepest scariest running goals and being vulnerable to failure.
With the camp having ended only days ago, the wheels are already churning with thoughts for the future. When we will host the next "Running with the Bruces"? Should there be more than one per year during different seasons? How can we do better and what did we learn? Although it's too soon to know the answers to most of these questions, I can share what I learned from our campers:
1. Every runner has self doubt and at some point struggles with their confidence, regardless if you're trying to make an Olympic team, break 4 hours in the marathon or simply start running.
2. All runners come in different shapes and sizes, so the best thing you can do is be kind to your body and own that shizz!
3. Coffee hits the spot pre-run, immediately after a run, 5 hours post-run and on your days off.
4. Taking risks in an intelligent way can make a high impact on your running. Believe in yourself even when it seems foolish. Finally, pursue your goals whole-heartedly and don't look back.