Elite Runner Kerri Gallagher Shares Advice For New Runners
The track star, shooting for a 2016 Olympic team spot, gives her best newbie advice and shares her experiences.
Heading out the door? Read this article on the new Outside+ app available now on iOS devices for members! Download the app.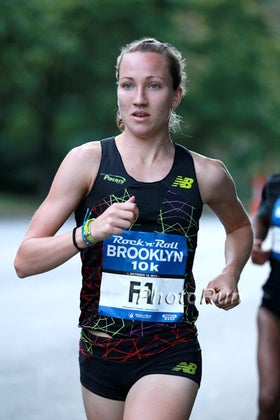 Kerri Gallagher, a native New Yorker, began her running career at Bishop Kearney, a small all-girls high school in Brooklyn. A consistent runner with great determination and talent, she soon became a standout runner at Fordham University, setting many records. In 2011, she gave up a career at Morgan Stanley to train for the Olympic games in Rio. She had the opportunity to train with coach Matt Centrowitz, whom she credits for much of her success.
But he's not the only one who has supported Gallagher. Her family and her faith has carried her through both her wins and losses. Growing up in Rockaway Beach, where many locals take to running along the beautiful boardwalk, Gallagher is the third of nine children. They cheered her on through all her hard work, especially in June, when Kerri finished third in the women's 1,500 meters at the USATF Outdoor Championships. After achieving a qualifying time by running 4:03.56, she joined Team USA at the IAAF World Championships in 2015. Gallagher will racing at the Olympic Track & Field Trials this July to try to qualify for the Olympic games.
Keri has a great mentality and a positive attitude. Her hard work and determination is inspiring. I was lucky enough to have had the opportunity to run with her in Rockaway Beach and chat about her training.
Women's Running: What's your favorite thing about the running community?
Kerri Gallagher: One of the greatest things about the running community is the diversity of the members it's made of. You have runners who have been running since they were young and people who didn't catch the running bug until later in life. Everyone has different goals they are motivated by and training styles they enjoy. The beauty of running is every runner is trying to be better than they were the day before. Sometimes that is measured in distance, sometimes in pace and sometimes in a very subjective intangible measure.
WR: What advice do you have for new runners trying to pursue their dreams?
KG: My best advice for new runners is learn from other runners! Beginners and seasoned runners all have unique and valuable perspectives and experiences. Find what works for you and enjoy the process of figuring out your style. Above all be patient. Give yourself time to build strength and be flexible when other priorities have to take the center stage. I recently wrote a short blog piece for District Track Club that might be helpful for new runners starting out.
Related: New Balance Teams Up With NYRR
WR: How has the transition been from college to the professional ranks?
KG: The transition from college to professional running was a challenge. It took some time to adjust to not having a team around me anymore and to having my motivation shift from point-scoring for the team to individual goals and standards. The competition is also a much higher level.
WR: What was the experience like being apart of Team USA?
KG: It was an incredible experience to represent Team USA at the World Championship this summer. It was extremely motivating to know that I was one of four women to have that opportunity.
WR: What are you doing to prepare for the Olympic Trials this year?
KG: I'm treating this year just like every other year. Staying both healthy and consistent. As long as I put in good work and build on last year, I know I'll be ready to compete come July.
WR: How has the influence of your family helped you throughout your career?
KG: My family has always been my biggest supporters. They are always watching, cheering and most importantly praying for me. They help me keep good and bad races in perspective. I definitely wouldn't be where I am today without them. It also is extremely helpful to have an automatic training group to come home to over holidays!
WR: What are you looking forward to the most this year?
KG: Continuing to challenge myself and better my places and times. I am lucky to have met so many great people over the past couple of years and I look forward to continuing to grow in the sport.