Editor's Corner: Thank You, Women's Running, For A Great Run
Editor Caitlyn Pilkington parts ways with Women's Running and writes her final goodbye.
Heading out the door? Read this article on the new Outside+ app available now on iOS devices for members! Download the app.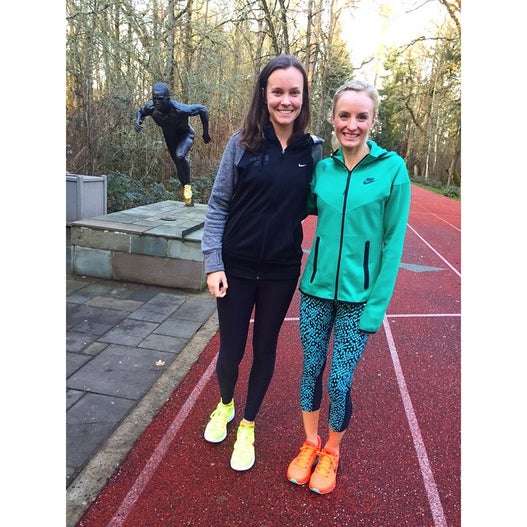 In June 2013, I was eager to leave an influential mark on Competitor magazine and Women's Running. Admittedly, I was largely inexperienced when it came to being an editor for not one, but two national running magazines. I had my college class notes in my back pocket from my minor program, I had a hunger to write a lot of things about running, and I had a massive desire to be part of something huge. Two national running magazines basically equaled all of these things. I came, I wrote, I ran a lot…and I learned a whole lot about life, love and the pursuit of a great personal best.
I'm sitting here finding the right way to say, "I'm moving on." After more than four years in the running industry, writing word after word about my favorite sport, it feels as though I've used up all the words—and I hope I've used them all wisely. As an associate editor for two publications, then a web editor for one, my personal and professional goal was always simple: to inspire others to fall in love with running. Being a member of two incredible teams at two incredible magazines not only gave me a platform to start my journey as a journalist, but it also gave me a platform to explore my voice. To embrace my voice. To find my voice, not only as a face in the industry, but as a person who is much more than simply a runner with a red pen.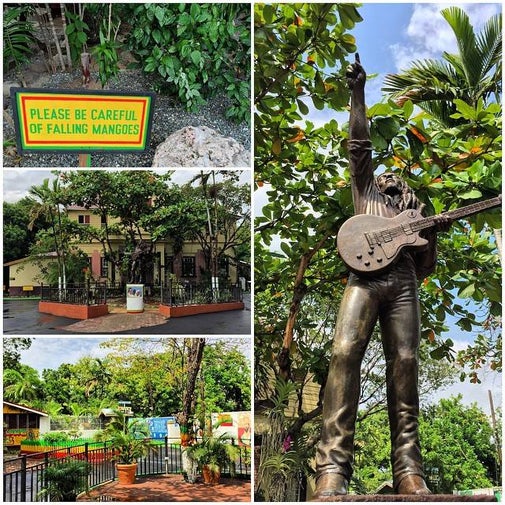 I've had so many cherished moments during my time at WR. There was that one time I scored a last-minute trip to Dublin, Ireland, to cover the inaugural Rock 'n' Roll event. Unfortunately, the Irish folk in charge of the lead vehicle has one more person than expected, so I crammed myself into the trunk to ride along in front of the leaders. My assignment was to run part of the course, so I unraveled myself to hop out and trudge through the final 9 miles of the half marathon. I think that was maybe less than a month after I became an editor. After my first international trip to the Emerald Isle, I went on to witness the Bob Marley obsession of Kingston, Jamaica, the epic Seawheeze Half Marathon in Vancouver, Canada, and so many beautiful spots in this country that I've lost count.
There was another time where I was awarded—AWARDED—the opportunity to manage two cover shoots in one day for two magazines with one great big Olympian: Shalane Flanagan. I had strict instructions not to "fan girl" too hard, which if you've ever met me, you know that's basically impossible for me. It was definitely added pressure on this eager writer to do a great job and also keep her giddy side in check. I would learn a couple years later in the Boston Marathon press conference that throwing a little awestruck fandom into interviews not only is okay, but it also helps that Olympian remember your face in a sea of reporters shoving their recorders across the table. I've now lost count of the elite runners I've had the privilege to meet and spend time with, and I am forever grateful for every single opportunity. Thank you, Brenda Martinez, for opening your home to our team in Big Bear. Thank you, Gabe Grunewald, for being so raw and open about your journey through cancer for a fourth time. Thank you, Stephanie Bruce, for introducing me to Badass Coffee and Riley when he was just a tiny little nugget. Thank you, Meb Keflezighi, for your wisdom over the years and always offering your best advice whenever we crossed paths. Thank you, Alysia Montano, for being your authentic self and so freaking passionate for the work you do for mother runners. Thank you, Jordan Hasay, for reminiscing about how freaking hard the Morley Field course is in a crowded press room.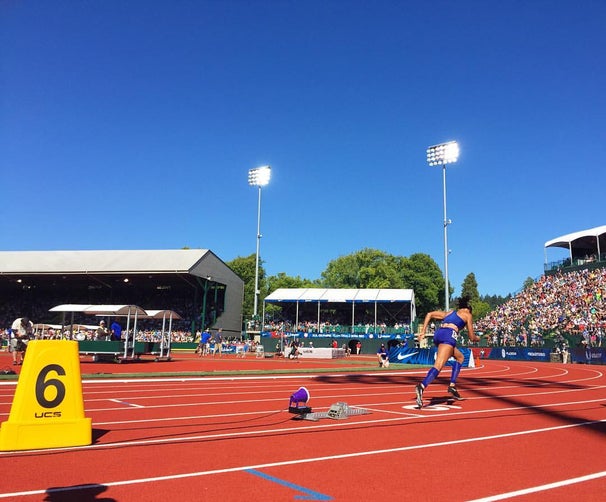 Of course there was the big checkmark: the Olympic Track Trials. I was all alone at Hayward Field for the first half of the action. I saw victory, I cried out of heartbreak for some, I wrote recaps, I screamed at the top of my lungs to get the attention of weary runners wobbling through the press tent. I ran on Pre's Trail, an idol of mine since I was in high school. I was really making it up as I went along, and covering that event will only ever be eclipsed by a future press pass to the Olympic Games, which I intend on getting. I can't seem to part with my stack of press badges from such incredible events—so until I can, they will hang in my house as reminders of some of the grandest places I've been…even if it was simply a press room in a fancy hotel just off Copley Square.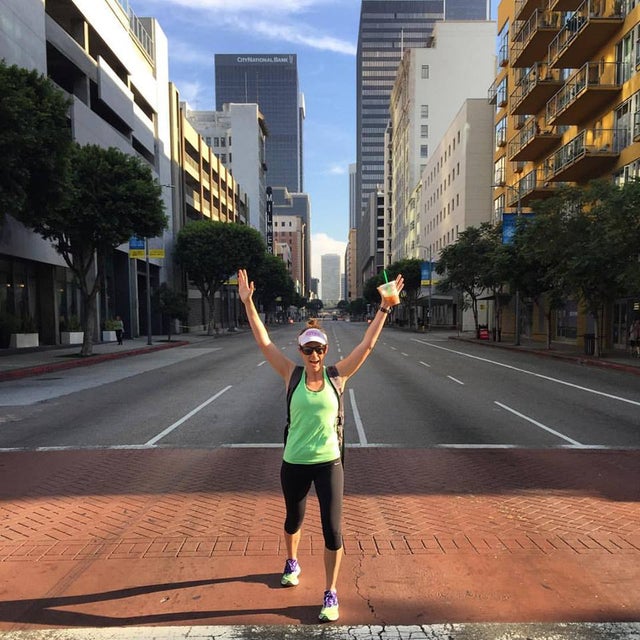 These barely scratch the surface of the number of things I'll cherish as I put this final editor's corner to rest. I stood on my half marathon podium in Hood River, Ore. I ran the fastest media mile at Hayward Field during the Prefontaine Classic. I rode on some pretty sketchy press trucks ahead of some pretty fast runners. I walked my sister through the finish line at the Boston Marathon, then I ran it for myself the next year. And through it all, I found myself getting braver with my language, more confident in my story angles and more aware that, as a female in this industry, I could really do something special. And now, as I walk away from WR and toward a brand-new adventure, I have those lessons in my back pocket where those scribbled college notes used to be. But before I go, there's something some people need to know…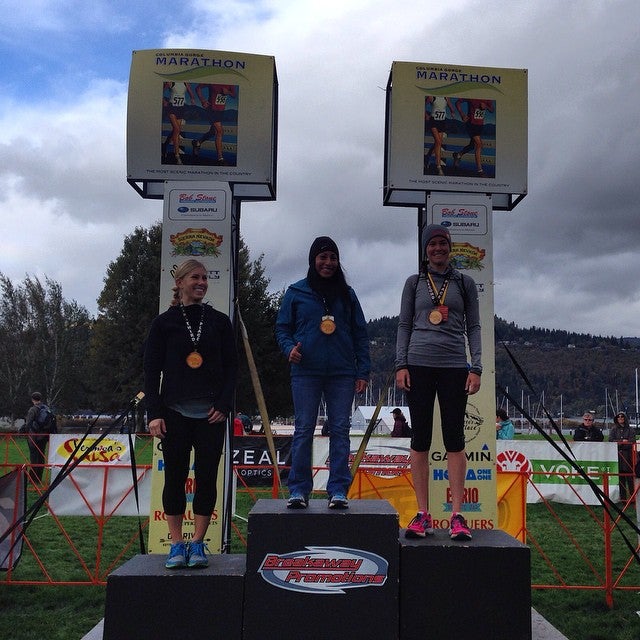 …to my team at Women's Running, old and new—I tear up as I say, from the bottom of my heart, that you truly changed my life. From the moment we collectively executed the very first brand redesign, to when we decided to break the mold and put Erica Schenk on our cover, to the endless efforts to make sure every single decision was something everyone could learn to love inside the magazine, to the support, love and cheers we've shared through our personal triumphs and downfalls—there really are no words to express what it's meant. I found the marathoner in me because of you (okay, a little because of Meb too), I found the writer in me because of you—and I found my self-advocate in me because of you. You are my sisters in sport, and I love you all.
…to my team at Competitor magazine—so many people have touched this 30-year-old legacy book over the short years I worked on it. I've never been among more passionate, dedicated runners in my entire life, and I've never felt like I've had better on-the-ground mentors than I did with every single editor. What the publication has done for millions of runners over three decades is unmatchable; I'm humbled that I got to be a part of a small chunk of that time.
…to the readers—I do this for you. Every single emailed story of your first race, I've read it. Every time you emailed about overcoming a huge obstacle, I've smiled and teared up with you. Every time you emailed to let us know we missed the buck with our content, we've discussed how we can do better next time. And every single time you've shared the magazine, #TeamWR and your running journey on social media, I've been blown away by how many women we've touched over the years. Thank you for making my time so memorable.
Just because I'm ending my time here does not mean you're getting rid of me; I'll still be running all the miles and poking my head into events here and there. Happy running, you crazy, beautiful humans—thanks for a great run.