Embracing A Digital Detox At Rancho La Puerta
How retreating to Rancho La Puerta, a peaceful oasis south of the border, helped me unplug long enough to appreciate running again.
Heading out the door? Read this article on the new Outside+ app available now on iOS devices for members! Download the app.
A Peaceful Place For A Digital Detox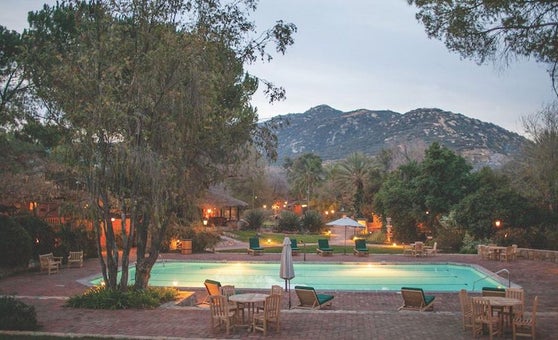 Sitting just a stone's throw from the San Diego border crossing into Mexico, tucked away in the Tecate Mountains, are 4,000 acres of tranquility. With its lush landscape and marble yogi statues gracing the manicured lawn, the Rancho La Puerta wellness spa is the optimal place to unwind and unplug. In fact, that's the entire purpose of this retreat, rated among the top five international destination spas by Travel+Leisure—the casitas don't even include televisions.
I had the enviable opportunity to spend three days at "The Ranch," which has dozens of fitness classes and workshops, more than 50 miles of hiking and running trails and the best farm-to-table fare you'll ever taste in your life. I went with two intentions: to unplug and to reignite my interest in the great outdoors. Prior to arriving, I considered those objectives to be mutually exclusive, one having little (or nothing) to do with the other. However, I quickly learned that avoiding screens and climbing up winding trails do have a lot in common.
Since its inception in 1940, this family-owned, all-inclusive fitness destination has stayed true to its goal of helping visitors renew, reset and reclaim their lives from the grips of their bustling schedules and accompanying demands. Obviously much has changed digitally since 1940, and The Ranch has evolved with the times by encouraging a "device-free" policy in communal areas around the property. However, the staff remains realistic in regards to how difficult it can be to unplug for an entire seven-day stay, or even the three- or four-day offerings.
Related: Runners Love Social Media For These Two Great Reasons
For starters, none of the casitas come with a television, encouraging guests to get outside to create their own entertainment. Second, Wi-Fi is only available in designated rooms and areas around the property. Third, each guest is greeted with a tote bag to carry their belongings in as they scamper off to classes, hikes, workouts and meals—and with the bag comes a small drawstring "cell phone sleeping bag," encouraging guests to put connections to rest for a bit.
For someone whose job essentially depends on what the Internet and social media throw my way on any given day (#WebEditorLife), separating from my pocket lifeline proved to be harder than I anticipated. However, the benefits of being unconnected became obvious once I opened my eyes and took in the surroundings along the winding walkways stretching from the entrance to the mountains, and relaxed in one of the hammocks swaying in pockets of shade. Plus, the trail-running options were tremendous and beautiful. Spending 72 hours striding up 600-foot climbs to catch the sunset made me wonder, What the heck am I missing at home when I choose to thumb through other people's filtered lives instead of creating my own real-life adventures? 
I came home with a newfound desire for more dirt lines around my ankles and perfecting that sports bra tan—two runner parts of me that would have been overlooked had I not taken a moment to just look up. And to be surrounded by like-minded visitors with a similar goal—where literally everyone respected the "no cell rule"—suggested that there is something healing about a digital ditch.

Upon Arrival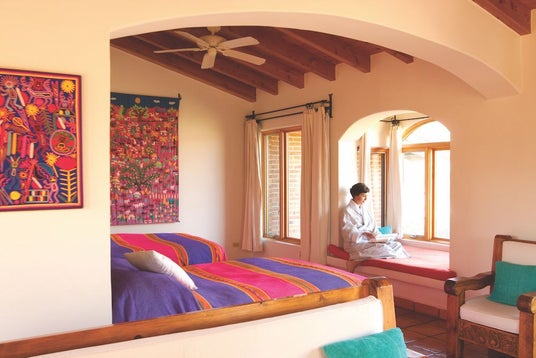 The resort sits in a broad valley at the bottom of massive Mount Kuchumaa, which straddles the U.S.-Mexico border. The first thing you notice is that mighty peak, with the smaller neighboring hills completing the property's west-facing backdrop. Upon arriving, it's pleasantly easy to get lost on the meandering paths that curve around 32 acres of gardens, under so many plush trees and all 86 individual casitas for guests. Much of the furniture is handmade inside, as are the tiles underneath your feet. The airy feel of open-beam ceilings only adds to the relaxing atmosphere in this place. The vibrant colors of the Mexican folk art on the walls brought back memories of the dolls my parents gifted to us from their own vacation in the region many years ago. Inside the welcome packet, visitors will find a small pouch—a "sleeping bag"—for their cell phone, as well as a full schedule of the week's fitness classes, guided hikes and runs, lectures and dining hall hours. My immediate instinct to peruse the website for answers was squashed; I had it all right here, with my phone tucked neatly in the bedside drawer. For the runner who is constantly posting, comparing, analyzing and breaking down digits of all sorts, this was the perfect place to shrug off digital distractions and enjoy the fresh oranges, grapes and bananas that were waiting for us on the coffee table.

The Trails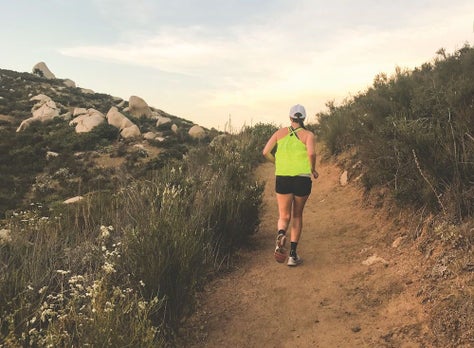 One of the most popular draws at Rancho La Puerta is the plethora of trails that offer something to every hiker and runner, no matter your skill level. The staff recently opened up a "run concierge" program, which includes twice-a-week guided runs along the lowland, looped, 5-mile Roadrunner Trail, as well as a run clinic available at the 0.6-mile-lap track. If you want to add some serious climbing to your agenda, Alex's Oak, Coyote, Raven and other trails all meander up into the Tecate Mountains in different ways. Most are moderate for experienced trailblazers, and I promise, once you make it to the top, the endless vistas and audible silence make it totally worth the sweat. I scurried up one of the many boulders scattered along the top to soak in the sunset that bounced off the surrounding rocks. Another guest filled me in on the mother of all tasks: a hike up Mount Kuchumma, which is 7.5 miles round-trip and takes adventurers to views of the border before heading back down to the property. (Practicing on one of the other hilly options is recommended before tackling this 3,885-foot monstrosity.) No matter which option you select, no iPhone shot or Instagram post really does any of them justice, and the silence is so captivating, you hardly can imagine piercing it with the blips of any sort of digital interruption.

The Food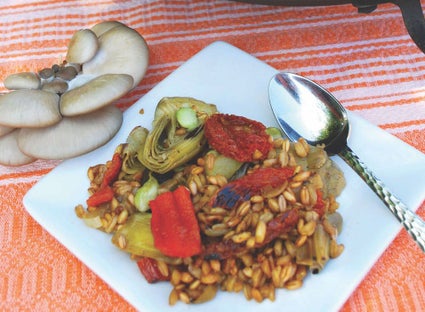 The vegetarian fare (plus the option of fish) was new for me; I'm a total carnivore. The head chef was a master at pulling out key flavors and knowing how to perfectly complement each taste with another. For those who enjoy a glass of wine with dinner or a mimosa during breakfast on vacation, alcohol is not offered in the dining hall (although there is a small wine and espresso bar next to one of the pools!). But you didn't need it; the fresh-squeezed juices every morning were enough to get your taste buds pleasantly drunk with happiness. I would venture to say that the food I experienced was the best I ever will, but it was the attentive company that truly surprised me. The maître d' offers the option of a community table when you are seated for dinner, giving health fanatics from all over the world the chance to meet. I heard amazing stories of moms and daughters, best friends and even solo travelers who come to The Ranch annually to escape the hustle of everyday life and remember what it feels like to really pause and focus on their health and mental wellness. In the fast-paced, charged-up world we find ourselves in, it's easy to forget about the simple pleasure of just talking to a total stranger—and in this case, sharing a meal together.
The value of interacting with other like-minded humans isn't something you can appreciate through an Instagram comment. Coming together every evening for a meal in the same room as nearly 120 other visitors, without a single person peering down at a screen, reminded me of that simple truth. The basic act of swiping right to shut it down and noticing the sights, smells and sounds around you—unfiltered—is so freeing.

How To Get There
Most guests stay for the full week, arriving on Saturday. If you fly into San Diego International Airport or park there, there's a shuttle that brings people to the property. Parking is also available on the U.S. side of the Tecate border in a small lot near the Payless Shoes on Campo Road. From there a Ranch representative greets you and takes you to the property. A third option is to drive all the way, but additional insurance for your vehicle is required.

Cost
Rates per person for a one-week stay start at $3,500 and go up to $7,000 depending on season, number of people and size of the casita. During peak season, which is March to mid-June before it gets too hot or cold, rates are higher.
For more specific information on rates, three- or four-day stay options and more, visit rancholapuerta.com.

Disconnect Elsewhere
If Rancho La Puerta doesn't pique your interest, there are plenty of other wellness retreats that give you a reason to detox. Check out these popular resorts, which all offer different opportunities to zen out.

Lake Placid Lodge (Lake Placid, N.Y.)
It's very rustic but also luxurious, offering patrons many homey cabins to choose from. Use their "check in to check out" package to ditch your device upon arrival and instead enjoy the Adirondack Mountains nearby. Starting at $375 per night, lakeplacidlodge.com.
Shambhala Ranch Retreat (Ukiah, Calif.)
Open to just 14 guests at a time, the four-day stay is a cell phone–free zone packed with great food, hikes in the Mendocino hills and a lot of yoga. $500–$950 for four days, shambhalaranch.com.

Sanctuary Camelback Resort and Spa (Scottsdale, Ariz.)
Come for the Satori Mindfulness Meditation Spa Retreat in the fall to "restart the mind" with author Sarah McLean. Guests can enjoy a hike up Camelback Mountain and stellar organic fare from Food Network personality Beau MacMillan. Starting at $2,399 for four days, all-inclusive, sanctuaryoncamelback.com.
Related:
The Travel Company That Caters Specifically To Runners
Why Charleston Is Considered The "Holy City" For Runners