Despite Autism And Epilepsy, Kiley Lyall Keeps Running
Prepare to be inspired by the winner of our cover runner contest.
Heading out the door? Read this article on the new Outside+ app available now on iOS devices for members! Download the app.
BECOMING A COVER RUNNER
When voting went live this fall for the Women's Running Cover Runner Contest Presented by Rock 'n Roll Marathon Series, Kiley won the hearts of our readers and followers online as more than 10,000 of you cast votes. This was after she and seven other finalists were chosen by our editors from 5,000-plus entries and nominations. Special thanks go to Kiley's mom, Kathleen, for entering her daughter! Kiley won a trip to the cover shoot, a three-nights' stay at the Marriott Marquis San Diego Marina, some sightseeing and running with WR editors (of course!). She also received a new running wardrobe from Brooks and a Rock 'n' Roll TourPass 3-Pack for 2016.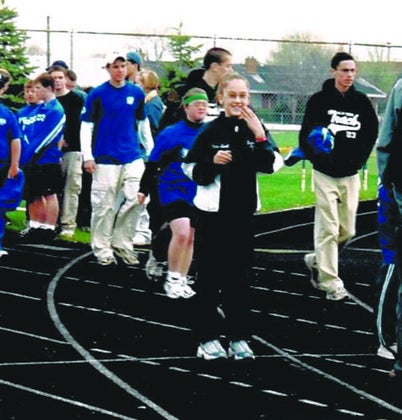 At 8 years old, Kiley Lyall toed the line for her first race: the 4 x 400-meter relay at the Special Olympics. As the anchor, Kiley watched and waited as her three teammates ran their laps. By the time she received the baton, her team was in last place. In spite of never having raced before, Kiley tapped into her competitive instinct. She ran as fast as she could, passing every other runner before crossing the line in first place. That moment sparked a passion that has only grown stronger for the 24-year-old from the Chicago suburb of Bourbonnais, Ill.
She is used to telling this story, with the help of her mom, Kathleen, since Kiley's moderate autism can make verbalizing a challenge. When they tell the story, Kiley inserts some poker-faced humor for dramatic effect as her mom asks, "What medal did you win?" Kiley's response: "Bronze?" No, her mom says. "Silver?" No again. "Gold." Indeed.
Kiley lights up when people talk about running. But her sparkly eyes, with the longest possible eyelashes, bring a natural radiance to all kinds of conversations—whether about modeling for a photo shoot for a national magazine, or flipping tires as part of her strength training (no big deal), or acting in a recent stage production of "Bye Bye Birdie." Even when she sports a shy smile, it's clear that Kiley enjoys sharing her accomplishments, especially when she can inspire others.
Related: Your Cover Runner Contest Winner Revealed—Kiley Lyall
IN THE CROWD
After Kiley's triumphant running debut at her local Special Olympics, she started running 5Ks to raise money for organizations like her local children's hospital and the Make-a-Wish Foundation. As Kiley got older, she upped her goals, both in terms of distance and positive impact. This fall, she ran her second Chicago Half Marathon for the Epilepsy Foundation.
Running hasn't always been easy though. Since she was about two-and-a-half, Kiley has struggled with epilepsy, which causes persistent head pain and life-threatening seizures. She also has mild cerebral palsy that affects her gait—but Kiley doesn't let any disorder define her.
"Most people would say, 'You know what, it's been a really crummy day. There's no way I'm going to run today.' We've had a lot of those days, where she struggles," Kathleen says. "She's still motivated to grab those shoes, so there's something in her about running that she loves."
Kiley explains it simply: "It makes your body feel good."
When Kiley's parents, Kathleen and Jay, talk about raising their daughter with special abilities, they explain that she hasn't been treated differently than her sisters, Mallory and Marissa. She does chores around the house, and Kiley isn't exempt from family jokes and playful ribbing.
Since Kiley started running, she's often the instigator in the household when it comes to fitness. Kathleen says that the family has transformed their lifestyle to become more healthy thanks to Kiley. But while she aims to inspire, more than anything, Kiley likes to be part of the pack. She's happiest running with friends (some have started because of her) or other runners during a race.
"All she ever wanted to be was a runner. Not a special needs runner. Not anybody with a physical disability or cognitive—she just wants to be included and run with everybody else," Kathleen says. "That's what makes her happy is just being in that crowd of runners and just doing what she loves."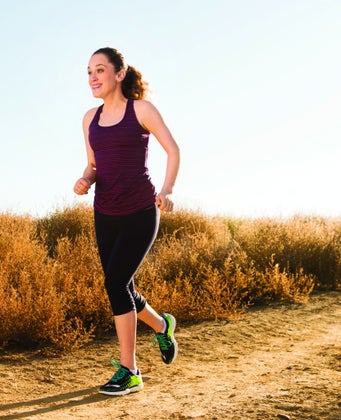 DRIVE TO FINISH
In 2014, Kiley set a goal to run her first half marathon. The training meant a lot more mileage, and Kathleen says it had a huge impact on her daughter's confidence, energy levels, speech and focus.
"Running has definitely changed our lives. We've met so many wonderful people along the way—not only will they feed off of her, but she feeds off of them," says Kathleen, who also ran her first half with her daughter. "I just can't express the change in her in a year's time."
Just a few years earlier, when Kiley was 18, she experienced complications that caused her to become dangerously ill. Seizures coupled with an inability to absorb nutrition caused massive weight loss, fatigue and hair loss. During this time, the family feared for Kiley's life, never imagining she would be able to run again. But thanks to intravenous nutrition intervention and an implant to combat seizures, her health went on an upswing, and she started to regain her strength. "We got our girl back," Kathleen remembers through tears.
Once Kiley was well enough to train for 13.1 miles, it's no surprise she would "pay it forward" by running her first half to raise money for epilepsy research. She also became a key member of the Leukemia & Lymphoma Society's Team in Training, after friends invited her to attend weekly track workouts.
When the Lyalls first started attending the workouts, coach Marie Jarrell says, "Kiley was very quiet, head down, not really communicating with anyone." As time progressed, she went from quiet participant to expressive member—when Marie was fighting breast cancer during that season, Kiley made her a pink Build-a-Bear.
When half-marathon day arrived, it was hot—which can be tough for Kiley as high temperatures exacerbate her epilepsy. All went well until mile 10, when she had a seizure. Kiley told her mom she wanted to continue—and then experienced a second seizure just a mile later.
The race paramedics advised against continuing to run, but Kiley disagreed. Kathleen understood her daughter's drive to finish what they had trained for. They kept going and, luckily, no more seizures came. Marie had heard about the setbacks and met up with Kiley on the course, and they crossed the line together, holding hands.
"That's Kiley. That's how she gets through life," Kathleen says. "She just says, 'Okay, seizure's done, let's go.'"
Kathleen says running has allowed Kiley to tap into her inner strength—and for the two of them to deepen their relationship in a way she never thought possible. "With autism, you lose them. For the longest time, you try to connect and they're not there," she explains. "It came in bits and pieces, but it was probably just about a year ago when we did the half marathon that she started voicing her own opinions and her likes and her dislikes. She never did that before."
Related: Kiley Lyall Doesn't Let Autism Stop Her From Running
COMING INTO HER OWN
"Kiley is just a Renaissance woman," Marie says. "She does everything. She embraces everything."
In addition to running all kinds of races, including at the regional Special Olympics, Kiley competes in equestrian events and enjoys karate, kayaking, modeling and acting.
It wasn't until Kiley was 21 that her talent in photography was discovered after she brought a camera on a class trip to the Museum of Science and Industry. Kathleen called her teacher afterward to ask if anyone else had been taking pictures with it, because she was so surprised at the quality of the photos. Now she and her mom have Curlygrace Photography—Kiley loves to photograph people, and the business experience has improved her social skills.
Kiley also works part-time at a beauty salon. Through a program to enable specially abled high-schoolers get work experience, she started by helping out with towels and sweeping. When the program ended, she graduated to greeting customers and answering the phone.
Because of her mild cerebral palsy, Kiley can't straighten her right leg and her foot turns in a little when she runs. This prompted her to start strength training at a local gym as well. The muscular development helps her body to overcome these limitations.
After the first half marathon, Kiley gave her mom a hard time about how tough it was, but that didn't stop her from wanting to do it again, so they returned to the Chicago Half Marathon this year. On a cooler day, no seizures disrupted her 13.1-mile run, which she completed in 2 hours and 55 minutes.
At the finish, the medals were the size of dinner plates—perfect for Kiley, who loves her "bling," whether it's her bracelets, nose piercing or braces. They accent her sparkling eyes and smile when she shines in front of the camera.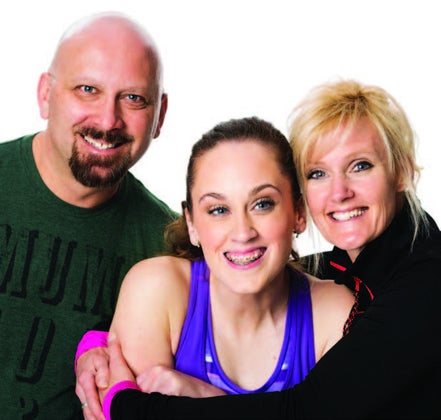 LOOKING AHEAD
Because of Kiley's life-threatening seizures, she's a candidate for brain surgery that could happen this winter. She got a second implant last summer to reduce the length of the attacks, but she can still experience up to a dozen a day. After the surgery, it's possible she could be completely seizure-free. (If she has the operation, she'll need to shave her head, so of course, she wants to donate her beautiful, thick, wavy hair.)
Assuming a positive outcome, there could definitely be 26.2 miles in Kiley's future. She and her mom expect they will be fundraising with Team in Training officially in the future. Kiley has also expressed interest in doing an indoor triathlon.
When Kathleen and Kiley discuss the impact of winning this contest, they don't focus on their own family. "We've talked about what it's going to do to open doors," says Kathleen. "Our hope is to take this experience and move forward to help other families like ours enjoy what health and fitness and running has done for Kiley."
Kathleen has another business idea for her and Kiley: build an indoor sensory gym, where people with special abilities could engage in activities with their families. She says, "Maybe someday some of these individual athletes will become part of a huge inclusion movement at their schools in individual sports—where only their abilities are seen and not their disabilities!"
Kiley would also like to participate in the Special Olympic World Games. This summer when they were held in Los Angeles, she was one of the athletes chosen to run with the torch through Chicago. After watching the events on TV, Kiley's interest solidified, and she's focused on running a fast mile. Look out for more victories in the future for this amazing winner.