Real Runners: My Experience As A Female Runner In Costa Rica
No matter where an athlete chooses to hit the trails, running remains the sport that can bring people of different backgrounds together.
Heading out the door? Read this article on the new Outside+ app available now on iOS devices for members! Download the app.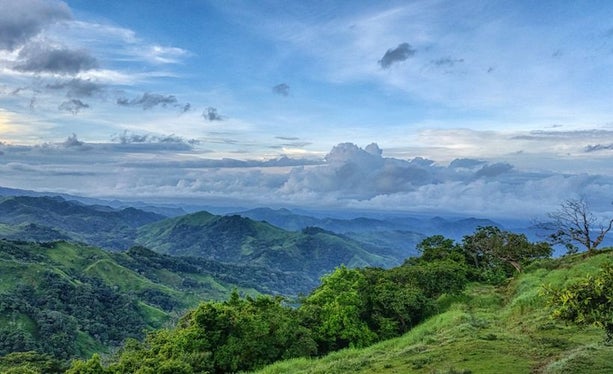 Running In Costa Rica
High up in the mountains overlooking Costa Rica's Pacific shore lies the farming town of Peñas Blancas, Puntarenas and the 14 families that call it home. I, a 21-year-old college distance runner, traveled to this little town to research the relationship between Costa Rica's sustainable development laws and women's agricultural cooperatives. To me, the women in this town were warriors, completing all their household chores, fueling their families with food grown from the land beneath their feet, growing fruit from the trees around their homes and producing jam to provide their families with a second income. To them, I was incomprehensible.
Flaca, flaca, 100 pounds of toned muscle and jutting bone that continued to protrude despite the mountains of gallo pinto they spooned onto my plate. La nina, the wide eyes and gaunt cheeks of a high schooler with the confidence of a post-graduate. My poise when babbling in heavily-accented Spanish appeared either impressive or pretentious; my commitment to hiking miles through the mountains to interview each woman appeared either committed or overzealous; my practice of running every morning appeared, well, bizarre.
Related: Real Runners: The Lies I Stopped Telling Myself
Each morning, I awoke at 5:30 a.m. to lace my running shoes before the Pacific mountains swallowed the day in a chamber of humidity. I learned to breathe the rhythm of this mountain town, familiarizing myself with the two farm dogs that raced me up and down the dirt roads, the feeling of lactic acid building in my legs as I climbed the steepest hill, the shower of relief as I caught sight of the homemade sign that read "vende queso," the old farmer who glanced up from his bulls with a chuckle and a wave as I approached, and the soft squish of grass as I circled the soccer field.
"¿Corrió?" (You ran?) my host father would ask, incredulous as I stumbled in the door, bathed in a morning sweat. "¿Corrió?" he would ask again, as I collapsed in front of a steaming plate of gallo pinto, corn tortillas, herb-scrambled eggs and fresh Turrialba cheese. My host father's shock certainly did not surprise me. Marked by "crazy runner" flags from a young age, I expected nothing less than to be known as la gringa loca in Costa Rica.
I was the fourth grader who ran laps around her neighborhood after school to ensure that I would beat the boys in the mile run. My high school cross country superlatives read "most committed" and "most genuinely loves running," the "try-hard" awards. In college, Division III status be damned, I was going to pound every repeat, climb every hill, strain every pull-up–but, most importantly, I was going to love it, from the sore calves and ice bath screams to that feeling I got when the sun set during the last mile of a pre-race run and I could hear the doubt settle like a whisper deep inside of me, ready to fly. I was excited to adapt to the lives of my Costa Rican hosts. I would learn to plant string beans and cilantro, drink fresh cow's milk, laugh at new stories and learn new slang. But I would never stop running.
If running every day didn't make me stand out enough, I was also a woman who ran. While the women of Peñas Blancas were never expressly forbidden from running, gender expectations limited these women in many realms of their lives, and especially in their business pursuits. As the men in town had always been associated with income generation, and the women with subsistence agriculture, these women lacked control over the families' monetary resources. Furthermore, as only men drove cars, the women in the local jam cooperative were often unable to travel to faraway cities to submit the paperwork necessary to produce and sell their own jams. Many men in town even prohibited their wives from joining the jam cooperative. Yet here I was: a young woman who ran every morning simply because I wanted to. I needed no permission.
During my first weeklong stay in Peñas Blancas, I thought I was the only person in town who ran, and surely the only woman. It was not until my second stay that I saw it: a flash of purple and black between the trees as I rounded the bend near the soccer field. As my soles squashed the soft green of the field, the colors and sounds took human form—a runner, and a woman, no less! She appeared to be about 40 years old, and her bobbed, black hair kept sweat from her almond eyes. She sported black cotton pants despite the 90-degree day that loomed ahead, and she did not appear to wear a sports bra, or anything that would be deemed "proper running clothes" back home. Still, she ran. In fact, she ran every single day during my second trip to Peñas Blancas. Our mid-run pleasantries became habitual—a wave, a Buenos días—never halting to shake hands, and never requesting the other's name.
One morning, as I saw my fellow runner approaching, my bounding legs halted midstride. Sick of my own diffidence, I asked if she was training for something. She responded by saying she simply ran for enjoyment and pointed in the direction of her home, inviting me to visit "para compartir un rato" (to share for a while).
Thus, on my last morning in Peñas Blancas, I found myself sitting on a porch, face to face with a stranger or a friend (I was not quite sure which). It soon became evident that, freed from the security blanket of our fleeting legs, we had no choice but to converse like old friends. I learned that my running buddy's name was Alice, and that she was a mother to four kids. While she was not a member of the jam cooperative, she grew crops for her family's consumption, and her husband sold tomatoes in a nearby town. Just like everyone else in town, Alice spoke no English and was excited to meet someone from the United States. I learned that, just like me, Alice loves the peaceful sentiment of running alone, thrives in the refreshing calm before the midday heat and relishes the dedication required to run every morning. We talked about running as women, and eventually, that is all we were: two women who run.
As Alice talked, I realized that there was both no difference and all the difference in the world between the two of us. While I laced my aqua colored Asics and secured my Casio stopwatch every morning, she timed her run using only her heartbeat as a watch. While I was a young, college-educated woman from the United States, she was a mother from rural Costa Rica. Perhaps our simultaneous sameness and lack thereof is the very paradox that draws me to the running community, and especially the community of women runners. I could never equate my experience with that of any other female runner around the world. We face different limitations, and we face different privileges. Nevertheless, when the sun rises, our feet strike the ground, just the same.
Related:
Real Runners: My Coach Helped Me Run Barefoot
Why Group Fitness Makes Me A Better Athlete