The Step I Took That Changed My Life Forever
While jogging to the starting line of a half marathon, this runner was involved in a car accident that forever changed her life.
Heading out the door? Read this article on the new Outside+ app available now on iOS devices for members! Download the app.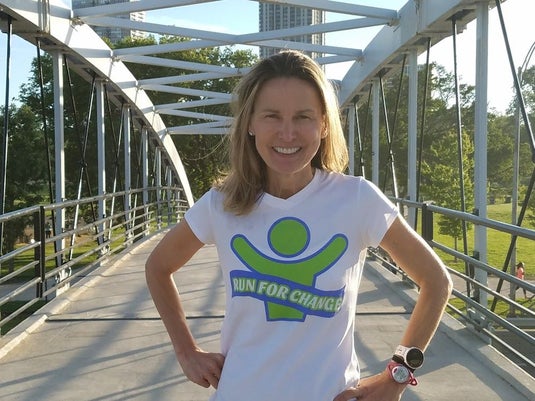 Becoming A PR Chasing Runner
On August 16, 2009, I took a single step that changed my life.
Prior to that day, I was full-blown, driven and around-the-clock focused on every workout and race that I completed. Most of my waking hours revolved around pushing myself to my next PR. I've been running since I was in the fourth grade, but I was not a very good runner. Ask anyone who ran in high school: if they were an obsessed runner, they still remember their times. I have no idea what my times were—I just know that I hated the 1-mile time trial in gym class, and I was nowhere near the top seven runners on my high school cross country team, so my finish times didn't count at meets.
In 1998, I started working with a running coach and training group called Run Chicago. While there, Coach Greg Domantay found untapped talent in me that I didn't know existed. He believed in me until I believed in myself. In 1994, I ran my first marathon in just under 4:30:00. Fast forward to the marathons I ran in 2006, 2007 and 2008: I completed them in 3:15.00, 3:20.00 and 3:16.00, respectively. Finally, something I was good at! During the summer of 2009, I was again chasing a PR. It was while scrolling through some memories on Facebook last week that I was reminded of that chase and one particular training run on August 9, 2009 that included 16 x 1-mile repeats.
When I saw that memory, I was proud of that girl's fight and grit, but also grateful that I now put more weight and energy into the fact that I can run, I can race and I can see the world more intimately by running through it. I can transform a shitty day by going for a run, and I can befriend strangers every day with runner speak. When I run now, it's more about the journey than the destination.
Related: A Life-Threatening Accident Did Not Stop One Runner From Trying Again
The Step That Changed My Life
On August 16, 2009, I was running to Central Park to run in the New York City Half Marathon. I never made it to the starting line. Instead, I made it to the emergency room at New York-Presbyterian. On my warm-up run to the start, I came upon an intersection that had loads of construction. There was a wall surrounding the construction zone that prevented me from seeing all three corners of the intersection. Instead, I could only see the corner that I was crossing towards. As I got closer to the intersection, I noticed a hose in the crosswalk. I told myself that the last thing I needed was to trip on my way to the race. I stopped running to step over the hose…
…and with that one step, a car came out of nowhere and hit me. I flew onto the hood, shattered the windshield with my body weight, fell off and landed in front of the car. I hit my head on the street and slowly crawled to the sidewalk to get out of the way. Thankfully, two strangers were there to call 911 and stay with me, holding my hands until the ambulance arrived.
Everyone says that your life flashes before your eyes when you face a near-death experience. For me, I didn't have any memories flash before my eyes; instead, as soon as I took that step and the car hit me, my first thought was that I was going to die, get run over or become paralyzed. There were so many Thank God moments that day. Thank God I stayed conscious. Thank God the driver stopped. Thank God no one was behind him. Thank God I broke my L1 through L5 vertebrae, where the muscles attach instead of near the spinal column. Thank God I didn't need surgery. Thank God for the EMTs and the staff and New York-Presbyterian.
A lot of my friends and family members asked me if I was going crazy without running. I can understand their concern, as I was running 60 to 70 miles each week at the time of the accident. I told them that I didn't care about running. What mattered to me was that I could walk, talk and breathe on my own. I was never more present in my life than I was after that accident.
The Road To Injury Recovery
My injury rehabilitation entailed wearing a back brace for two months and going to physical therapy. I remember my doctor telling me in January of 2010 that I was about 80 percent healed and could start running again. He also told me that I would come back faster and stronger. That didn't matter to me back then, and it still doesn't now. I didn't start running until I was 100 percent healed in February of that year. I remember running my first post-accident mile with two of my dearest friends, Patty and Ken. Running with them meant more to me than any finish line I had crossed!
Once I was mentally and physically better, I realized that there was a reason why I was saved in the state that I was in. That is when I decided to give back to running what running had given me: I became a running coach! Running helped me discover what I was made of, it gave me the confidence I'd always been looking for, it brought me into a community where no one cares about your demographical background or career path and welcomes you with open arms. No other sport welcomes every age, size and pace the way running does.
Embracing My Role As A Running Coach
I feel like my purpose for right now is three-fold. First, I want to help turn running nay-sayers into yay-sayers. For those that hated running because of high school gym teachers or coaches: running will give back way more than it asks of you—especially when you're determining your own pace. It doesn't have to involve any whistles or clipboards. Second, for those that don't think they can do "x," you never know quite what you're made of. Let me believe in you until you believe in you. Third, for those that are similar to the person I used to be, sometimes it's important to run a race just to run it, to high-five kids along the route, to help someone in your circle complete their first race, to take and give free hugs when you see that sign on a marathon course. Be grateful for every starting line. We have all seen the spectator sign that reads, "There will come a day when you cannot run. Today is not that day!"
It's ironic that the single step that led to my accident has in turn led to such a fulfilling career path. Every day, I get to help people do something they didn't think they could do. Whether it's their first mile or their fastest marathon, the journey means as much to them as any PR I ever achieved. The latter I can't take with me, but the former will be the footprint I leave on this world.
In celebration of the recent eighth anniversary of that life-changing step: Happy re-birthday to me!
Related:
Runner Tragically Hit By Car 351 Days Into Run Streak
After Breaking Her Femur Mid-Race, She Bounced Back To Finally Finish It