The Real Reason I'm Not Taking Before And After Photos
It's about looking from the inside out for me, not the other way around.
Heading out the door? Read this article on the new Outside+ app available now on iOS devices for members! Download the app.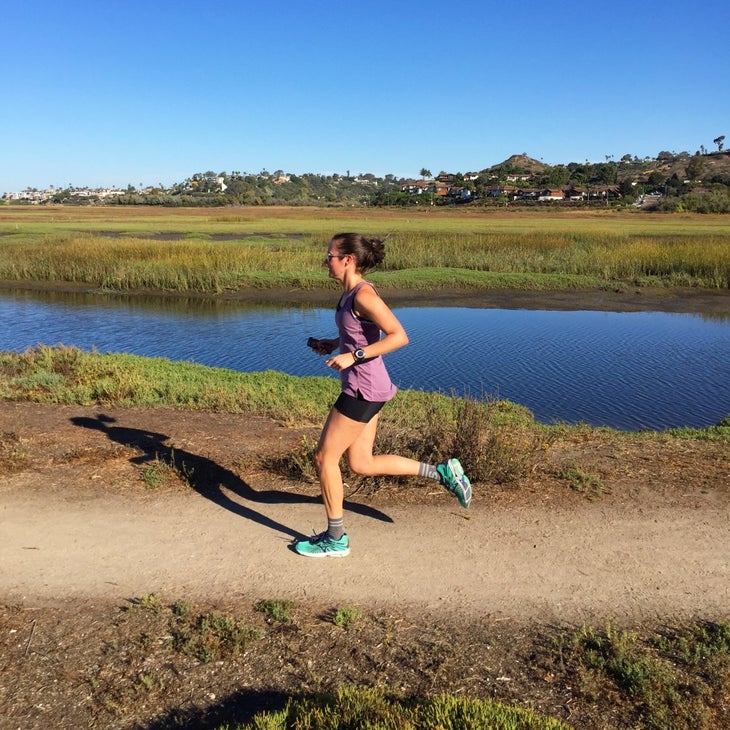 My good friend Sarah Swiss (@sarahaswiss) took this shot of me during one of our long runs. She's a huge part of why this post got published and why I feel more confident than ever. 
Almost two months ago (well, six weeks to be exact), I decided to take on Kayla Itsines' Bikini Body Guide (BBG) workout to shake things up in my fitness. Her program takes basic moves, strings them together for a 28-minute sweat session, slowly incorporating more reps, weights, heavier weights and variations over time. It's three times a week, and it's $#%&ing hard. I didn't necessarily want the "bikini body"—a name she's publicly stated she wouldn't choose again—I just wanted some new strength work to complement my running. One popular way her millions of followers document their progress during the three-times-a-week workout is with "progress photos," showing the difference that the program makes in just one month, then two, and so on.
I am not one of those people.
Many of my friends, some of whom are also tackling the Instagram-famous BBG program, have asked me why I'm not documenting month-by-month transformation by posting shots of my sports-bra-only self. At first I just shrugged it off and said I don't really care, I'm too lazy, I'm terrible at selfies—the list goes on. But after awhile, I started to really think about it and wondered, Why don't you take those photos if even for just yourself?
Here's your answer: I'm not taking before and after photos after every four-week segment of the workout because I'm tired of judging my body based on how it looks. I've done this for as long as I can remember, in various ways and situations, and it's not only counterproductive for me, it's often very dangerous.
When I was in high school
I have massive respect for people who take before and after—or "progress"—photos during their workouts, whether it's Kayla Itsines' BBG program or another program. I have a lot of friends who have shown tremendous results through these photos, and they are all kicking ass at achieving their goals. But this isn't about them; this is about me. This is about me and the fact that my inner thoughts have functioned in an unhealthy, warped way since I was 13 years old.
I remember looking around, taking in some of my first big cross-country and track meets, noticing how all the bodies around me were similar: scrawny on some level, maybe toned if you were older and had grown into and through puberty, long from the torso down for the most part. In my eyes, they were all perfect, and I wanted to forever look like that.
I would quickly learn that one runner in particular who totally dominated every invitational—she went on to win the national high school championship one year—had an eating disorder. That following track season, I was told that I would run my 1,600-meter leg of the distance medley faster if I threw up before my race. (I couldn't do it, thankfully, but boy, did I try.) Upon moving from a division 5 school to a division 1 school, I was thrown into a much more competitive world of running against some of the top schools in the country. I was no longer the top dog on my team; when I started running with the squad, I was barely keeping up with the core group of varsity girls. Obviously I had some work to do, which included making sure I did not gain any weight. At 5'7" and barely 115 pounds, that was an absurd concern.
When I got sick with the "skinny disease"
After graduating high school, I kept running for fun through college, until I was crippled by ulcerative colitis and forced into a very weak state and a bed-ridden summer, hardly keeping any food in. It took a solid year to get back to any normalcy with running, but when I did, I returned with the knowledge of what my colitis had done to me—and what it was capable of doing. I had been "blessed" with a disease that, according to many people, made it impossible for me to gain weight. The "skinny disease." That was the most dangerous power to give my body. It didn't even matter that I was drastically out of shape with running; as long as I still "looked like a runner," I would be fine. It was around fall 2007 when I was running again; it is now fall 2016, and I still struggle with this sick mentality.
When the marathon saved my body
I was the girl that studied every imperfection in the dressing room; when friends would tell me a certain bathing suit or pair of shorts would look killer with my legs, I blushed and disagreed. And in many ways, that self-conscious girl still lives inside me. From high school until probably 2015, I never thought of food and muscle as tools to be a strong runner. I thought of them as obstacles. If I ate too much, I would gain weight. If I put in too much muscle, I would look bulky. (Ridiculous, right?) It wasn't until I decided I wanted to run my first marathon that I was forced to re-evaluate what it really meant TO ME to be a runner. Did it mean "looking that part" like those high school girls, or did it mean running injury-free because you're eating enough nutrient-rich food and running fierce because you're not afraid of a little extra protein before tomorrow's long run? Thankfully, I was able to plunge myself into the second option. I still think I would literally not survive marathon training with how I had been handling myself for the last 14 years.
When I did that first burpee
That brings us to Kayla Itsines and her glorious BBG program, which I officially started about 11 weeks ago. After running the Boston Marathon and taking some time off, I struggled with what was really hindering my love of running and why I didn't feel that pull to return to running. I was at a standstill with myself, feeling kind of over it. When a colleague shared Itsines' workout with me, I thought, What the hell? You've never done anything like this, you hardly do any strength training, what do you have to lose? 
Turns out, nothing, but I had a lot of muscle to gain, which much to my surprise started becoming motivation more than a deterrent. My legs slowly started getting more strong curves, and my core was getting tougher. My arms went from barely completing one "real" pushup to carrying me through sets of 10 sandwiched between burpees and mountain climbers.
But the best part? I started running again, 4 or 5 miles here and there. They felt more powerful, and for the first time in my life, I smiled a real smile as I cruised up a hill, because I felt strong from the inside out, not the outside in. I had spent more than a decade focusing on how to look the part, how to run more miles with less fuel, how to find ways around cross-training to add another run. And that did exactly nothing for me. I'm running less than I have in years, and I've never felt more at peace with my body; I'm not trapped in it anymore. And it's crazy that it came from this program.
So is the moral of the story that before and after photos would ruin my focus? Maybe. I still struggle with creating flaws out of perfection. Is the lesson that before and after photos are pointless? Absolutely not. But is the message that I, Caitlyn, don't need them? Yes, absolutely. For once in my life, I don't need images to tell me I'm a runner. I can feel it.