5 Ways To Save Money On Running Expenses
We know running can be an expensive hobby—here are a few ways to save some money.
Heading out the door? Read this article on the new Outside+ app available now on iOS devices for members! Download the app.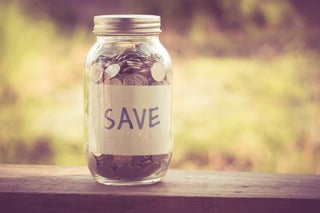 *Courtesy of RunHaven
Many people get into running because it not only has great fitness benefits but because it requires little gear. The idea is that all you need is a good pair of shoes, and you are ready to go. However, after you buy that pair of shoes you realize that you'll probably need a pair of shorts, a shirt, maybe some cold-weather running gear, some socks, possibly a self-massage tool like the stick and a foam roller. If you are a woman, you will need a good bra. Not to mention the cost of possibly hiring a running coach, which can be very beneficial, and the cost of running races. For those whose running hobby leads them to an affinity for a triathlon, the price tag grows exponentially.
The problem is that running isn't just a hobby. Often, it starts as that. However, it grows into a lifestyle, a passion, something that you can't give up. Since hanging up the trainers isn't an option, let's take a look at a few ways runners can save money on their passion.
Look for last year's gear
Good running shoes now cost between $110 and $200. Some cost even more. However, especially for shoes that are more popular, many running stores will have last year's model of the same shoe. When a shoe updates or a new version comes out, generally stores are looking to get rid of the old version. This doesn't mean that the old version is bad. Often, there isn't much difference between the old version and the new version. The reason stores are trying to get rid of the old version is to keep their inventory healthy. It is important for their relationships with their vendors, and their customers, for the store to keep their inventory fresh and up-to-date.
If you have a favorite pair of running shoes, or you get put into a shoe at your local store that you like, but you aren't crazy about the price, make sure you ask the employee if they have last year's version or a similar shoe that is discounted. Don't worry about asking for a discount, you're helping the store out by buying old versions of shoes.
Find discounts on races
The best way to get a premium price on your racing addiction is to sign up as early as possible. Generally, races offer early bird pricing. If you wait until the last minute to sign up, you will be paying top dollar. That being said, you don't always know if you're going to be fit and ready to run a race until close to race time. Don't sign up too early for races and injure yourself trying to run a race because you spent the money on it.
Another great way to save money on races is to sign up for various memberships. For example, a membership from Runners On The Go will get you small discounts to races, running stores and running clubs. Most of the discounts are fairly insignificant. However, even a 10% discount can be large when you're talking about running a $200 marathon. Furthermore, if you run multiple races in a year, buy running shoes, and use some of the other discounts, you can end up saving hundreds of dollars. A Runners On The Go membership does cost a small amount of money. However, you can easily save more than it costs. Plus, they offer a six-month membership for free.
Pay attention to the items in your race bag
It is easy to go to the packet pick up at a race, get your race bag, T-shirt, and number, and completely ignore the items in your race bag because you're so excited about your awesome new race shirt. However, did you know that if you pay attention to the items in your race bag, you will often be able to save quite a bit of money on future races and other running related needs?
Races that are at different times of year will partner up to so that they can each get higher registration numbers. For example the major marathon in your area that is in the spring may have a coupon in its race bag for 20% off registration for the major marathon in your area that's in the fall, and vice versa. The number of people that run both of these marathons is usually fairly significant. If you were one of those people, or even if you are interested in doing any other races besides the one that you are getting a race packet for, make sure to look at the items in your race bag.
Join local running clubs
Local running clubs are a great opportunity to find like-minded individuals who have similar goals and motivations to you. It is also a great place to find people to train with. However, one benefit of joining a local running club, that most people don't realize, is that these running clubs often have club discounts or group discounts to various running-related expenses.
Local running stores sometimes start and head up the local running clubs. In this case, the members of the running club will, usually, get a discount at the running store. Furthermore, in another attempt to get more people to register, races will often offer a discount code for being a member of a local running club. Some running clubs even take this a step further and see if they can get discounts to local businesses, even ones that aren't running related. In short there may be an upfront fee to join your local running club, but it is usually small, and can pay for itself in the money you save. Furthermore, you will make friendships and gain training partners that are priceless.
Be creative
The most important thing is to understand that you don't have to pay full price for every running-related expense. From there, many people can find their own ways to get discounts. For example, many races offer family discounts. Sign up with four to five friends and save money. Many races allow you to run for free if you raise money for a charity. Volunteering at one race in a race series will sometimes get you a discount, or even free entry to another race in the same series.
All of these methods may seem insignificant, and while you may not save thousands of dollars with any one of these ideas, at the end of the day (or year,) all of those small discounts add up.
More from Run Haven:

High School Friends Lean On Each Other To Fight Blindness
Overcoming Scoliosis—I Run With Half My Lung Capacity
Are Ice Baths Worth The Torture?
I'm Addicted To Needles
17 Ways Running Is There For You