5 Things Only Texas Runners Will Understand
Sing it with us: The stars at night, are big and bright...deep in the heart of Texas!
Heading out the door? Read this article on the new Outside+ app available now on iOS devices for members! Download the app.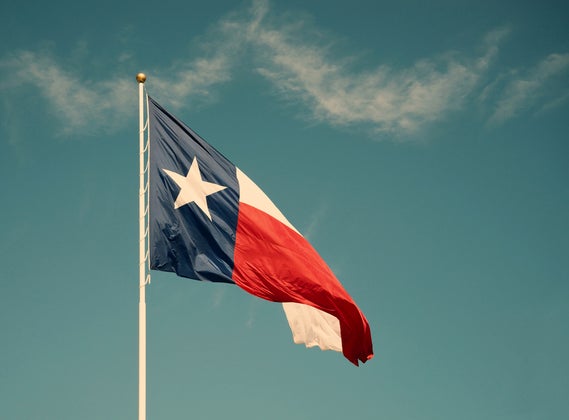 Not everyone in the Lone Star State thinks Texas should leave the U.S. and become its own country, but there definitely are some things that only Texans understand. Even though the major cities are vastly different—Dallas/Ft. Worth, Houston and Austin can feel like different states sometimes—there are some commonalities that bring all Texas runners together.
Unless it's summer, you can't predict the weather.
In the summer, you aren't surprised when the meteorologist announces that it's day 59 of temperatures reaching more than 100 degrees. It is expected. The weather in every other season, however, makes no sense. Its 40 degrees in the morning and by time afternoon hits it is 80 degrees. How do you dress for that?! And those freak downpours on what was supposed to be a sunny day? So confusing. Depending on what city you're in, winter brings ice and the whole city shuts down (Austin, I'm looking at you). Texas runners are prepared for any type of weather, anytime.
Road trips to races out of state? Think again!
Everything is bigger in Texas, especially the state. Driving across the state of Texas on I-10 takes MORE THAN 14 HOURS. Road trips to races often mean you head to one of the big cities—drives that usually take about 3-4 hours—and that is enough. Because those drives? They feel like they take forever, thanks to the flat, desolate views along the way.
Always get your running gear locally.
Texas loves to keep things local and we have some great running speciality stores to do it. A favorite, of course, is Luke's Locker, which has 10 locations across the state. More than just a store, they also offer training groups, making them a cornerstone of the running community. Supporting them—and other local businesses—is our way of saying thanks.
Be prepared for some unexpected sights.
From armadillos, to cops on horses, to a man who rides a bicycle down the street in only a thong—looking at you again, Austin—you never know what you are going to see while on your run. One thing is for sure, your runs will never be boring! Whether you want to run through a cityscape or prefer trails on a lake, there is something for every runner (even the beach, though you won't see many waves).
Planning your runs around football is a way of life.
There is a reason that 'Friday Night Lights' was set in Texas. We love our football. So whether it is a Friday night high school game, a Saturday college game or a Sunday professional game, runners know to work those long runs around football schedules. Even if you don't watch, you know when to steer clear of certain parts of town due to excessive game day tailgating and traffic.