5 Goal-Setting Tips For Your Next Training Cycle
When picking a time goal for your next big race, make sure you are setting a realistic goal.
Heading out the door? Read this article on the new Outside+ app available now on iOS devices for members! Download the app.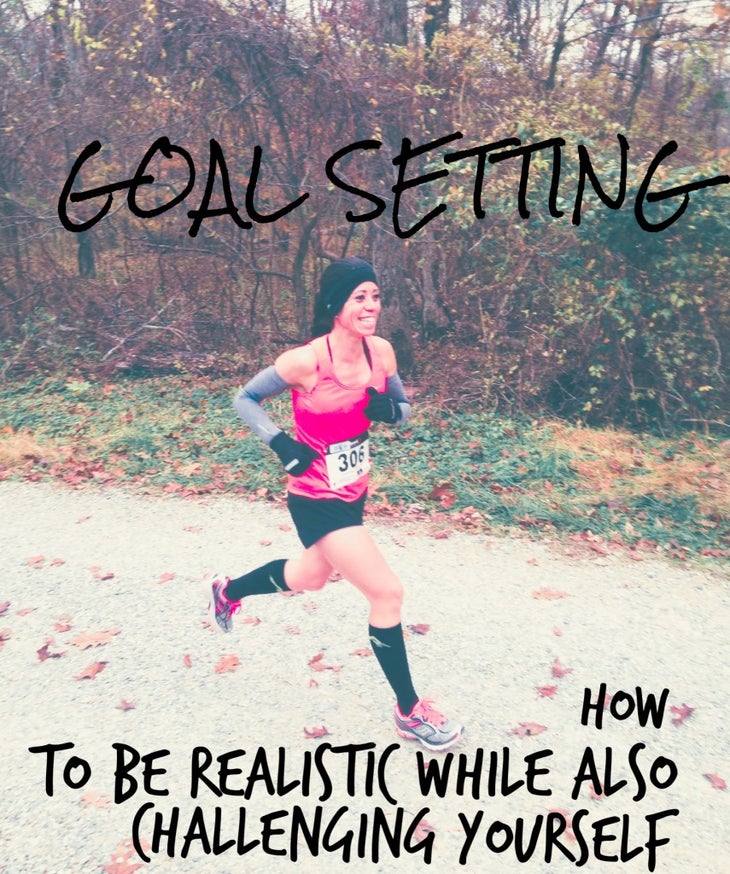 As spring racing season comes to an end, many of us may start looking ahead to the fall, setting up training plans and outlining goals for the remainder of the year. While your finish time isn't the be-all and end-all of racing, it is exciting and motivating to set time-specific goals.
But goal setting is not easy. You want to set a goal that challenges you on a daily basis. But you also don't want to set an unrealistic target that is too detrimental to your training.
Take me for instance. A couple of years ago, I set an arbitrary goal of sub-3:10 for the marathon. That time literally came out of thin air. It wasn't tied to my current fitness. I had just given birth to my second child, hadn't raced a marathon in years and my 10k time from a couple of weeks prior put me closer to a 3:22-3:25 marathon. It was an even, whole number that sounded great and challenging. I immediately started training at sub-3:10 paces even though I wasn't in shape for those times yet. Looking back, I was pushing too hard every single day and was borderline overtrained when race day arrived.
Related: Recovery Does Not Make You Weak
So how do you find that sweet spot—one that is both challenging AND realistic?
Here are some thoughts:
Assess your current fitness level. Before you can choose a time goal, it's important to be realistic and take an honest look of where you are right now. Don't base a new goal on a PR that s a few years old—fitness, age and training all come into play. If you aren't sure of your fitness, sign up for a shorter distance race. That time will at least get you in the ballpark of your current fitness. (Note: this obviously doesn't take into account endurance for longer distances but at least your short-distance speed is assessed.)
Use training calculators to determine paces. After you get an idea of where your fitness is at, you can then start using some of the online pace calculators. While these are not 100% accurate, they can put you in a general range of the training paces you will want to hit during the cycle. They will give you suggested paces for each of your runs—easy, recovery, long, tempo and intervals. Maximum Performance (my favorite!) and McMillan Running are two of the more well-known calculators.
Train at paces based on where you are NOW rather than where you want to BE: Say you just ran a 4:05 marathon and you want to go for that sub-4. After some recovery from the race, you'll want to start with training paces a bit slower than your last race and work towards those for sub-4. If you start the training cycle trying to hit paces for sub-4, you run the risk of injury or overtraining. You want to see gradual improvements in pace (tempo, speed, long runs) as the cycle progresses.
Keep the goal flexible and fluid. It's great to have a time goal in mind during the training cycle, but ideally, your goal time should take into account your ENTIRE training cycle. Think about how many long runs you were able to fit in, what pace did you hit on your tempos and intervals, and how you performed in any tune-up races you ran, as well as weather and conditions on race day. My coach and I didn't decide on a time goal until the week of my race, after all the long runs were through and all the workouts were completed. Yes, there's some uncertainty throughout the training cycle but life is uncertain and you don't know how well the cycle will go. It's far better to show up to the start line with a slower, more realistic goal and a therefore better pacing plan than it is to go after the faster time and having a tough race.
Focus on small improvements over a period of time. One of the best pieces of advice I have ever received was from my friend Tia. Since 2012, she has run 9 marathons and has PR-ed at every single one. She has taken her time from 3:19 to 2:58. She worked at this for several years and chipped away—a few minutes here, a few minutes there. She focused on small, attainable gains each training cycle rather than going for that sub-3 right off the bat.
How do you come up with time-related race goals?