10 Ways Runners Mope After A Bad Race (And How To Feel Better)
We have all had a bad race—the important thing is how you recover from it.
Heading out the door? Read this article on the new Outside+ app available now on iOS devices for members! Download the app.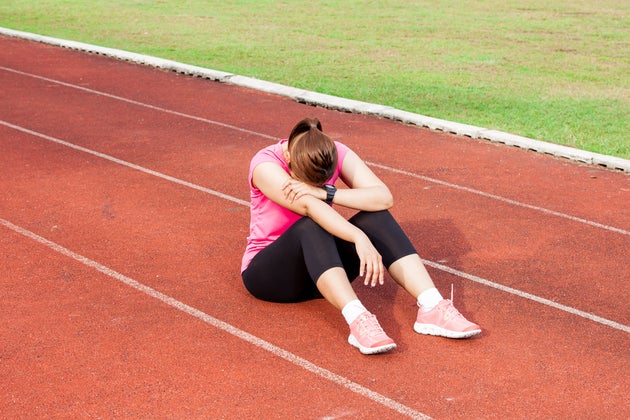 It's happened to the best of us. You sign up for a race, train your heart out and when the big day arrives you….totally blow it. Maybe you didn't get enough sleep, maybe you started too fast, maybe it's hot or cold or raining– whatever it is, the race didn't go according to plan. Whether you fall just short of a new PR or don't even make it to the finish line, a disappointing race is one of the biggest bummers in a runner's life and it's only natural to want to throw yourself a pity party. Here are ten (slightly exaggerated) ways runners mope after a bad race- and three ways to turn it all around.
Delete every race photo from your phone. And your mom's phone. And from all social media.
Eat every bag of potato chips, tub of ice cream or bag of candy you can find—whatever nutritionally devoid food you deprived yourself of in the name of healthy training.
Dissect your running watch or app to try and pinpoint where it all went wrong.
Blame your sneakers. Throw out sneakers. Order new sneakers.
Watch a marathon of your favorite running movies (or J. Lo movies. No judgement).
Spend an hour online trying to cancel all future race registrations.
Look into new sports. Decide to take up cycling since it requires zero running.
Cut open all your gels and watch them drain down the sink.
Throw out your formerly lucky shoelaces, or headband, or socks, or whatever item clearly betrayed you.
Cancel the alarm on your phone that wakes you up for your morning run.
Ok, so maybe some of that was a bit of an embellishment, but the truth is that we all do wallow a little after a bad race. But that's okay! It's good to acknowledge that things didn't go the way you'd hoped so you can figure out how to do better next time. So once you've demolished that pan of brownies (again, no judgement) and sufficiently sulked, try these tips to move on and have your best race yet:
See the silver lining.
It may take a little (or a lot) of reflection to find the good in a bad race, but it's worth doing. Sure, you didn't PR or even come close, but maybe you figured out something that doesn't work for you, and that's just as important as knowing what makes you succeed. Maybe you just barely dragged your butt across the finish line after your most painful race ever; now you know you're mentally and physically tough enough to get through anything. Or maybe you finally ran in a city you've always wanted to visit or stayed with friends the weekend of the race and made some new memories. Whatever you come up with, associating the disappointing race with something positive will help take away some of the sting.
Make a game plan.
Post-wallowing, take a little time to really focus on what went wrong. It may be painful to revisit but reviewing everything from your training and tapering to your fuel and hydration is important to both getting closure on this race and improving for future races. From there, make a plan for how you're going to work on the issue; having something specific to focus on will give you motivation to train for your next race when you otherwise might want to give up.
Move on to the next one.
Even though another race may be the last thing you want to think about, signing up for one is the best thing you can do to get your groove back. If you're still feeling shaken by what happened, give yourself plenty of time before your next big race and register for a few easy 5Ks or fun runs in the meantime to build up your confidence. Before long you'll fall into the rhythm of training and you'll leave the memory of that race in your dust.
Read More:
How To Start With A Clean Slate After A Bad Race
This Is How To Get Over A Bad Race