10 Things That We Just Love To Hate About Running
Our magazine team shares their best (and worst) peeves about our favorite sport.
Heading out the door? Read this article on the new Outside+ app available now on iOS devices for members! Download the app.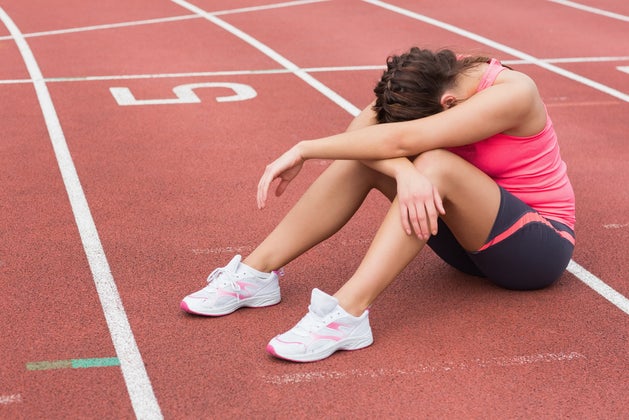 It's time to turn the tables. Let's get real about those things that totally suck before, during or after a run. This list came together thanks to our magazine team sharing their best (and worst) peeves with our favorite sport. While we may not have solutions for every woe listed, we definitely have sympathy for those runner girls that have suffered through these disasters. (If you need some calming reassurance that running still rocks, we have 10 reasons why that's true too!)
10—Slippery socks.
This only leads to worse things: blisters, shortened runs due to blisters, runners who are angry because of a shortened run due to blisters. It's just not fun. We recommend checking out our favorite run socks to avoid this tootsie chaos.
9—Chafing.
OMG, chafing! There just aren't enough products in the world to combat the inevitable surprise chafes that pop up, even after you're slathered in Vaseline. Chafing turns the normally relaxing post-run shower into torture. It's like a runner's version of a bad sunburn, amiright?
8—Running humble-braggers.
We love talking, dreaming and thinking about running all day long—but sometimes our little endurance minds need a quick break from all the chatter. This is nearly impossible when your bestie is nonchalantly mentioning her weekly mileage on the regular. A middle-ground solution is let the #runchat fizzle out for a few minutes before changing the subject. How about them off days?
7—Finding vacation race clothes in your suitcase—five days later.
That's pretty rank, but we've all been there with the dirty-clothes-pocket of our travel bags. Consider it a nice surprise. I bet you've been looking for that dirty sports bra!
6—Pesky earbuds.
We are pretty sure there isn't anything more annoying than headphones that just…don't…stay…in…place. After giving up on the earbuds, we're stuck with either awkwardly carrying them or wrapping them around a now-useless music player for the rest of the 10-mile run. Yea, no thanks! I'll just take a pair of one of these please.
5—Dead music players.
This presents the same problem as above: You're all pumped up for your new Taylor Swift mix. The songs are all carefully placed in a certain order. You're cruising into mile 2…and your screen go black. Womp, womp.
4—Customer-only restrooms.
For those of us who have "special needs" in that area, this is especially annoying. And for us females, it's not as discreet when we relieve ourselves in open spaces. There aren't enough medical cards in the world to break through those barriers. Although we have noticed that the head-down, walk-straight-back-before-the-employee-sees-you approach often works…jus' sayin'. If we're feeling extra guilty, we'll go back and buy a food or drink post-run.
3—The ever-popular (why?!) "Run, Forrest, Run!" comment.
Seriously—why is that still a thing? Not a jab at Tom Hanks; we just prefer something a little less cliché and a tad more engaging (like that guy who strums "Eye of the Tiger" on his guitar as you breeze by).
2—An overabundance of pink.
First, we dig pink. It's a fabulous color and one of our favorites. But we like other colors too. Let's ditch the old-school approach of tossing fuchsia on everything and calling it women's apparel. We love every shade of the rainbow!
1—Overflowing runner gear.
Definitely the best problem to have. When reaching for your shoes and shirt of choice, there's the realization that your one dedicated run drawer is no longer appropriate for the plethora of apparel you're housing. It's time for a shoe rack and separate dresser just for sweat gear. If you're goal is to overflow that treasured drawer, check out our Holiday Gift Guide in the 2014 Nov/Dec issue—yes, we want it all too! And if your goal is to de-clutter, consider donating gently used running apparel and shoes to Goodwill or one of these organizations.