Simple Tips To Start Running To Work
Running to or from work is an easy way to get a workout in and reverse those effects of sitting all day.
Heading out the door? Read this article on the new Outside+ app available now on iOS devices for members! Download the app.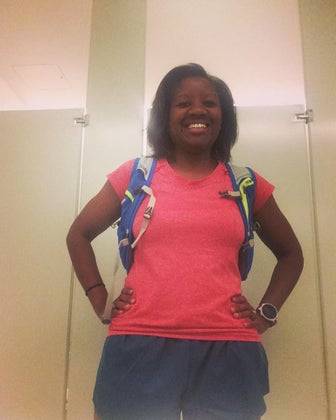 I've recently been trying my hand at run commuting and it's been good. It's both exercise and practical usage of my legs (and often quicker than public transportation). When I first started thinking about run commuting I thought I needed all this fancy gear and that it would be a big challenge. I've realized that doesn't have to be true. Here are a few things you can do to start run commuting the easy way.
Assess your route.
One of the first things you should do is figure out what route you'll take. There are likely numerous options and it makes sense for you to do a test run to see if your proposed route makes sense. Keep in mind you'll probably be running during rush hour so it might make sense for you to go a bit out of your way to avoid traffic. I found a route that gives me a little bit of a hill to keep it interesting, but also goes close enough to the metro/bus routes, so should the weather suddenly get really bad, I can easily get home another way.
Assess your gear.
I was not interested in buying a fancy backpack or any of that. I was pretty determined to make run commuting work with things I already had at home. I found I could use my CamelBak (without the water bladder) to help me transport essentials easily. Problem solved. I have a couple friends who just leave everything at home and run with their keys in their pockets and don't even use a pack. That can work as well. The point is that you probably already have the gear to make run commuting work for you—at least so you can test it out and see if you like it.
Make a plan.
I find it much easier to run home with the essentials than run to work and have to deal with showering and getting ready and all that jazz. I also plan to run home on days when I'm running easy—not on days where I've already done a hard workout. You should think about what makes sense for your schedule but if you plan ahead, you'll find that run commuting one or two days a week can be fun!
I enjoy run commuting and while I don't do it all the time, having the option from time-to-time is nice.
Have you ever run commuted? Tweet us at @EatPrayRunDC and @WomensRunning to share your tips!
Read More:
10 Reasons Its Okay To Run Solo
3 Safety Precautions To Take Before You Run