Why I Ditched My Garmin
T-Rex Runner has ditched her Garmin for good to re-spark a love of running.
Heading out the door? Read this article on the new Outside+ app available now on iOS devices for members! Download the app.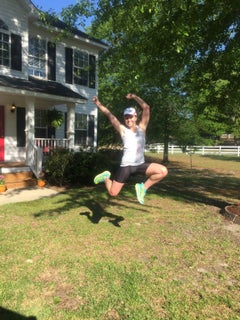 Purchasing a GPS watch is a rite of passage for many runners. I bought my first one after running my first half marathon as a celebration of what I had accomplished—and as a way to track my pace for my next race to make sure I ran even faster. Watching my pace decrease and my distance PRs increase on my Garmin (which I creatively named Garmy) became an addiction, and I couldn't imagine running without him. A run without Garmy didn't count—it was like it never happened.
I lived like that for years, relying on my Garmin the same way I relied on water or oxygen. If it showed me numbers that I thought were good, I felt happy. If the numbers were slower than I thought they should be, I felt sad. There was no regard for my effort level or how other workouts throughout the week might have affected my pace or mileage. For some reason, the same obsession didn't really extend to my times in races. Whether I ran well or not, I had fun and didn't worry about my time, but the obsession with my Garmin made training miserable.
I finally broke up with Garmy this year. For the 18 months prior, I had been enjoying running less and less. Training seemed like a burden rather than a privilege. I grew frustrated with my slowing times and then furious when I couldn't bounce back quickly after my back surgery and train as frequently as I used to. My Garmin held nothing but bad news for me, and running quickly turned into a source of stress rather than a reliever of it.
In a last ditch effort to find my way back to the sport I loved, I ditched my Garmin. I ran without any regard whatsoever for my pace or mileage. I wore a simple heart rate monitor and started running entirely by effort level and by total time. I stopped training for races. I ran only as far as I wanted to and only as fast as I felt like, with no real way to measure what that meant. At first, I was still frustrated, because running still felt hard. But over time, my love for the sport came back, and with it, my motivation to train for and run another marathon.
As I train for my next marathon, I'm still not using my Garmin. My training runs are done by total time, and I run at whatever pace I feel like on any given day. Is this method likely to yield me a PR? No, almost certainly not. But it has given me back my love of running, and that's worth far more.
Read More From T-Rex Runner:
Making Your Miles Count
The Work/Run Balance