Why Goal Setting Is The Hardest Part Of Running
If staring down a race goal leaves you wondering if you have the ability to do it, there is only a few ways to find out.
Heading out the door? Read this article on the new Outside+ app available now on iOS devices for members! Download the app.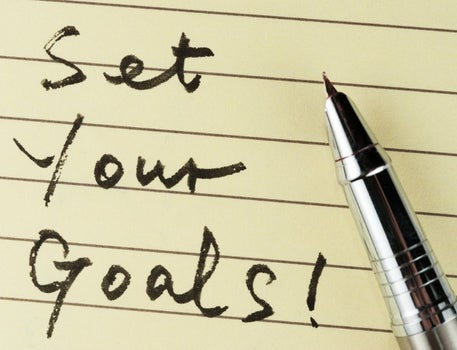 Have you ever stared down the "submit" button on a race entry form? Your heart longs for the wonderful exhaustion of the training it would bring, but your mind is shouting out all the possible barriers and roadblocks between you and the finish line.
If staring down a race goal leaves you wondering if your desire to cross the finish line can truly morph into the ability to do it, there is only a few ways to find out.
Start At The Finish
This may seem contradictory but you need to know what you want your finish line to look like. Does it have a PR (personal record)? Are you with your girlfriends? Do you want to simply make it to the other side of the line? The answer to this question will determine your focus, time commitment and possibly even the race location or theme.
Question Everything
Ok, maybe not your sock choice just yet, but ask yourself some tough questions and be honest with your answers:
Why this goal and why now?
Am I willing to make this a priority in my life?
Will I have fun doing it?
Once you decide this is truly the right time and the right goal for you and that you can still have fun while making a commitment to follow it to the finish, you have a winner.
Sweat The Small Stuff
Planning, organization and attention to detail are the keys to a successful training plan.
Planning: With literally thousands of training plans to chose from, for any race distance; select one that best fits your lifestyle. You may even choose to hire a coach for customized training and advice.
Organization: Hours dedicated to training and running may take a toll on your social life, family life and work life. Have conversations with all the important people who may be affected by your disappearing acts while you're training, and make sure you have their support.
Detail: Know there will be days when you are shoved out of your comfort zone, tired, unmotivated and just over it. Who will you reach out to for support? Figure it out ahead of time so your bestie isn't caught off guard when you call her crying because the local running store stopped carrying your favorite gel.
Find Joy In The Journey
Take your training one day at a time. Enjoy where you are in the moment, and try not to focus too much on the outcome. If you're not enjoying the run, what's the point of the race?
Runners love to keep journals just for this purpose. On the days you feel you're not making any progress, take out your running record and see how far you have come. Sometimes, a look back can help you move ahead.
Did you like this article? Here's some more:
Set And Chase Your Biggest, Scariest Goals
How To Dream Big, Set Goals And Achieve Them
Allie is happiest when sweating or writing. She is a competitive athlete on Oiselle Team Voleé and has represented Team USA in duathlon competition.  When she's not running, swimming or biking she's writing her health and fitness blog VITA – Train for Life.  Allie lives in the Northeast with her husband and twin boys, desperately trying to make gentlemen out of them all! She can be found on Twitter, Instagram and Facebook.