What's The Best Way To Breathe While Running?
Get oxygen into your body while letting it all go on the run. Consider these inhale/exhale tips.
Heading out the door? Read this article on the new Outside+ app available now on iOS devices for members! Download the app.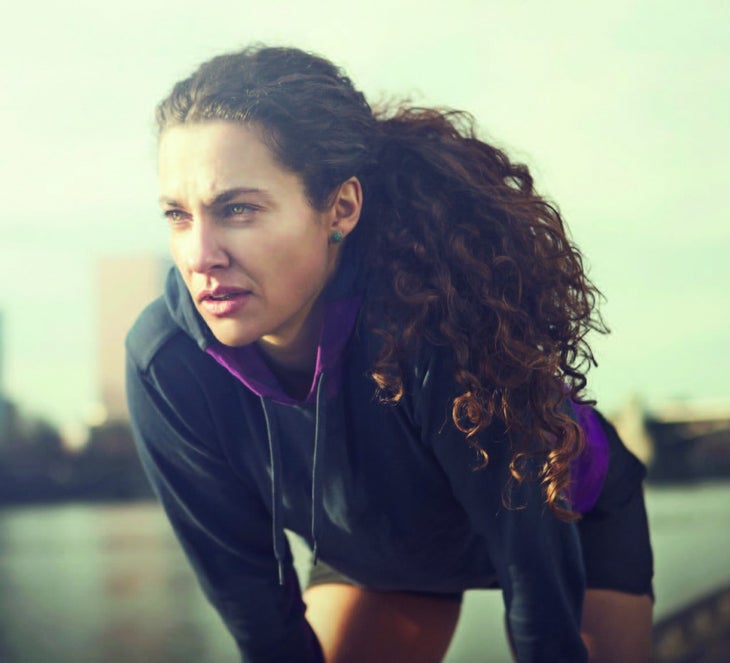 Proper breathing is crucial for runners. Way more important than any vitamin or mineral, the chemical element oxygen powers your body to perform at its best. Coach Mario Fraioli explains, "It's your main mechanism for getting oxygen to working muscles, so the more efficient your breathing is, the more efficiently you can perform." But just like in your day-to-day life, breathing while running should be an automatic function. Fraioli says that the less thought that goes into the process of inhaling and exhaling, the better off you'll be.
However, the human condition makes this recommendation easier said than done, especially for beginners. As Dostoevsky noted, "Try…not to think of a polar bear, and you will see that the cursed thing will come to mind every minute." So how do you get your mind off the matter?
#1 Stay Relaxed
"Newer runners can develop erratic breathing problems because they're tense," says Fraioli, adding that this is an issue for experienced athletes as well. Nerves will negatively impact efficient breathing; any run can be stressful for newbies, while old pros will often feel anxious before hard workouts and races.
To combat the jitters mid-stride, Fraioli recommends "relaxing everything from the top down." If you start to experience shortness of breath, shake out your arms and press your shoulders back as you take a deep sigh. "This will work as a catalyst to maintaining composure."
Related: The Proper Way To Run Hills
#2 Shift Your Focus
If you're still getting caught up in what's going on in your lungs, consider tying your airflow to your footfall. Try this: When you step on your left foot, breathe out, taking two steps every breath. (Left, right, breathe out; left, right, breathe in.) "At a comfortable pace, that's a pretty natural pattern," says Fraioli. "Once you find your rhythm, it becomes almost trance-like."
Another option is to think about anything else—this could be the lyrics to the song playing on your iPhone, what you're making for dinner that night or a problem at your job you're trying to work through. He explains, "By occupying your mind, you'll find your natural breathing pattern."
#3 Run Tall
Once you get into a groove, focus on your posture to ensure your lungs can fill with air. "Square off your upper body. Avoid hunching over or leaning back," explains Fraioli. Think of an invisible thread at the top of your head pulling you upward as you move forward.
#4 Slow Down
If you do feel short of breath, don't panic. There's an easy fix. "Slow down, walk if you have to and stop completely if you need to," says Fraioli. Take a moment to check in with your body and chill out. "Use that opportunity to hit reset, so that when you start going again, you're in a more relaxed place."
Related: 3 Ways To Lace Up Your Shoes
NOSE OR MOUTH
How should you be getting all that oxygen? Whatever comes naturally, says Fraioli. He recommends experimenting with breathing in through your nose and out through your mouth, but keep your mouth open and your jaw slack, so you can access both airways at all times.