A Tale of Two Virtual Trail Races
Allison Pattillo ran two virtual races and discovered the miles (and their challenges) are real, even if the finish line isn't.
Heading out the door? Read this article on the new Outside+ app available now on iOS devices for members! Download the app.
The first virtual races due to COVID-19 were a novel diversion, a way to do what I loved while also feeling connected to something larger. For Kahtoola's Virtual Run Benefitting the Havasupai Tribes COVID-19 Relief Fund, I was part of a team and raising money for a worthy cause. #IRUNWITHMAUD gave the opportunity to add my voice to the worldwide outcry for racial justice. However, the Bolder Boulder 10K, my ritualistic kick-off to summer, wasn't the same without the bands, slip 'n slides, and the overall day of celebration. Running the virtual version was better than not running it at all, but, selfishly, it didn't provide the boost I craved.
Summer running proved therapeutic, albeit uneventful, until posts about the virtual running of the TransRockies Run began to pepper my social media feed. The six-day, 120-mile stage race through the mountains of Colorado was one my husband and I had completed twice before in 2010 and 2011. It's been a decade (and many injuries) since my legs have seen that many miles in a week; thankfully, participants had two weeks to complete the miles in the virtual event. That said, running 60 miles in a week was also a foolish goal considering my COVID-19 average was around 25 miles. However, there was a 60-mile total option, and, with the added benefit of having two weeks to complete the miles, both my husband and I were sold.
The plan for my first run was for a 5K shake-out on a dirt road, my daily route with my dog, Waylon, but at a faster clip to honor the race. Waylon was distracted by birds and butterflies, as is his normal, and I didn't think he'd followed me to the turnaround point for the out-and-back route. When I made the turn to head for home though, I saw fresh paw prints overlapping my tracks, but he was nowhere close. Given that I was now heading uphill, I let go of my confusion to focus on chugging along at 9,000 feet and smiled as Waylon started running toward me. Between us, on the side of the road, was a sand-colored boulder that's been there for as long as I can remember, but it looked different…bigger.
And that's when the mountain lion that had been stalking me (and was crouching next to said boulder) charged into the woods, with Waylon in rash pursuit. I stood, frozen, all of 15-feet from where it had been waiting. After what seemed like forever, with lots of horrible noises coming from the brush, Waylon returned unharmed. Instead of running home, we walked warily, staring at ridgeline and occasionally catching glimpses of the lion still following us.
In addition to the perception of safety in numbers–I've never been knowingly stalked by a mountain lion on the TransRockies Run course–I missed the camaraderie and the run/eat/sleep/repeat pattern of the race itself. When you are solely focused on a race, nothing else gets in the way. Yet, when you overlay a race on top of life, COVID-19 life at that, running can take a back seat. There was an active Facebook account, as well as frequent "Chill Zone" calls with race organizer Kevin "Houda" McDonald, complete with gear giveaways and appearances by legendary participants of years past, all of which helped replicate the genuine camaraderie of the event itself.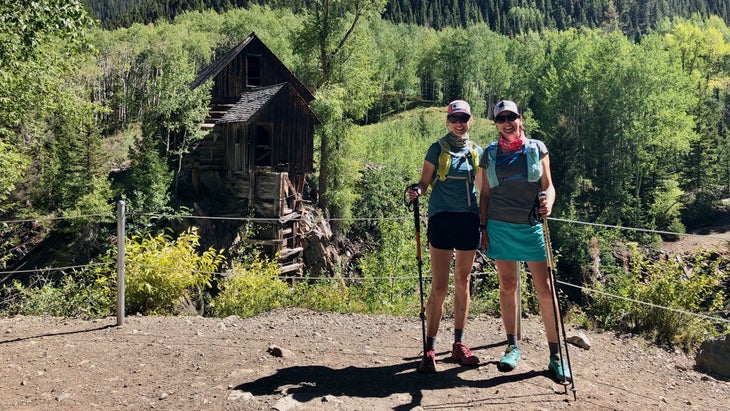 A week into it, we went to look at two guard dogs, since I was still scared to run at home due to the cat encounter. My husband wasn't sold on the idea of turning our two dogs into a pack of four, but he said he would think about it. That very same afternoon, the Grizzly Creek Fire broke out near Glenwood Springs, Colorado, and we were put on pre-evacuation notice. Due to poor air quality, we (dogs included) left to stay with friends. By the next day we were officially evacuated, and by the third day of having two dogs living in the back of my car, I had forgotten about adopting two more and took ours to the kennel in resignation.
While our house was fine, running in smoky conditions was not only challenging, but unsafe. But I really wanted my TRR finisher's belt buckle! There was usually a brief window during the day when the smoke wasn't quite as thick, and fitting in a few miles here and there helped to distract me from the overall stress of being evacuated. Still, the miles weren't adding up enough to finish even 60 miles. My husband and I eventually closed out the TransRockies Run virtual experience together with a long effort on a low-smoke day. Instead of raucously celebrating 120-miles with the entire TransRockies crew in Beaver Creek, we toasted our 60 miles with Slurpees from 7-Eleven and were happy.
But why do one race when you can do two? I also registered for the Rut Virtual Run, put on by the Rut Mountain Runs in Montana, thinking I would use TRR as training to build up mileage for knocking out the Rut Virtual Run 28K. Then, there was the evacuation (two weeks in total), taking a child to college, and life in general. I don't know if it's just me, but the excuses seemed to pile on fast when I wasn't toeing a line in person. Not only did I know better, Rut Virtual Runs even shared a training program. They also sent newsletters and had an online community, but by this point, I wasn't in the right head space to appreciate it.
One plus was that a friend who usually runs the Bolder Boulder 10K with me agreed to run the Rut Virtual Run, too. Given I wasn't going to measurably improve my endurance in the two weeks between events, I simply focused on putting in consistent daily miles, with a couple longer trail efforts for fun. My goal was to go into our long day healthy and well rested, plus dialed. Our route was a longtime bucket-list one for me, and one I thought would be worthy of the notoriously challenging courses of the Rut Mountain Runs. I downloaded it—mind you it's a relatively easy-to-follow lollipop loop—to three tracking apps just to be sure.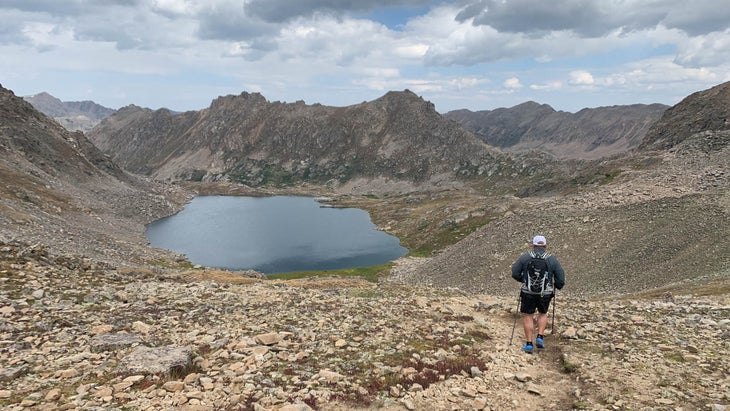 In a you've-got-to-be-kidding-me moment, I was sitting in an ice bath the day before our run, when my dermatologist called to tell me that a freckle she removed from my arm the week prior was cancerous. I barely comprehended as she explained it is common, was caught very early and, once she removes more of the area, no further treatment is required. Cancer is just one of those words you never want to hear. I was rattled.
I began our adventure wearing a copious amount of sunscreen and layers, so many layers. Plus, it was hot. My friend, who's also had skin cancer, convinced me that one layer was probably good, and we agreed to stop for frequent sunscreen reapplications. In the end, our 28K was more hiking than running, and it was fabulous. We enjoyed high alpine views, waterfalls, wildflowers, historical sites, and planned future adventures. We ran into some friends, ate all the snacks, laughed until our sides hurt as much as our legs, and ended the day at a BBQ joint enjoying a ridiculously large plate of beef brisket and French fries. It was one of those days that makes you forget everything else, as a good race should.
No, virtual races are not at all the same as running races in person. Yet, they do have merit. What I realized is that race or no, road or trail, with friends or alone; a pandemic, mountain lion, fire evacuation, and skin cancer be damned, running has been a constant in my life for the past 35 years. It's my go-to for mental and physical health. And the sheer simplicity of it makes me smile. So, sign up for that virtual race, run physically distanced but together with a friend, or simply lace up your shoes and go. But, please, whatever you do, wear sunscreen (apply early and often) and keep an eye out for mountain lions.
Come October, the author will be sporting a new scar on her arm with pride and urges everyone to stop what they are doing and schedule a skin check, right now. Seriously.