Blaze an Urban Trail in These 11 Cities
Hundreds of miles of trails are being developed every year all across the nation, so even city-dwellers can make trail running a habit.
Heading out the door? Read this article on the new Outside+ app available now on iOS devices for members! Download the app.
While there really is nothing like running along a mountain trail, through a dense forest, or in any number of other wild places, if you live in a major city, there are opportunities to enjoy a trail experience of your own with urban trail running. Urban trails give runners an opportunity to run on softer surfaces than they're normally afforded, and these trails are accessible to people who wouldn't usually be able to visit wild spaces often (or ever).
Research funded by the Urban Wildlife Conservation Program found that community members valued urban trail spaces for their connections to physical, mental, and spiritual well-being, as well as being able to participate in activities that were meaningful to them, like running. The study also found that people who live in cities often feel surrounded by "concrete and constructed environments" that leave them feeling disconnected from nature. Several studies have shown that nature impacts our well-being, and some doctors have even started to "prescribe" getting outside to their patients.
The global coronavirus pandemic has highlighted how valuable these trails are to communities across the country. Brandi Horton, vice president of communications for the Rails-to-Trails Conservancy, says that they saw a sustained 75 to 90 percent increase in trail use nationwide. "At some points in time, like early April and late March, it spiked to up to over 200 percent increase in trail use in parts of the country," she says. 
Anointed trail runners, too, may find benefits from urban trails. "Running urban trails has actually been really good for me when it comes to developing speed on more runnable terrain," says pro ultrarunner Corrine Malcolm. "It has actually paid off handsomely in races like Leadville and Western States."
These highly recommended urban trails are just a handful throughout the country that can get you started on your trail running journey and get you reacquainted with nature.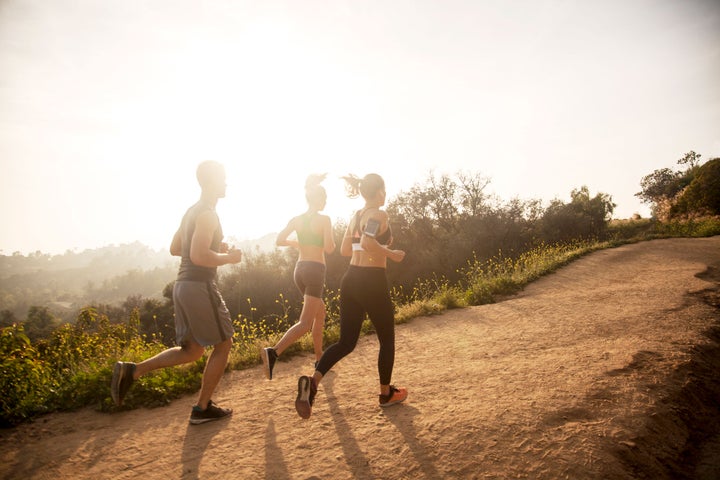 Great Lakes Waterfront Trail The entirety of this trail spans the Great Lakes region (3000km in total), certain stretches can be accessed in Detroit, Buffalo, and Toronto. 
Franklin Park Trails Some trail runners consider this Boston's hidden gem. "It's probably the most diverse urban trail you'll find in Boston in terms of both running surfaces and people who recreate there," says Boston-based running coach Chris Knighton.
Bluff Lake Nature Center Even if you're in the city of Denver, you still get a great view of the mountains. And when you run along the Sand Creek Regional Greenway to the Bluff Lake Nature Center, you can pretend like you actually are in the mountains. 
Glen Canyon Park Malcolm, a San Francisco resident, is used to driving across the Golden Gate Bridge to run the Marin Headlands, but when shelter-in-place was declared she was forced to get to know the urban trails she could access right from her front door. Glen Canyon Park is one she loves that will "make you feel like you've left the city." 
White Rock Creek Trail This popular trail in Dallas spans a total of 17.1 miles and passes by the Dallas Arboretum. Run the 9.4 miles around the lake or find other trails to connect to, like the Santa Fe Trail. 
Bonneville Shoreline Trail In the foothills of Salt Lake City, Utah, this trail gives runners plenty of options for single- and double-track trails that open into high meadows and rolling hills with views of the city below. 
Griffith Park Nestled in sunny Los Angeles, Griffith Park is one of the largest urban wilderness areas in the U.S. This gives runners over 50 miles of trails to traverse. The land was donated by Colonel Griffith J. Griffith who made his fortune mining gold. He hoped the recreational area would help make LA a "happier, cleaner, and finer city." 
Chesapeake and Ohio Canal 184.5 miles of trails allow residents of Washington DC a natural respite. Along the trails you'll find views that are both beautiful and historic. 
Washington and Old Dominion "You see incredible geography all along the way," says Horton of this 45-mile trail near her home in Virginia. "There's really neat amenities and small businesses and just all different types of people." The trail is mostly paved, but a 32-mile loose gravel trail runs adjacent. 
Looking for a trail near you? TrailLink is a tool designed by the Rails to Trail Conservancy to help you find nearby trails and filter by activity, trail surface, and distance. With trail networks expanding all across the country, it is becoming easier for everyone to explore nature in their own backyard. "It can really be incredible for your wellbeing, for respite, especially during this pandemic to get outside and find your little pocket of green space and to be able to claim that for running, walking, biking, and really connecting with your community," says Horton.