Tips To Start Trail Running For The Older Athlete
It's never too late to try a different type of running.
Heading out the door? Read this article on the new Outside+ app available now on iOS devices for members! Download the app.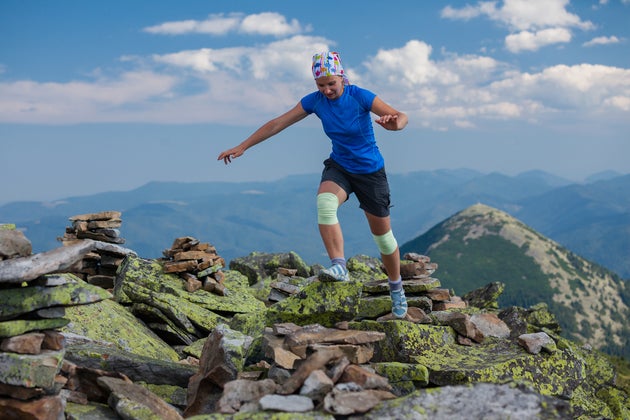 Fifty is the new 30? 40? Fill-in-the-blank. As I creep toward that milestone birthday, I feel like my mantra is "50 is the new sedentary lifestyle."
I've always been a runner, but a few months ago I found myself running out of steam. Beset by aches and pains, boredom and apathy, the two things I love most about running were precisely the things that were turning me off…
I love the exercise, but the constant pavement pounding was turning minor post-running discomfort into major injuries (damn you, stress fractures!).
I love being outside, but the same old boring routes around my neighborhood had me yawning, regardless of what time I woke up (and had me hitting the snooze button too many mornings in a row).
I was beginning to think my running days were behind me. The couch potato life beckoned. Sure I could jump on my bike, hit the pool or take up yoga, but the hassle of dodging traffic, juggling lane-swim times, and paying for yoga classes couldn't compete with the ease of throwing on a pair of running shoes. My apathy knew no bounds. If I couldn't run, I wasn't going to do anything.
And then I read Older, Faster, Stronger. Margaret Webb's book was a revelation! Here was a short (I'm short!) flat-footed (I'm flat-footed!) almost 50-year-old woman (that's me!) transforming herself from a three-day-a-week runner into a super-fit athletic specimen. Throughout the book Webb interviews women in their 60's, 70's, 80's, and even 90's who are running and sprinting, ultramarathoning and Ironman-ing their way to healthy, happy life-longevity. The entire book got me hyped, but it was the "Stronger" chapter that really got me fired up. The stories of women running ultramarathons on crazy-ass trails sparked my interest. Not that I have a 100-miler on my bucket list. Please, I may be getting older but I haven't lost it entirely. But the idea of running on scenic, rugged trails totally appealed to me.
Trail running, however, unlike the well-mapped security of road running, is intimidating for a beginner. I live in Toronto. We have a sad dearth of mountain peaks and ocean vistas, but even in the urban jungle of woodland trails near my house, there is the fear of the unknown, the slippery mud, and the rocks, roots, and rabbits. When you're out for a stroll they're cute fluffy bunnies; when you're running the trails, they're unpredictable health hazards. I wanted to hit the trails, but I needed to overcome the intimidation factor.
Enter the trail running clinic. Trail running clinics and groups are proliferating as more people embrace the sport. Some running stores offer meet-up trail runs, but just Google "trail clinic" in your city and you're sure to find one near you. I found mine through a trail running blog I follow. Over the course of two hours, trail runner Jennifer Farone taught a group of men and women of various ages and abilities how to approach the up-hills, how to stay loose on the down-hills, and how to stay light on our feet over rocks and roots.
Hitting the trails has made me look forward to running again, but with a new and improved outlook, one that has made running a far more enjoyable experience than it used to be. Whereas my road runs were all about distance, pace and timing, my trail runs are all about getting up the next hill, pausing at the top to take in the amazing view and then successfully negotiating the downhill around trees and over streams. Distance is irrelevant when trails curve up and down and all around; pace is, of necessity, slower due to the terrain. Timing ceases to matter: a forty minute run through the woods leaves me feeling more energized and satisfied and with a greater sense of accomplishment than I ever got from a mere forty minute road run.
I'm now a trail running convert, happy to spout off on the myriad benefits of trail running to anyone willing (or unwilling!) to listen. Are you ready? Here are the six key benefits that I have reaped from trail running:
Improved balance: the uneven terrain, while tricky at the beginning, is a benefit in disguise. Your balance will improve immensely as you find yourself negotiating rocks, roots, and rabbits.
Easier on the joints: the softer trail surface means less pounding for your knees and ankles.
Stronger core: seemingly like magic! Without 300 crunches! Negotiating the trails means keeping a lower center of gravity, which naturally results in an engaged core.
Better brain waves: the endorphin high from the combination of exercise and nature can't be beat. No cars, no stoplights, just you and the bunnies. You'll return home refreshed and reenergized.
Hill training without the hill training: no dreaded hill repeats. In fact, you almost don't notice the hills as you're leaping and bounding to catch the view from the top.
New-found requited running love: trail running, unless you decide you need to win the Badwater Ultra, is less about increasing your speed and distance and more about enjoying yourself out on the run. And really, if you're not enjoying yourself, why are you doing it?
Leslie Tralli is a freelance writer and long-time runner. She is a co-founder of The Brave Art Lab where she writes about art and creativity. When she's not out running the trails, she blogs about books at www.whatsinsidethatnut.com. She's competed in 5K and 10K races, several half marathons, one full marathon, and, recently, her first trail race.