How to Fall on a Trail Run Without Hurting Yourself
Pro runner Max King offers tips, tricks, and helpful perspective.
Heading out the door? Read this article on the new Outside+ app available now on iOS devices for members! Download the app.
Elite trail and ultrarunner Max King says he's no stranger to falling while running. "It's my background," he says. "I didn't just grow up running, but I was always running through the woods, rollerblading, mountain biking. As a kid, I think I spent half the time on the ground."
These days, King says he falls less, but still tends to take a tumble on a rugged trail run now and then. Thankfully, he rarely injures himself during these spills. "I've learned how to do it to minimize getting hurt," he says.
We caught up with King, who's racing the Canyons 100K Saturday, April 24, in an attempt to earn a golden ticket into June's Western States 100-Mile Endurance Run. He's also gearing up to race May's Expedition Oregon Adventure Race, where he and three teammates will traipse around the Southern Oregon woods and rivers for three to six days straight. With sleep deprivation and sheer exhaustion surely coming into play, it's a good thing King has mastered the "safe" fall.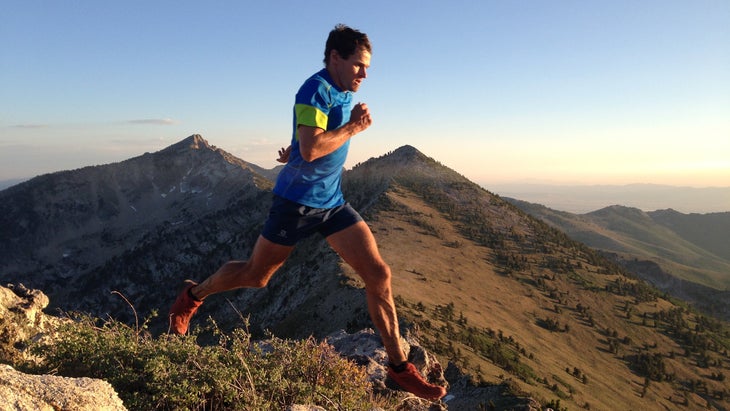 Here are the Salomon-sponsored athlete's tips on how to fall during a trail run to minimize injury:
Channel your inner kid.
"If you had a rough and tumble childhood, and especially if you have a background in gravity sports like biking, trampoline, skateboarding, rollerblading…tapping into those experiences helps," he says. "Knowing that, 'Hey, falling hurts,' remembering what it's going to feel like and that you're likely going to be OK can prepare you and keep you loose. When you're tense and afraid to fall, you don't do it as gracefully." King acknowledges that, as adults, falling hurts increasingly more as we age. "Still, if you do it right, a fall might hurt for days afterward, but you're usually generally okay."
Build strength to build durability.
There's a strength component that helps, says King. "Having a stronger core, and stronger skeletal structure can help reduce the injury risk," he says. "Your strength going into a fall will determine how much that fall hurts after the fact." Being strong and consistently doing strength work keeps a falling injury minor, instead of jarring everything out of place when you do fall. King points out the importance of oblique/rotational exercises, but adds that routines that incorporate whole-body functionality, like deadlifts or overhead squats, can be key.
RELATED: Build Strength with this At-Home Workout from Sally McRae
If you can slide, slide. If you can roll, roll.
Sliding on loose dirt, rock, or snow can slow your impact force, even if the slide ends in a fall. "Go with your momentum," says King. And if you can roll through your fall, and use the momentum in your favor, you'll be better off than trying to stop yourself. "It's those abrupt stops that can really mess you up," he says.
Change your course, even mid-air.
It is possible, says King, to change your course as you fall. "Seek soft landings, and do your best to land on them," he advises. Shifting your balance (even mid-air) in a different direction to avoid sharp pointy objects, sticks, and rocks is key. "Be prepared to sacrifice yourself onto a soft surface rather than being impaled on a sharp stick or rock."
RELATED: Simple Drills Any Runner Can Do to Improve Balance
Protect the goods.
Whether you slide, roll, or hit the deck abruptly, try to protect what needs to be protected. Sliding and rolling mentioned above helps ease the harsh impact of your falling body, but even when landing abruptly, King advises trying to get your hands down in front of your face. "Protect the vital parts. Try to land on something that can take some impact, like a shoulder, arm, or hand, rather than your chest, head, or hips."
From PodiumRunner