The Scoop On Running Through Pregnancy
One OB/GYN addresses common questions about running through pregnancy.
Heading out the door? Read this article on the new Outside+ app available now on iOS devices for members! Download the app.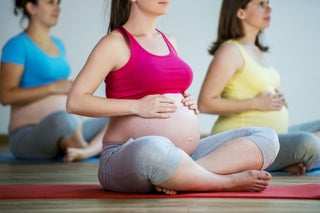 Dr. Jessica Shepherd addresses common concerns and curiosities surrounding running through pregnancy.
Taking nine months off while pregnant is becoming a thing of the past. While some people may disagree with running through pregnancy, staying active while carrying your child actually helps ease pregnancy symptoms and prepares the body for birth. Of course, you will have to make some adjustments to your run routine, but for the most part, you can continue to lace up and run per usual.
RELATED: Why Alysia Montaño Ran Through Her Pregnancy
Nationally recognized OB/GYN and owner of Herviewpoint.com, Dr. Jessica Shepherd has continued to run and do weight training during her second pregnancy and wants to help other pregnant women understand the benefits of moving through the trimesters. Dr. Shepherd shares her guidelines to a safe running plan during your nine months.
Women's Running: Is it safe for women to run during their pregnancy?
Jessica Shepherd: Yes! Running is absolutely safe in pregnancy.  As fitness has become an important part of our lives for physical, mental and health benefits, when women become pregnant, there is often hesitation to continue.  The recommendations for exercise during pregnancy have changed over the years and with numerous studies being done on the benefits, the most up-to-date recommendations state that pregnant women can do moderate exercise for 30 minutes or more [everyday].
Running is included in the list of activities that are acceptable and can be continued in pregnancy.  The important part of this recommendation is that women should discuss their physical activity levels with their health care provider to ensure a proper transition and review any obstetrical conditions that may prohibit exercise.
Competitive athletes have more strenuous training schedules, and training in pregnancy should remain under close obstetric supervision.  The four areas of concern that runners must keep in mind are: hyperthermia, higher-than-normal body temperature, sports injuries and oxygen deficit. These can affect the fetus.
WR: What are the benefits of running during pregnancy?
JS: Feeling healthy is especially important in pregnancy because it can boost your mood and energy levels, help with sleep, promote healthy weight gain and also maintain muscle conditioning. Studies have also shown that running through pregnancy can lower the heart rate of the fetus, which continues for a month after the baby is born.
Related: First Trimester Running Lessons
It also decreases some frequent symptoms of pregnancy, including nausea, heartburn, insomnia, varicose veins and leg cramps as well as conditions that can affect the pregnancy, such as pre-eclampsia, pregnancy-induced hypertension and gestational diabetes.
WR: How does running impact the body and joints during pregnancy?
JS: In pregnancy, ligaments may have more laxity, which may increase injuries. Hormones, such as relaxin and progesterone also cause changes in connective tissue, which reduce support and permit increased mobility in structures to which muscles and tendons are attached.  As this causes less stability of the hip and knee joints, this can contribute to shift in balance.  It is important to wear appropriate footwear, avoid paths that have quick turns and uneven ground and stretch after running.
WR: Can you break down what women might feel/experience during each trimester when running?
JS: For women who have a history of running prior to pregnancy, in the first trimester they can continue with their routine however should refrain from racing at high speeds and discontinue running if they feel overexerted.  Due to changes early in pregnancy that may cause nausea, fatigue and dizziness, walking may help create a transition for that time.
In the second trimester, the shift of the pelvis begins to change and the speed of a running regimen may decrease. If there is any discomfort when running, women should decrease their mileage or try walking to maintain a similar fitness level.
In the third trimester, women may feel more fatigued, and they may require more recovery time between workouts.  It's also important to pay attention to signs of the body that may indicate pre-term or normal labor, such as vaginal bleeding, consistent contractions that are not relieved with water intake and last for more than 30 minutes to 1 hour, decreased fetal movement and leakage of fluids.
WR: What should a pregnant runner's fuel/nutrition plan look like?
JS: Pregnancy is a time to ensure proper nutrition to the baby.  Women who run should take in an extra 300-plus calories per day during the second and third trimesters. Caloric intake in pregnancy should increase every trimester and, with added exercise, these requirements increase. Every runner should make sure to hydrate properly as dehydration can lead to premature contractions.
Women need to have a pre-training snack (15 to 30 grams of carbohydrates).  This can be found in bananas, granola with nuts, sports drinks with almonds or whole-grain crackers with peanut butter. If the run is less than 30 minutes, no extra fuel is needed during the workout. If the workout is longer, then add 30 to 40 grams of carbohydrates per hour. For any workout, no matter how long, always remembers to hydrate, hydrate, hydrate! After the run, it's important to replenish the food stores and decrease the risk of low sugars. For light runs, intake 50 calories per 10 minutes, and for longer runs, take in 100 calories per 10 minutes.  The combination of fuel should comprise proteins and carbohydrates. In pregnancy, there should be a goal of at least 71 grams of protein each day.
Fara Rosenzweig is certified personal trainer with a love for yoga and running. When she's not at the gym or outside logging the miles, she's planning boot camp classes for friends.