The Best Ways To Recover From A Double Race Weekend
These tips for how to recover from a double race weekend can work for any runner.
Heading out the door? Read this article on the new Outside+ app available now on iOS devices for members! Download the app.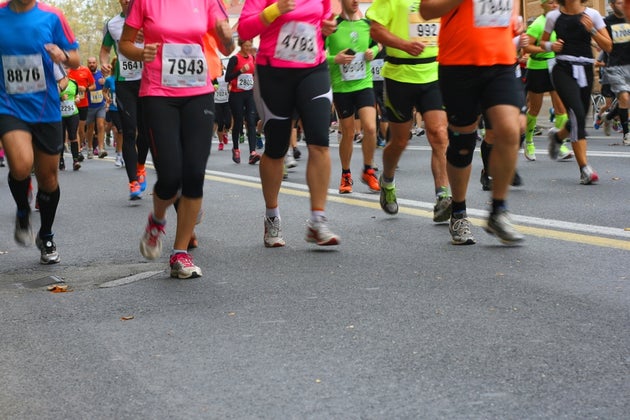 The more effectively your body recovers from a Saturday race, the better you will feel on Sunday. There are three proven ways to accelerate the recovery process: nutrition; massage and compression; and rest and sleep. Take advantage of all of them!
Nutrition
Your top priorities after your first race should be repairing muscle damage, replenishing fuel stores and rehydrating. Good nutrition will check all these boxes. Aim to consume at least 50 grams of carbohydrates, 10 grams of protein and 16 ounces of fluid within 90 minutes of completing the race. Eat mostly high-carb, easy-to-digest foods, such as pasta, during the remainder of the day.
Nutrition taken in before your first race may also help you recover better. Tart cherry juice is a great choice. In a 2010 study, runners consumed either cherry juice or a placebo for five days before running a marathon, then again on race day and for two days afterward as well. The cherry juice runners had less muscle damage, lower levels of inflammation and recovered their muscle strength significantly more quickly.
Massage and Compression
A gentle massage (a foam roller works) will accelerate recovery through increased blood flow and nerve  stimulation. Wearing compression socks after the race and to bed that night will complement this measure. Studies show that massage and compression work best in tandem, so make sure to double up!
Rest and Sleep
If you've traveled to an exciting destination for a weekend double, and you want to get out and see the sights and enjoy some (light!) night-life between races, go right ahead—as long as your goal for the second event is just to have fun. But if you're aiming for maximum performance, stay off your feet and get a good night's rest.
Sleep is perhaps the most important facilitator of recovery. A 2009 study at Bangor University found that one night of sleep deprivation reduced running performance by 3.1 percent. That equates to 2 to 4 minutes in a half marathon! Use every trick
at your disposal to ensure you sleep well. These include switching off all devices with screens one hour before bedtime, using a white-noise app on your phone and perhaps taking a gentle over-the-counter sleep aid like melatonin.