These Are The Pros And Cons Of Having A Running Coach
Do you really need a running coach? We break down the pros and cons that you should know before you make your final decision.
Heading out the door? Read this article on the new Outside+ app available now on iOS devices for members! Download the app.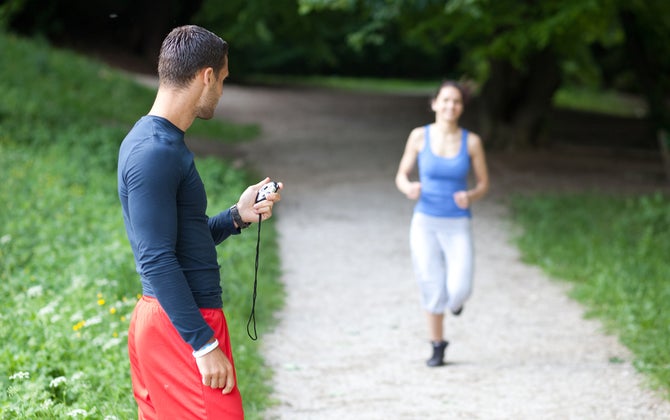 All runners, from novices to seasoned experts, wonder at some point if they should hire a coach. Whether you're looking to break your Personal Record (PR) or you just want some helpful tips on how to strengthen your stride, getting a coach can be a great option. But there are also a few downsides to hiring a coach, such as cost and time constraints. Below are a few things to consider before you commit to a running coach.
Pros Of Having A Running Coach
You'll Learn to Run Correctly. Whether you've pored over the research from Medicine & Science in Sports & Exercise or read Born to Run six times, you know that the conclusions are the same; good form is paramount to your success as a runner. When you hire a coach, you'll have someone to watch you run and give you suggestions on how to improve your form and your gait. Fixing your form will do more than make you a better runner. By learning to run right, you'll be able to run longer and faster while avoiding injury.
You'll Set (and Meet) New Goals. Are you thinking about your first 5K? Or are you finally going to tackle that 26.2 that's been alluding you for so long? Or maybe you're toying with the idea of your first ultra. There are coaches for every type of event, from half marathons to 100-milers. Whatever your running aspirations may be, a running coach can help you meet those goals. By hiring a coach, you'll have a mentor, a specialized trainer, and someone who will be there to see you cross the finish line.
You'll Never Plateau. The human body has the amazing ability to adapt to anything—including running. That remarkable gift for adaptation is the reason behind the dreaded plateau. That is when you've hit a steady rhythm in training and don't seem to be improving. A good running coach will teach you how to change up your workout by implementing tempo runs, intervals, and training runs. Not only will you become a better runner, but when you keep your body guessing, it will prevent you from plateauing.
You'll Become An Expert. Hiring a running coach will do more than improve your running. A good coach will help you become an expert in all things running-related. That means you'll know how to pace yourself, how to properly fuel each day, how to cross-train, how to recover from long runs, and how to prepare for your next big event. In short? You'll go from weekend warrior to a running machine in no time!
Cons Of Having A Running Coach:
You Don't Always Need A Coach. Too often, we pay people to teach us things that we can learn for ourselves with a simple Google search or with a smartphone app. That includes running. If you're willing to do a lot of research on your own and you have the discipline to stay committed, you may not need to hire someone else.
It Can Be Time-consuming. Hiring a coach usually means that you'll have a big time commitment on your hands. Considering that you'll have to coordinate meeting up with your coach several times a week, the very idea can become a headache. For people who are extremely busy, trying to squeeze in coaching time can be overwhelming. If you do end up going the coaching route, try to find a coach who will work with your schedule.
There Are Other Alternatives. Not everyone likes working out with others: some people dislike group fitness, while others simply have better success training solo. If you're the type who prefers to work out alone, there are plenty of online coaching apps available that can work just as well as a live coach.
It's Costly. Coaches charge a variety of fees depending on their services and your needs. If you don't have the money to hire a coach but still want the knowledge of an expert, consider joining up with a local running club. Additionally, charity running groups will exchange free coaching for help with fundraising.
With so many things to consider, you may not be sure if hiring a coach is right for you. Don't worry – you still have options. Many coaches offer free trial sessions, so you can decide if this is something that will work for you.
About the Author: Davide Vigano is CEO and co-Founder of Heapsylon, who is developing the Sensoria Fitness line of wearable smart garments.