4 Reasons To Join A Running Group This Year
Joining a running group will make you so much stronger.
Heading out the door? Read this article on the new Outside+ app available now on iOS devices for members! Download the app.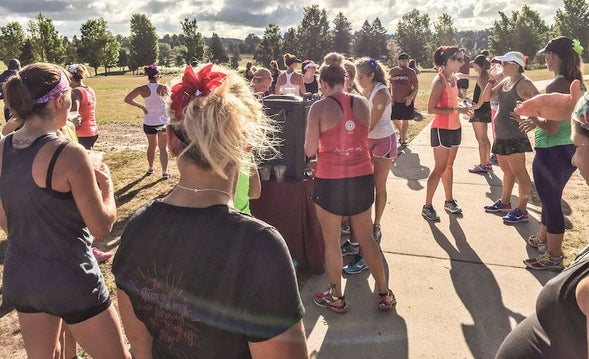 You see them at the trailhead, running store and races—and they always look like they're having a blast. Running clubs exist for every type of runner, from moms with jogging strollers to trail runners who flirt with dirt. It makes total sense—running is fun, and so is hanging out with friends. Why not do both at once? Researchers from the University of Southern California back up this notion, saying those who work out with others report they enjoy exercise more than those who get sweaty solo.
So the next time you see the group, don't just wave and say, "Hi!"—join them! In addition to finding your new BFFs, you'll likely become a better runner, all while having a blast.
Benefits Of A Running Group
Accountability
When you're just dragging in the morning or after work, it's easy to talk yourself out of a run—unless you know your group is expecting you. According to a 2012 study published in the journal BMC Women's Health, making plans to train with others is one of the most effective ways to ensure you actually follow through, no matter what.
A Whole New World
Running on your own is familiar—you know what route you'll take, what pace you'll go and what playlist you'll listen to. Familiarity is comfortable but also kind of boring. Group workouts give you varied conversation partners (and conversation topics) to make that long run fly by. You're also more likely to explore new running routes with a group, which will definitely make your runs more interesting.
Faster Feet
While you're ticking off the miles with your pals, you're probably getting faster. Multiple studies have shown that those who run in social settings tend to hold a faster pace than running solo—oftentimes without realizing it. Group influence can also spur you to go farther or try new training stimuli, like that beast of a hill you've been avoiding.
No Excuses!
Despite knowing the benefits of social training, many runners find the idea of joining a running club intimidating: What if they're faster? What if they run farther? What if I don't fit in? But to ask those questions is to forget the reason running clubs exist: to run together. Most groups not only welcome new runners, but they also get genuinely excited to welcome one into the fold. Here's why you shouldn't let fear get in your way:
 Excuse 1:  I won't be able to keep up. Whether you're struggling to keep up with a faster group or just having an off day (it happens to all of us!), you probably won't be left behind. Many groups have a "no-drop" policy, in which there is an agreement that every runner will start and finish with at least one other person.
Excuse 2:  I won't know anyone there. Everyone in the group was a newbie at one point. Many will go out of their way to say hello, learn your name and get to know you on that first run because they know exactly how it feels to be in your shoes.
Excuse 3:  The meet-up spot is inconvenient. Ask yourself: Is this a valid excuse, or am I trying to find a reason not to go? Maybe it truly isn't worth the drive to the trailhead in rush-hour traffic; in that case, search for a different group that better meets your needs. But if you're simply looking for an out, reconsider. If you give it just one try, chances are you'll find the slight inconvenience is worth the reward.
Related:
Should You Join A Training Group?
An Introvert's Guide To Running With A Group