9 Things I Wish I'd Known About The Tokyo Marathon
After finishing her final World Marathon Majors race, The Runner Beans makes note of nine things runners should know before running Tokyo.
Heading out the door? Read this article on the new Outside+ app available now on iOS devices for members! Download the app.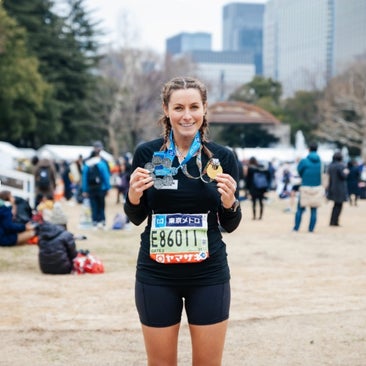 Tokyo Marathon: Check
I recently ran the Tokyo Marathon, marking my sixth and final World Marathon Major. It was an incredible day–and, to top it off, I ran a five-minute PR.
It's safe to say it was a pretty epic race weekend (you can read my full race report here).
However, for those of you considering running this race in the future, I wanted to share nine things I wish I'd known ahead of the race that might have helped me.
1. Nobody drops any litter. It's amazing how many volunteers line the course with trash bags to collect everything from gel wrappers to cups and bottles. Don't even think about throwing your empty gel on the floor. I was too scared to drop even the top bit, so I ended up with a rather sticky pocket! I think this is a great idea; having seen the debris and aftermath of other races, this is something that should be implemented more often.
2. There were aid stations every 5 kilometers or so, positioned after the drink sponsor, Pocari Sweat. Personally, I like to drink little and often, and therefore cups of water every 3 miles is not enough for me. I took a hydration pack with me and drank the whole 2 liters out on the course–definitely a wise decision, as it turns out both of my PRs have been achieved while wearing them. If you do decide to take a hydration pack or handheld with you, it's worth knowing that you can't take it through security full of water, but you can take it empty and fill it up once you're through security lines. I am so glad I knew this before I went, as race officials were confiscating full bottles!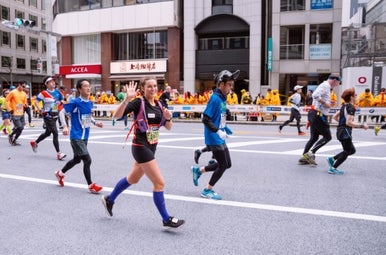 3. The atmosphere is incredible. There were spectators lining the streets for the entire race, and although they were predominantly cheering in Japanese, you can still absorb the amazing vibes even if you don't speak the local language. I smiled all the way around and soaked up the spirit of the Tokyo Marathon. Everyone just seemed so thrilled to be there, and there were so many six-star finishers!
I even got to run a small portion of the race with Christy Turlington…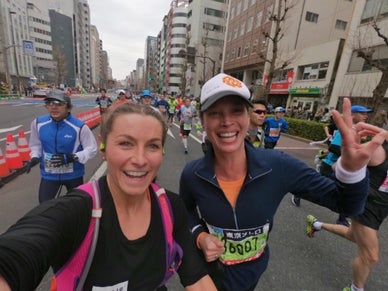 4. There are no mile markers–distance is measured in kilometers only. The only mile marker was at the halfway zone. Other international races I've run have had both mile and kilometer markers. As a runner who only works in miles, I found it hard to know exactly where I was, especially since my Garmin had gone crazy early on in the race.
Furthermore, the signs for the medical areas looked exactly the same as the distance markers, so from far away it looked like the "KM" sign. It's a little disheartening to think you've seen the 38K marker, only to see the real sign another 500 meters down the road.
5. There is no blue line. This means that you don't know what the fastest, most direct line of the course is, and you're likely to run way more than 26.2 miles.
I ran 26.85, but I know others that ran farther than 27 miles. There's not really any way to avoid this, other than to avoid weaving as much as possible–tricky, when the start is VERY crowded.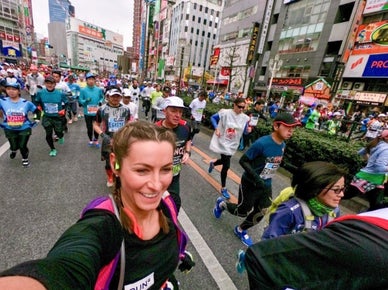 6. So many people run in costumes. Like the London Marathon, it seems that every other person is wearing an incredible outfit or mask. If you've never raced in a costume before, maybe this is the one to try (however, you must make sure it fits within the rules for size/width).
7. It's a really long walk from the finish line to water, then further along to collect your medal (I was surprised these were given out so far from the finish) and to your family members and friends. I got really, really cold and wish I'd put a coat in the bag drop. I put on all the layers I had when I finally found my parents, and it took me a long time to warm up again. Make sure to have a plan for meeting up with your spectators, as the phone signals can be temperamental.
8. The race photos are epic, but expensive. These may be the best race photos I've ever had–unfortunately, at $200, they are out of my budget. If you love race photos, make sure you factor this cost into your trip!
9. The race is really well organized. You must be in your corral before the cutoff, otherwise you have to start at the back–no exceptions. Similarly, the expo is very formally organied which helps everything run smoothly.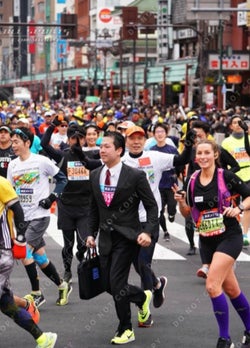 Related:
What Does It Take To Run All Six Marathon Majors?
The Magic Of The Tokyo Marathon In 15 Photos