Why Racing Before Your Race Is The Best Mental Training
Mental training ahead of race day is key—and the only way to get in a racing state of mind is to do a practice run (pun intended).
Heading out the door? Read this article on the new Outside+ app available now on iOS devices for members! Download the app.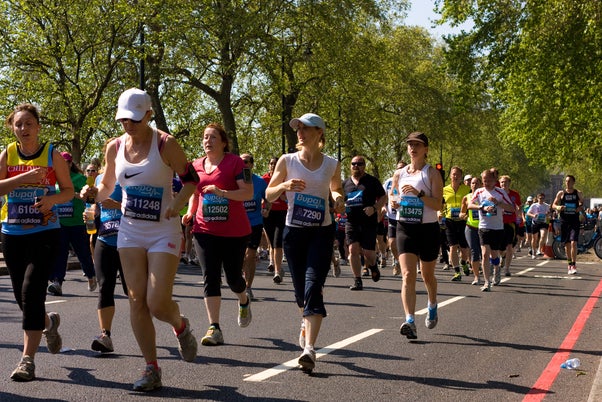 Whether you're casual, competitive, or brand new to the sport, if you're a runner, you know this simple truth: Running is extremely mental.
The reasons not to run are endless: I'm too tired. It's windy. It's cold. I'm hungry. I had a terrible day at work. I don't want to miss happy hour. But you lace up your shoes and force yourself out the door anyway, because to run when everything else seems easier—that's what makes you mentally tough.
Related: Three Words That Matter Most When Racing And Training
In fact, a lot of what you're already doing helps with mental toughness. Structured workouts (push through the pain!). Running with friends (keep up with her!). Even solo runs (don't quit don't quit don't quit). However, the real test of a brain—and, arguably, the most important exercise for one—is a race.
The best thing I ever did for my running career was to practice running races before my "A" Race. This is not to say that, while training for a marathon, I ran marathons every other weekend. But I did run half marathons. And 5Ks. And even track meets! Because practicing racing is about practicing controlling those elements you can control. After all, there are more than enough factors outside of your control. Weather. Terrain. Competitors. But you can control your physical fitness, and you can control your nerves.
Related: 5 Expert Tips To Mentally Prepare For A Marathon
Your physical fitness is something you develop over time in order for it to be there, ready for you, on race day. This is a fairly simple formula: Get fit, run fast. Nerves, however, are a different story. Race nerves are their own special category of mental anxiety, and literally anything can affect them: workouts going into races; weather conditions on race day; a comment from a teammate; a nagging ache in your knee. You literally cannot practice handling race nerves unless you practice running races. And as we all know, if you can't get your brain under control, your legs are as good as worthless.
Case in point: At my most recent "A" Race, every single element outside of my control turned into an obstacle. The temperature dropped from 60°F to 30°F overnight—just in time for the race to start. Meanwhile, the predicted wind speeds were so high that the race organizers eliminated every piece of equipment and signage along the course. That meant no mile markers, no race clocks, not even a finish line banner. Oh, and 50 mph winds—let's not forget that.
So yes, this race became a physical battle—no question about it. But running in adverse weather conditions is mental too. You can't control the weather; you just have to deal with it. Tell yourself it doesn't matter. Refuse to give up. And let me tell you: Engaging in that mental battle takes an awful lot of energy.
Related: 5 Ways To Deal With Mental Demons
To make a long story short, my race had a happy ending. I ran as smart as I could, I didn't back down, and ultimately I came away with a personal best. The real revelation, however, came the following week, when I went back to training. My body felt fine, but every time a gust of wind interfered with my workout, I gave in. Mentally, I just couldn't fight through it. After spending all of that energy the previous weekend convincing myself that the wind didn't matter and I could still run a best time, my brain was exhausted.
As we all know, you have to break some things down before you can build them back up again. Quads, hamstrings—and brains alike. So practice racing; you'll be mentally stronger for it.