The Community Conundrum: How Do You Separate From Your Running Family?
Dimity McDowell helps runners sort through the emotional load of no longer being able to run in her 'Not-Running-Anymore' support group
Heading out the door? Read this article on the new Outside+ app available now on iOS devices for members! Download the app.
This article is part of our ongoing series at Women's Running by Dimity McDowell, offering support to runners who can no longer run. 
In 2018, during a training session for a Rim-to-Rim hike across the Grand Canyon—my first event in decades that didn't involve running—I had about 15 minutes of climbing left in a four-hour effort. I was dusty and hangry and not so kind to myself. My mantra on repeat: I'm so slow. I look slow. I feel slow. Towering pines shaded the trail as a runner, who looked like she belonged on a 50K podium, passed me from behind. Immediately, I started comparing her speed to mine, her ability to mine, her body to mine. She cut that off quickly. "You're so strong," she said, as she floated up the trail. "Keep going."
I love the running family, the community of women who all seem to support each other,  knowing that we're more alike than we are different. This random runner sensed I was struggling, didn't judge me—or my hiking poles—and with five words validated my presence and effort. She understood why I chose to spend a Saturday afternoon, huffing up the side of a mountain at 2.5 mph; she was doing her version of the same thing. If I could've kept up with her, I am confident we would've had a lively, memorable conversation.
Sharing roads, trails, discipline, and finish lines, we runners connect easily and deeply, forging a bond over a few miles that can rival the one siblings take years to create. So, when your body no longer allows you to run, it's not just the physical fallout that brings you down. You also feel pushed to the edge of a supportive, inclusive community when you emotionally need it most.
RELATED: How To Know When It's Time to Quit Running
Staying in the Running Family
"I can't even describe it accurately," says Sylvia Utecht, whose troublesome left knee permanently sidelined her from running and her running group.  "The camaraderie and friendships I have with my running group is just so special. We've become a large family."
Losing running doesn't necessarily mean divorcing your running friends, but just like replacing running isn't simple, figuring out a new configuration for those relationships takes time and grace. "Even though it may be difficult, try not to isolate yourself from your teammates," says  Dr. Haley Perlus, a sport and performance psychology expert based in Vail, Colorado "These people have been your cheerleaders and confidants."
Chances are, they miss you as much as you miss them.
After all, it's not just the miles that bring you together; it's the shared time with few distractions. If you're able—and don't hate me for suggesting this—meet your running pal(s) for a walk or a hike. When you're looking and moving forward, not sitting and facing each other, it's much easier to talk about touchy things like say, losing running. If walking is a hard no, switch the scene entirely and meet them in casual clothes for a drink or coffee.
"When I get together with my running pals, it's absolutely incredible," says Stacy Bruce, a runner whose lower back, after 30-plus years of running, won't cooperate any longer. "There's such beauty in reflecting on the conversations and thousands of miles run together."
You can also consider joining a post-run breakfast or coffee, but I'd strongly suggest doing your own workout first; ideally do something that makes you feel both sweaty and strong. Then when you give them a hug hello, you'll be riding your own endorphin high, setting yourself up for a more positive mindset as you catch up.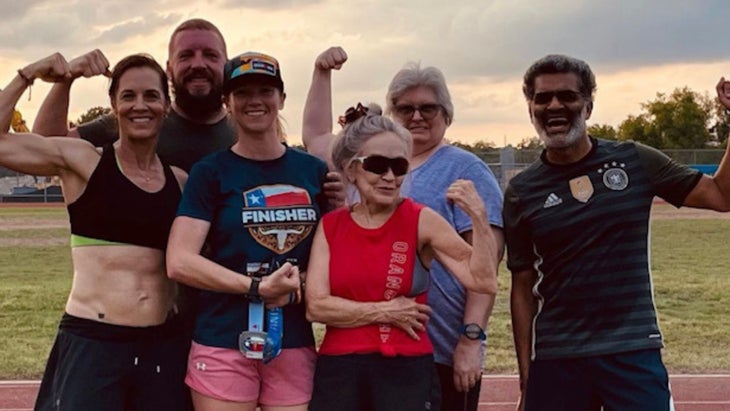 Bruce coaches track workouts for a local triathlon team. "Some nights I dread it," the Austin, Texas-based athlete admits. "I want to run, and I want to run fast again." Then she steps on the track and is surrounded by her people. "Ten minutes into it, I'm reminded how blessed I am to have found running as a young adult and to have a group now who share my passion." By the end of practice, "we're fist pumping and high fiving," she says, "I'm driving home, grinning ear to ear."
RELATED: When You Can No Longer Run, Welcome To The Not-Running-Anymore Support Group
Scrolling Through the Splits
If your social feeds are anything like mine, they're filled with Des + Kara's podcast, Laura McGreen's humor, and miles of post-run selfies with overlaid splits from friends and acquaintances. The idea of excavating your feed of any endurance-related content when you've got fresh wounds from not running is understandable. "I thought I might unfollow some people because I knew it would be hard," says Cathy Engstrom, who retired from running with an unused 2022 Trans-Rockies bib. "But I still wanted to be part of the running community. Clearing my media of running reminders felt a bit like burning it all down."
That said, any social media can easily conjure up beasts of comparison, resentfulness, and self-loathing; when you're feeling raw, running-centric posts can be worse than sunscreen-laced sweat in your eyes. Intentionally set up some boundaries for yourself. Gretchen Gibson, an avid half marathoner whose knee and hip replacements have sidelined her running, continues to follow the feeds of professional runners she admires, but prefers not to go to the local races she used to run. "It's easier for me to appreciate elite athletes thriving in the sport," the Dover, Ohio resident says.  Similarly, she gives herself grace on social media interaction. "There are some days I just can't participate in the conversations, and other days I want to reconnect with the community," she says, "It's a lot like my recovery journey: peaks and valleys."
In 2020, when I finally accepted I'd never run again, there were at least four months when I opened up Facebook and was met with a picture of a justifiably proud runner, and immediately closed the window before my eyes welled up. These days, the pain doesn't go as deep, but I prefer to check in on social media when I'm warming up or cooling down on an indoor bike ride; the motion of my legs doesn't allow me to get too hung up on the details. I have learned the hard way to abstain from scrolling around momentous race days like the Boston and New York City marathons (and the days the respective qualifiers and lottery winners are announced). Seeing post after post of elated finishers just jacks up my FOMO.
If you enjoy connecting on Strava and Instagram, I'd gently suggest not going dark. Post pictures of yourself hiking, lifting, or doing whatever your new jam is and embrace it with pride and joy. As I've learned many times, the post may reach somebody who is struggling with an injury or the end of her running career, and you may be the light she needed to see.
RELATED: The Break-Up: Coping With Your Separation From Running
Standing on the Sidelines
Coffee and screens are one thing, but going to a race to spectate or volunteer? You might be thinking, "that's a level of exposure therapy I don't need," and that's a valid answer. That said, if the opportunity presents itself, try to stay open to it. "Once you rip off the bandage, it gets easier," says Engstrom, who especially loves cheering for the back-of-the-packers.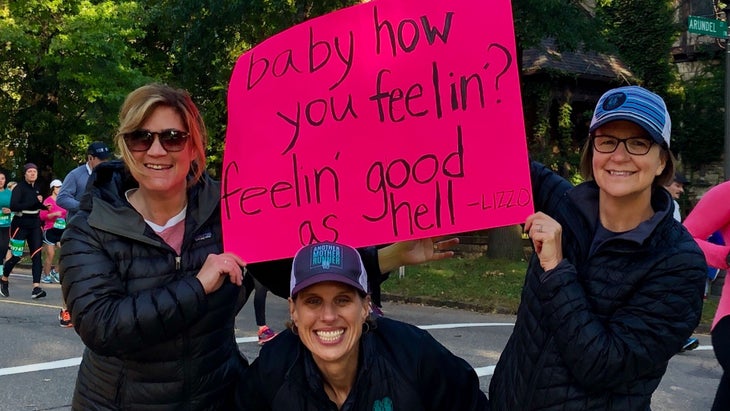 Britt Parker jumped right in. In 2022, Parker was signed up to run the Sawatch 50/50 with a running friend when unresolved injuries didn't allow her to start. She knew the race needed volunteers, so she took her ultra endurance and oversaw one of the aid stations for eight hours, handing out everything from bacon to cinnamon roll cake, which Parker made for a fellow volunteer celebrating a birthday. "Before I went, I felt frustration and sadness about being at an event I had been so excited to run," she says, "But being there to support their adventure was a different kind of runner's high."
Bruce took a few years before she decided to head to a race, and she also started as a volunteer. "I knew if I stayed busy," she says, "I could keep my emotions at bay. I was successful until we made a human tunnel for the last few runners. I couldn't hold back the tears at that point. If you're race-curious but not entirely confident how you'll fare emotionally, take your cue from Bruce: volunteer at an aid station. Having a purpose—how efficient can I be with my water handoff?—keeps you in the moment, not yearning for your glory days.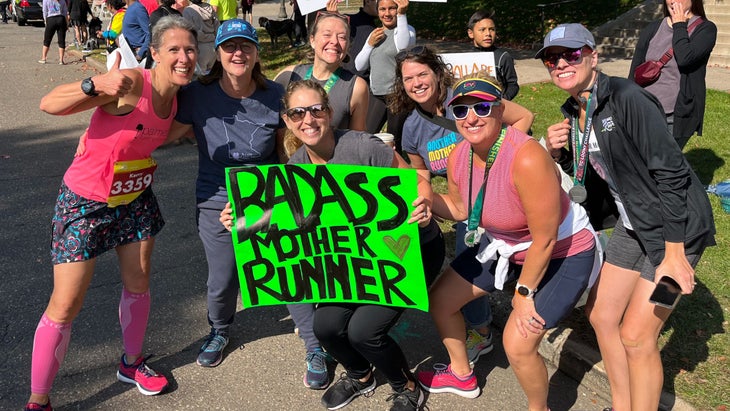 Plus, you know exactly what to do. You know whether a runner needs a fast handoff or a quick hug. You know saying, "You're almost there," is unkind. You know that pouring a cup of water over your head feels like heaven on a humid day. You know taking in a gel can be the difference between legs that feel like string and legs that feel like steel. You know it because you'll always have a spark for running, and, quite likely, a passion to help others light there's up. "I love seeing the achievements," Bruce says. "While I'm envious, it also feeds my soul because I know the gift of running."
Over time, you'll realize there are no estrangements in the running family. (Prickly situations? Of course. This is a family after all.) You can drop in for a visit as often as you wish—or never at all.
But know this: if you ever called yourself a runner, you're a lifetime member.
Dimity McDowell is currently working on her next book, Running to Stand Still. Follow her at DimityOnTheRun