How To Nail Two Big Back-To-Back Races
A fast running ultra marathoner gives her best tips for focusing on more than one event per season.
Heading out the door? Read this article on the new Outside+ app available now on iOS devices for members! Download the app.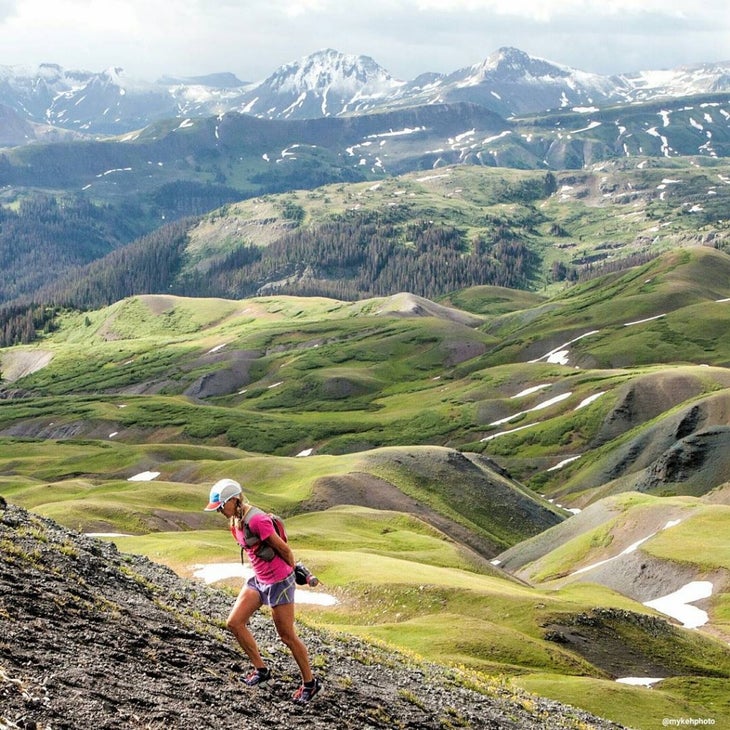 Racing—not just running but racing—two big events in one season is undeniably taxing, but it also has its upsides. Once you've trained for the distance, it's more than possible to do well at back-to-back events, if you can maintain fitness and stay healthy. Darcy Piceu, 40, recently ran a 28:57:07 personal best at Hardrock 100 Endurance Run, finishing second in a close race with Anna Frost as well as accomplishing her goal of running sub-29 hours.
Piceu ran the Bighorn 50-miler in Wyoming in June as a training event, finishing first. In May, she incorporated California's Quicksilver 100K into her training schedule as well, and finished third. This August, Piceu heads to Europe for her second "A" race of the season—the Ultra-Trail du Mont-Blanc (UTMB), a 104-mile trail race through France, Italy and Switzerland. As her results for the season indicate, Piceu is feeling great and racing well. This is her second time toeing the line in Chamonix; she finished third on a weather-altered course 2011. Piceu is dialed physically, mentally prepared for the challenges ahead and excited to race.
"I have pretty high expectations of myself. I always want to do well," the Boulder-resident says. "Part of doing well means having fun and enjoying myself. If I'm not having fun, what's the point?"
While running a 100-mile race, especially two of the toughest in the world within seven weeks of one another, is difficult to fathom, Piceu has the wisdom and trail miles to make it happen. Thankfully, the winning competitor was kind enough to share some of her wisdom. Read on for Piceu's top five tips for running two big (whatever big means to you) events in one season.
1) Give yourself time to recover.
An ice bath, good nutrition, sleep and keeping your feet up immediately after your first event are all important. By this point, you should know what is essential for you. For me, eating nutritious, balanced meals is key. My body wants good calories. Sleep is also critical for me. I think our bodies recover the best through sleep. Since Hardrock, getting eight to 10 hours of sleep a night has been my minimum. I would like to get that much sleep every night, but it doesn't always happen! After a race, I make a point of it.
Also, pay attention to any aches or pains and address them. Go to physical therapy if you need to. Take care of yourself.
2) Have fun.
Big events take a lot of mental and physical energy. After a race, I take a break from event specific training and focus on doing things for the fun of it to help maintain a balance. I really enjoy taking the time to just play with my daughter.
3) Take it easy when you return to running.
I didn't run for an entire week after Hardrock. When I did return to running, my legs felt fine, but I didn't have any energy. It's important to listen to your body. Instead of forcing myself to run fast, I've been focusing on enjoying being in the mountains, and running socially with no real training agenda. It helps to remind me why I enjoy trail running. I like taking pictures and looking at wildflowers; it's a much different energy than during Hardrock.
4) Maintain fitness.
I feel really good about my fitness. I've focused on both Hardrock and UTMB during my training. There are no big tweaks or changes to be made at this point, so my focus is on maintaining fitness. For me, that means putting in some quality miles, doing yoga to stretch things out and staying healthy. I'm going to Chamonix early to spend some time exploring the trails, but trying to run high mileage between now and race day is not a focus.
5) Be present.
I think I'm pretty dialed in terms of what I do in my racing and am confident in my training. Once I'm set with those two things, my goal with a race is to stay present and deal with whatever is happening in the moment. You have to take care of things as they come up. Over the years I've learned how important it is to focus on your own race, pay attention to what you need and to be okay with change.