9 Simple Reminders On How To Cope With Performance Anxiety
Runners get performance anxiety for a number of reasons.
Heading out the door? Read this article on the new Outside+ app available now on iOS devices for members! Download the app.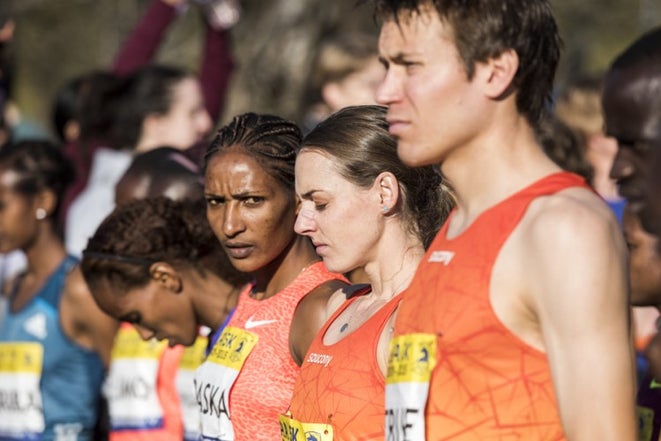 *Courtesy of Jennifer's Writing
It doesn't matter if you are an elite runner, a middle-of-the-pack runner, or a slightly slower jogger. Whatever speed you run there is a certain amount of performance anxiety that all runners experience before a race. Most runners put in a lot of time and effort to train. A great deal of thought goes into preparing for the race—so you would think that most runners would feel prepared to run! The problem is that running is not as simple as it seems. There are so many variables in running; there has to be just as much preparation for avoiding running pitfalls as there is for training the body. Here are a few of the things that weigh on a runner's mind and some possible solutions to the potential worries.
The bad run 
Every runner has the day when what you want to accomplish and what your body will allow you to do are two different things. It is very easy and fairly typical for runners to feel discouraged when this happens, but instead of feeling like your training routine has been ruined, look at possible reasons for the bad performance. If you look for the causes, such as fatigue, stress or diet, changes can be made to improve running for the next run.
Related: 9 Stages Of A Really Bad Run
The need to eliminate 
One of every runner's worst fears is being in the middle of a run when there is an imminent need to go to the bathroom. Here are a few things that can help;
Don't eat anything unusual the night before or the morning of a run.
Use the bathroom right before the run.
Scope out where possible bathrooms are on the route.
Take Pepto Bismal tablets before or during the race.
Clothing
Finding the right clothing involves experimenting during training runs. You do not need expensive clothes, but find what feels comfortable for you. Two rules to follow: Never wear something new the day of a race, and stay away from cotton. I ran my first marathon in a cotton sports bra, and when I went to take a shower I had a straight line of blood where the top of the bra had rubbed my skin raw.
Related: 3 Key Things To Consider When Buying New Shoes
Finding the right shoe also takes some experimentation. In general buy a size a half size larger than your street shoes. The best thing to do is to go to a specialty running store and have them test your running style and recommend the type of shoe that fits your style. Then you will have to decide whether you prefer lightweight or more support, lots of cushion or not as much. Some running stores allow you a trial period to see if you like the shoe. It is a good idea to have two pairs of shoes that you can alternate using. Change shoes about every three months depending on how much you run. 
Food
Food for runners is fuel and can make or break a performance. Too much food or too little can cause disaster. Runners need to eat regularly to keep up energy and certain foods can help maintain a healthy running lifestyle. There are general rules for fueling for runners, such as carbs and proteins, but I think that everyone has slightly different needs, so fueling is one more thing that you have to experiment with. Most experts will tell you that you need to refuel every hour of running, but you may find that every 40 minutes works better for you.
Related: 10 Fueling Ideas That Aren't Pasta, Bagels Or Potatoes 
Drinking becomes as important as eating when you run. Some runners find it difficult to drink on the run while others say that they cannot stop to drink and then restart. I grab a drink at every water station for a 10K distance or higher.
Fatigue
Recovery and rest have to be part of every training program and your body will let you know if you are pushing too hard. The anxiety comes in not knowing whether you should push through a little fatigue or take a rest day. If you wake up feeling like a train hit you, even if today is your long run, you need to adjust your day and rest.
Training
Runners are always on that delicate balance of how much training will improve performance and when will too much training cause the opposite effect. There are some golden rules of training but beyond that different things work for different people. If you want to be faster, you have to run hills and do speed work. If you want to do distance, you have to run at least one long run. Strength training, ply0metrics, yoga, biking and stretching all can improve performance.
The mental game
A good run is as much dependent on the runner's mental state as it is on the physical. A runner can do glorious things or defeat himself or herself depending on what is going through his or her mind while running. Runners often doubt their ability and this often causes the runner to fall short of the desired result. Something as simple as a running mantra can improve performance. A mantra is a positive word or words that the runner says to stay focused and positive. Positive visualization is another mental trick to try. Imagine your run and a positive outcome.
Related: 3 Mental Tricks For The Final Miles Of A Marathon
Competition
Runners are a competitive bunch. We compare ourselves to each other and wonder why we are not as fast or as "in shape" as the runners around us. It is difficult but healthier to look at the positive achievements that we are able to accomplish with our own training. Self competition is healthier than trying to try to be like someone else.
Injuries
Every runner fears that injury that will lead to not being able to run. A non-runner cannot understand what a runner feels when an injury keeps a runner sidelined for a long period of time. The non runner sees it as a healing time but the runner sees all the hard work going down the drain. Stretching, cross training, yoga and massage are all ways to avoid injury.