Why Is It Hard To Lose Weight While Training Seriously?
One runner explores why this always seems true.
Heading out the door? Read this article on the new Outside+ app available now on iOS devices for members! Download the app.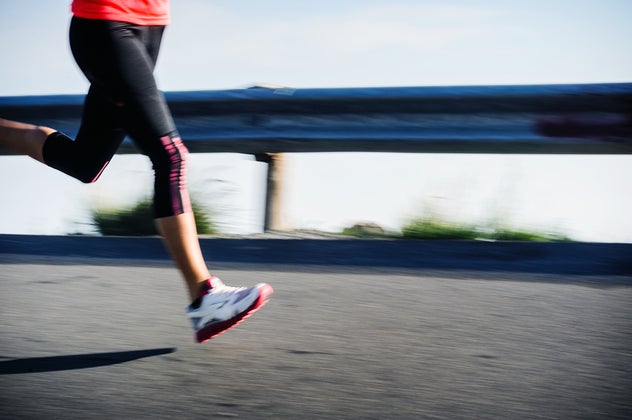 If you ask anyone trying to lose weight, they will more than likely tell you it is tough. Now ask an athlete training for a race and trying to lose weight, they'll tell you it's near impossible. The latter would be me. I'm currently the perfect of example of a person attempting to lose weight while training for a race, more specifically an Olympic-distance triathlon.
As a triathlete and runner over the years, I've seen my healthy eating go by the wayside more every year. I have justified all of the extra treats and snacks and carbs (oh goodness, the carbs!) by all of the extra miles I am swimming, biking or running. And slowly but surely, I've gained weight.
My weight gain took place over the span of several years so it wasn't until about a month ago that it really hit me. I went to put on a pair of shorts that I hadn't worn in a while and they barely fit. I could squeeze into them and get them buttoned but it was anybody's guess as to whether or not that button was going to fly off and ricochet off a poor unsuspecting lamp.
RELATED: 6 Training Mistakes That Lead To Weight Gain
I have gained about 10 pounds and in order to lose it, I decided to go with the standard calories in, calories out model. I began to track my calories all while simultaneously training for a triathlon.
For about a month now I've been training and dieting. And it has been trial and error. Some days I feel great during my workouts and others I can barely make it through them without feeling exhausted. And while I have lost a small amount weight, it's been a very slow process. So what gives? Can an athlete lose weight while training for race?
"Your nutrition should support your training load, which is volume and intensity. There are ebbs and flows in training and nutrition," said Bob Seebohar, a sports dietitian and triathlon coach.
In his opinion, in order to lose weight while training he uses nutrition periodization. This means eating more or less of the macronutrients your body needs over the course of your training period. For example, as your volume or intensity goes up, you may need to increase your carbohydrates because your body is burning more quickly through stores of glycogen.
"Depending on the day, depends on the macros you need," said Seebohar.
For weight loss, while not in a heavy training cycle, he advises a 1:1 ratio of carbohydrates and protein. He says athletes can measure these ratios by using their hands, from wrist to fingertips on one hand would be a serving size. Essentially, one hand is protein and the other is carbohydrates. For the carbohydrates, he prefers vegetables then fruit, then whole grains in that order, and minimal to no processed, refined carbs. He explained that the fat a person needs typically comes in the protein they consume.
RELATED: 6 Real Life Tips To Help You Lose Weight
Of course, after hearing this I had to ask, can't I just count calories?
"Maybe 15 years ago absolutely—calories in, calories out. The mantra today is getting away from that. The foods are utilized differently. They have a different metabolic state in the body. That's why a calorie is not a calorie," said Seebohar.
Another registered dietitian I spoke with, Heather D'Ambrosi, agreed.
"Choosing smart choices will help you feeling full longer and help decrease bad snacking habits throughout the day. You want to ensure you are recovering properly from a workout by choosing foods that have a good balance of healthy fats, and carbs," said D'Ambrosi.
She also thinks losing weight while training for an athletic event can be realistic so long as the athlete is smart and plans to make small adjustments to their nutrition choices.
"With tough training schedules you need to make sure you have enough fuel in the bank or else your training will suffer. One tip is to plan your meals and snacks ahead of time. Typically, tough training schedules equal tiredness equal quick, unhealthy eating choices," she said.
After speaking with D'Ambrosi and Seebohar I have found that I'm mostly on the right track, it's just going to be a little bit slower of a process than if I wasn't training for a race.
For more information on nutrition periodization and macronutrients from Bob Seebohar, check out his site metabolicefficiency.org. Beth Shaw is a USATF Certified Coach, a USMS Certified Coach, an Ironman-finisher and marathoner.