Functional Fitness Makes Us Natural Born Heroes
The guy who wrote Born to Run delivers another great read for runners and their training.
Heading out the door? Read this article on the new Outside+ app available now on iOS devices for members! Download the app.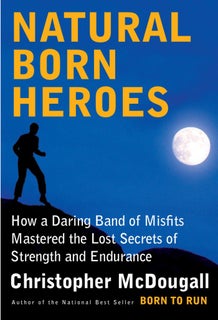 Remember Born to Run? The author is back with his second—and it's just as good.
Christopher McDougall, author of the bestselling book Born to Run, is back with his second title. And ladies, McDougall voices what we've known all along—girls are just as badass as guys. According to the author, functional training, natural fitness and moving for the fun of it is the way to unlock our inner Wonder Woman persona.
The modern-age realization of this obvious fact goes back to British-born American author, machinist, businessman, medical student and physical fitness proponent Edwin Checkley and his 1890 book, "A Natural Method of Physical Training: Making Muscle and Reducing Flesh Without Dieting or Apparatus." Not only did Checkley disagree with the diet fads and training equipment circulating in the late 1800's (yup, way back then!), he realized the concept of women being weak was based upon tradition, not a lack of ability. In the century before the Women's Rights Movement and Title IX, Checkley realized active women were every bit as strong and capable as active men.
Related: #ThisGirlCan—A Campaign For Everyone
So what happened? Answer: The Industrial Revolution, changing societal norms and expectations and the idea that it's "better" to have someone else, whether a professional or a big, strong man, take care of something you could probably do yourself. Before the Industrial Revolution, in order to survive, everyone had to know how to do a little bit of everything. People weren't necessarily experts, but they were capable and self-sufficient. The Industrial Revolution solidified the concept of professionals and experts. Efficiency and proficiency increased, yet many common tasks (and the physical fitness they required) were eventually forgotten by the general population. Splitting wood, hauling water, raising food, hand washing laundry, riding a horse and walking everywhere you went became unnecessary.
For functional strength and fitness, our bodies still need those movements more than replicating them on weight machines, stationery bikes or treadmills. McDougall wants us to consider whether or not our fitness is functional—and change it if it's not. Run or hike on a rocky trail for balance and proprioception, walk through a creek bed to feel the uneven bottom and the water rushing around you, throw (yes, throwing, according to McDougall, is a fundamental physical movement), jump, try parkour (really)—basically, move naturally as your body was meant to move.
It's those natural sports where the physical equality of men and women are most evident. Think about running. In shorter distances, men are faster, but not by much compared to the difference seen in male-focused sports, such as power lifting. For example, Svetlana Masterkova has the women's world record for fastest mile with a time of 4:12.56. The men's record, held by Hicham El Guerrouj, is 3:43.13. When it comes to longer races, the difference is even less; in fact, Pam Reed was the first finisher at Badwater 135 (a 135-mile road race through the desert) two years in a row. Swimming is another sport where the gender and age gap is equalized.
Related: Racing 50K For The First Time
McDougall sets his rediscovery of fitness concepts against the backdrop of a great tale of espionage, kidnapping and harrowing escapes on the Greek island of Crete during World War II. The fascinating story provides anecdotal proof for the theories and, perhaps, the encouragement you need to try them in your life.
What more running tidbits? Subscribe to our biweekly newsletter and get the deets on the latest trends in nutrition, shoes and gear, training and injury prevention delivered to your inbox.