Four Steps To Resolve Incontinence While Running
Incontinence when running is embarrassing, but it can be resolved.
Heading out the door? Read this article on the new Outside+ app available now on iOS devices for members! Download the app.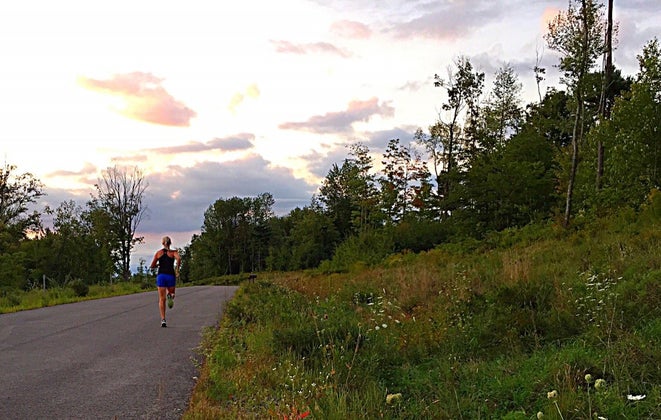 Leaking pee while running. It's that thing that most of us have experienced but none of us wants to talk about. So we suffer silently and try to hide the embarrassing wetness. The truth is that as common as it is to suffer from incontinence while running, it isn't 'normal.'
Prior to the birth of my first child, I don't think I ever leaked pee. I could do jumping jacks, run stadium stairs and sprints without a care in the world. But after the birth of my first child I noticed some leaking. It eventually went away with time, so I thought nothing of it. It was during my second pregnancy that the leaking took on a life of it's own. As I ran through pregnancy number two I had absolutely no bladder control and it was even worse postpartum: the leaking wasn't exclusive to running. I coughed, I leaked. I sneezed, I leaked. I laughed, I leaked. Except it was no laughing matter.
I tried wearing pads while running. Just shy of dehydrating myself, I tried to ensure that my bladder was empty before runs. Yet nothing was helping. Even my Doctor was no help, "It's pretty common," she said. "Don't run so hard." That was not an option. I like to run and I like to run hard.
I went back to my midwife and she suggested a physical therapist. At the time I couldn't quite see the connection between the two: how would physical therapy help my leaking? The truth is that physical therapy (aside from surgery) is one of the only things that can provide resolution to incontinence issues. And for me it has: three kids later I no longer leak while running.
Here are four steps that helped me get to a place where I can run leak free:
See a Physical Therapist. With a little research you can find a physical therapist in your area that specializes in Women's Health. The PT can perform an internal exam that will fully assess weakness in your pelvic floor and any imbalances you might have. Sounds intrusive and scary. But it isn't. In fact, information can be empowering and once you know what's going on you can take steps to fix it.
Small Moves. Strengthening your pelvic floor is not a high intensity workout, but if you want to continue with high intensity workouts it is critical that you take the time for these small moves. Some of the moves suggested by my physical therapist started with breathing exercises to get the diaphragm and pelvic floor working together. Kegels, ab bracing, bridge poses and other drills taught me to activate and strengthen the muscles of my pelvic floor.It's more about becoming aware of small stabilizing muscles and learning to activate those than it is about getting in a blood pumping workout.
Take a Hike. Hiking is a great way to activate and strengthen your hip and glute muscles. The activity is slow enough that you can focus on form and activating the correct muscles and coordinating your breathing. It is also low impact, while providing a good cardiovascular workout. During my return to running after having my third child I started with hiking before progressing to uphill running.
Slow Down. Those can be hard words for a runner to hear. But taking things slow, cutting back on high intensity training until you've resolved your leaking issues is the best way to make sure your not working against yourself as you try to strengthen your pelvic floor. When we run faster our form often breaks down as our body tries to compensate for weakness and imbalances in our bodies. Slowing down allows you to continue to run and rehabilitate your pelvic floor, so that you'll have leak-free miles in the future.
Read More From Run Far Girl:
Why My Scale Is Challenging My Patience
How Running Is More Than Just Running