4 Reasons To Run A Marathon—And One Reason NOT To
Should you run a marathon? If you are struggling to answer that question, here are some reasons you should—if it's what you really want.
Heading out the door? Read this article on the new Outside+ app available now on iOS devices for members! Download the app.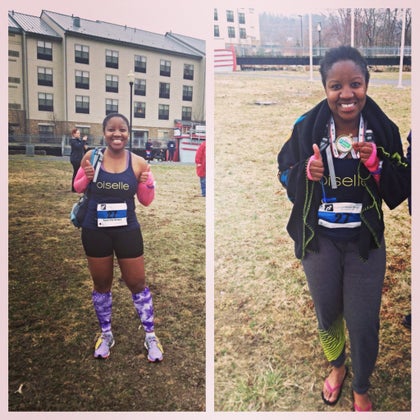 If it seems like everyone around you is running a marathon, that's because…they are! According to Running USA, there were 232,600 women (including me!) that finished a marathon last year. Participation in marathons is at a record high, and numbers will likely continue to grow. If you have been thinking about joining the masses and committing to a marathon, here are four reasons you should click register on that screen.
The sense of accomplishment.
Running a marathon is a wonderfully amazing physical feat. When you inevitably cross that finish line, you will be beyond proud of yourself. Setting a goal and accomplishing it—whether it takes 3 hours or 4 hours or 7 hours—is one of the best feelings in the world. I honestly think that when that goal is a marathon, it feels 26.2 times better!
Your confidence will grow.
While training for a first marathon, every long run is a new mileage record. It will likely be the first time running 16/18/20 miles. You will feel like such a rock star each time you ramp up to the distance to a number that previously seemed impossible to you! After the race, you will be able to think: "Hey, I ran a marathon. I can do anything."
You will make new friends.
Last week I wrote about how awesome it is to run with a buddy. While training for a marathon, chances are you will find a training partner. You will start to see the same runners on your trails. You may join a training group. Or maybe you will somehow stumble across other runners who are training for the same race as you are. I have met so many awesome folks while training for and running marathons, and you will too.
You will inspire others.
In the nine months since I ran my first marathon, I've inspired a coworker and my husband to both sign up for the marathon that was my first (The Richmond Marathon, if you're looking for a great race). I've inspired another coworker to run his first 5k. I am also starting a running group at my church. It's pretty awesome to be able to share my love of running with others, and I guarantee you'll do the same when you train for a marathon. And yes, a part of that will be because you will talk about it all the time…but that's cool, right?
Of course all that sounds awesome. However I can think of one big reason NOT to run a marathon…if you just simply don't want to!
In my circle of running friends, there are folks who have run marathons, as well as a bunch of runners who haven't. Sometimes us marathon gals can get a little crazy and want ALL our friends to run marathons as well. However training for a marathon is a huge commitment and if your heart isn't in it, then focus on what you love instead.