How Different Dog Breeds Fare As Running Partners
In addition to selecting the proper breed, review these safety tips and take these precautions when prepping any pup for a run.
Heading out the door? Read this article on the new Outside+ app available now on iOS devices for members! Download the app.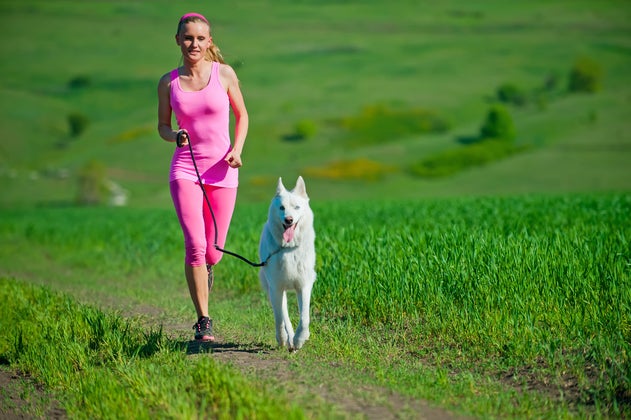 Dogs are usually always ready to hit the ground running and have no bones about it. Their natural running abilities is just one reason that makes them excellent running buddings.
"In the wild, the pursuit of food/game often requires wolves to run distances of over 100 kilometers per day to accomplish a successful kill. They are the ultimate extreme athletes!" expresses Bryan Bailey, award-winning animal behaviorist, and author of Embracing the Wild in Your Dog.
In the same vein, Bailey cautions that today's domesticated canines are not as immediately ready to go the distance. "However, our domestic wolves (dogs) have been fed from bowls, [which have not run from them], for hundreds of years. This has resulted in genetic drift which has left most of our dogs with the physical ability to travel 100 kilometers only by way of an S.U.V. "
Related: Consider Getting One Of These If You Run With Your Dog
Just as we humans speak with a doctor before engaging in any new activity, it's important to give your pup the same voice when prepping them to run with you. "Dogs could have pre-existing, or develop over time, conditions, such as hip and elbow dysplasia, progressive retinal atrophy (PRA), luxating patellas, cruciate ligament damage, congestive heart failure, etc." says Bailey. "Awareness is one of the key factors in determining if your dog is having a possible medical issue while running. Make it a point to learn your dog's normal gait and breathing rhythm over a variety of distances, terrains and elevations."
Symptoms of a poor gait in your canine companion can include: limping, raw paw pads from concrete or asphalt or objects lodged between their toes. "If the paws check out fine, then your dog's limping could be indicative of either muscle soreness or a deeper problem with the joints and ligaments of the legs," says Bailey.
Related: Photo Gallery Of Adorable Track Puppies
Another thing to be aware of when trying out some miles with your pup is the temperature. If your dog's breathing changes during the run when he normally breathes fine, stop running. If the weather is warm, seek shade immediately.
Also, take a look at your dog's gums. "If they're chalky white and your dog appears to be distressed, heat exhaustion may be setting in. Move your dog to a cool area [with a/c if possible] and give him sips of water while trying to contact a veterinarian," expresses Bailey, also urging owners not to put the dog in cold water to cool off. "Rabid cooling can constrict blood vessels and organ failure. If your dog's breathing suddenly increases on cooler days, this could be indicative of inadequate conditioning or possibly congestive heart failure."
Finally, consult your veterinarian for proper advice before beginning a training plan with your pup. Whether you're training for a 5K or half marathon, check out which breeds are best suited to go the distance with you:
Half Marathon
Siberian Huskies
Viszlas
Rhodesian Ridgebacks
Weimaraners
German Short Hair Pointers
English Setters
10K or Less
Labradors
German Shepherds
Border Collies
Australian Cattle Dogs
Pups For A Walk Around The Block
Bassett Hounds
Dachshunds
Pugs