Marathon Maniac: Accepting Cross-Training
Forced to question her hate-hate relationship with cross-training, Danielle turned to the five stages for answers.
Heading out the door? Read this article on the new Outside+ app available now on iOS devices for members! Download the app.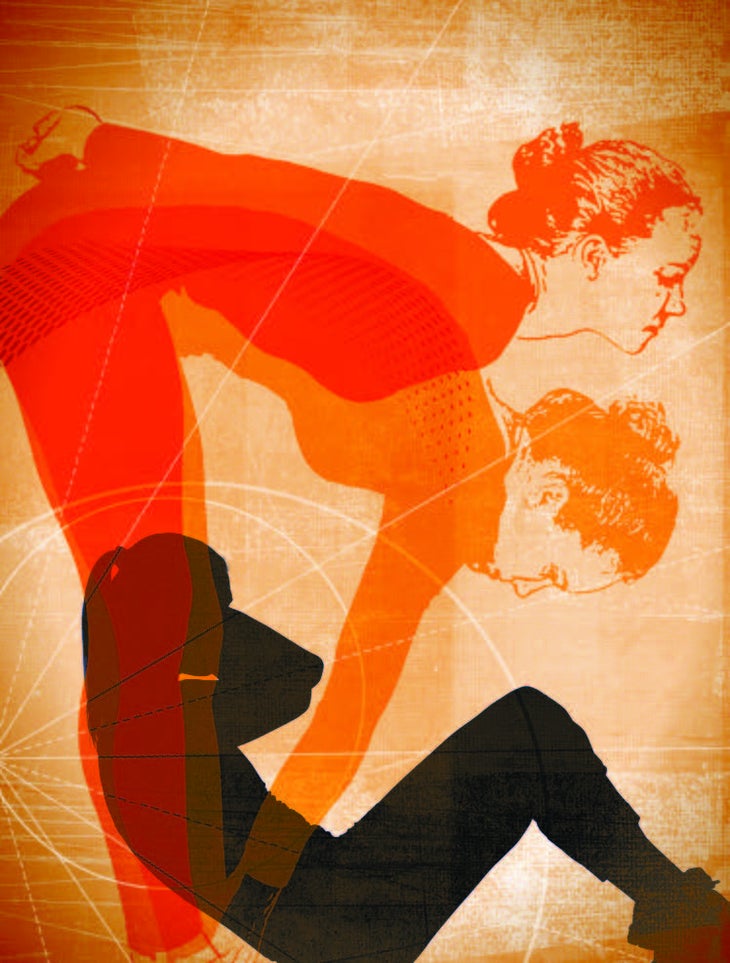 If you're a runner, chances are that you've been told more than once it's important to do more than just run to stay healthy. I know I have heard the same advice from coaches, physical therapists and my concerned fiancé, who often wonders if I have some type of bizarre running-related compulsion.
The truth is I love to run—but sort of hate to exercise. Ever since I discovered my love of running, I've avoided cross-training like the plague. But after a recent recovery from back surgery, I've been forced to completely restructure my workout routine and running goals.
This has caused me to look at cross-training in a whole different light—but the journey hasn't been pretty. In fact, my relationship with cross-training may be best described by the five stages of grief. This may sound a little melodramatic (and it is) but stick with me:
Denial: I do not need to cross-train. My back will heal itself, and I'll be able to go back to running like normal. I am a medical miracle, so none of what my doctor or physical therapist says applies to me.
Anger: Why am I the only person in the world who has to cross-train? No other runners in the world get injured besides me! Cross-training is stupid, and I hate it. I refuse to buy a bike. I will not attend a yoga class. Cross-training, be damned.
Bargaining: I promise to run less if I just don't have to cross-train. Fine, I will start cycling if I don't have to lift weights. No, seriously, I'm not lifting weights—maybe I'll go to yoga.
Depression: Why bother running anyway if I have to do all this other stupid stuff just to be able to run? I hate my back. I'm going to hide all my runner friends on Facebook, because if I see one more picture of a race medal, I'm going to have a nervous breakdown.
Acceptance: Having the ability to continue to work out at all is a tremendous blessing. I'm lucky to be able to run after such a serious surgery. I will do whatever it takes to keep my body healthy!
Perhaps it's just a by-product of being cooped up in my house for so many months, but I eventually reached the point where I began to enjoy cross-training. It meant I was able to do something. While running is still my first love, I've come to appreciate the other forms of exercise.
I look forward to my long group bike rides, have developed a craving for the burn of a barre class and, although it pains me to admit, have actually come to enjoy seeing my strength increase every week thanks to weightlifting. It took some time, but I finally have come to the conclusion that I should have reached long ago: Whatever it takes to keep my body healthy is totally worth it.
Crossing Over?
Can't get into swimming, yoga or cycling? Take these creative forms of cross-training for a spin.
1. PiYo: A combination of Pilates and yoga moves set to a faster pace. Just YouTube it!
2. Rock Climbing:  Seek out a climbing gym near you and learn the ropes (lolz). It's a great full-body burner.
3. Ice Skating: "Frozen" isn't just the best-animated film of the year! Head to a rink to work up a sweat under your sweater.
Danielle Cemprola lives in South Carolina with her Rottweiler, Rocket. When she's not running, Danielle blogs at trexrunner.com.