Here's What Happened When I Tried Yoga As Cross-Training
Yoga is low-impact but can build major strength. Here are 5 huge benefits one runner got when she made it her form of cross-training.
Heading out the door? Read this article on the new Outside+ app available now on iOS devices for members! Download the app.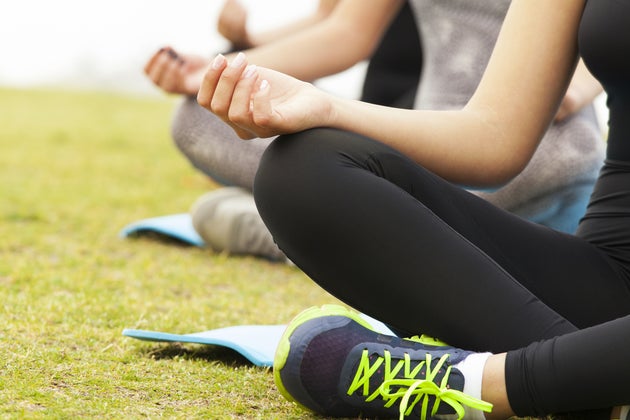 Yoga as cross-training
While runners are not always known for their love of cross-training, we all push ourselves to do it because we know it will make us better runners overall. From weight-training to boot-camp classes to group cycling, there are countless ways to cross-train; the key is trying it all until you find the one that best compliments your running routine.
Personally, I've always liked strength workouts with light dumbbells, often taking group classes or following DVDs at home. But since becoming pregnant with my second child, some of those workouts have become more difficult, so I decided to try adding more low-impact yoga into my routine instead. For the past month, two to three days a week, I followed a few different yoga DVDs at home for my cross-training. It was completely different than what I was used to and led to some very unexpected results.
Here's what I learned from my month of om:
It reduced aches and pains.
Every runner has probably experienced their fair share of soreness after a tough run; if you're like me, sometimes the pain lingers for a few days and you may use that as an excuse not to go running (no? just me?). And when you're in pain, the last thing you feel like doing is hitting the gym to work those sore muscles even more. But yoga did wonders for my post-run aches and pains; the light cardio from flowing between poses warmed up my muscles and the deep stretching relieved tight hamstrings and quads. Not only did I look forward to my cross-training after running, I was able to run more often because I felt so good.
It's a killer strength workout.
I imagined that exercising without any kind of dumbbells wouldn't be much of a strength workout, but boy was I wrong. Yoga uses your own body weight to tone you in ways that more traditional strength workouts just don't. So many of the poses incorporate deep lunges, squats, and ab holds, and the combination of slowly flowing through and holding each pose made my body shake and muscles burn in a whole new way. I also loved how many of the poses worked multiple body parts at once as compared to working only one or two muscle groups at a time as I usually do with a pair of free weights.
It's personally satisfying.
While I always give myself a little pat on the back when I manage to bang out more squats or bicep curls than I have before, I reached a new level of satisfaction when I finally mastered a couple poses that were evading me. I have never been able to hold crow pose for more than a couple seconds and wanted desperately to conquer it; I practiced every time I hit the mat and finally managed to stay up for almost thirty seconds. I know that's not that long and plenty of yogis can go much longer, but it felt like a huge accomplishment for me. I love that tiny victories in yoga can feel so satisfying and made me want to get even better.
Yoga changed my mindset about my health.
After a couple of weeks of practicing yoga, I noticed a shift in how I viewed my health as a whole. Maybe I was more in tune with my body, or maybe I was just learning to be more mindful, but I found myself being more deliberate with my health choices, from taking my time preparing and eating my food to allowing myself a day off from working out when I needed it. Yoga has made me pay more attention to my body in general and that's translated into how I treat it in a more positive way.
It's just as meditative as running.
One of the reasons I love running is that is can be really meditative. There's nothing like chasing a few miles by yourself to work out a problem or just clear your head. When I do a boot camp class or lift weights to cross-train, I have to really focus on the exercises and pay attention to the instructor in order to execute the moves properly and can't really zone out. So while I did have to stay somewhat tuned into the directions during each yoga session, I loved that I could relax into the poses, close my eyes and just focus on my breathing. I got the same awesomely meditative effect from yoga that I do from a good run.