Burn More Calories With These Short Post-Run Workouts
Stoke your metabolism to shed unhealthy pounds with this 5- to 10-minute trick for runners.
Heading out the door? Read this article on the new Outside+ app available now on iOS devices for members! Download the app.
Tacking on a mini workout to the end of your run can make a huge difference—especially if you're a runner trying to lose weight. Trainers often use "finishers," bouts of short, intense exercise, as the finale of a sweat session, to help clients get in shape.
Why? Allie Burdick, ACE-certified personal trainer and founder of VitaTrain4Life.com, explains, "Excess post-exercise oxygen consumption, or 'afterburn,' describes the calories burned as your body recovers from a workout. The longer you burn depends on the intensity level."
In other words, high-intensity exercise stokes your metabolic fire. Unless you are completing a speed workout or tempo run, you're not reaching a level that will encourage afterburn by running alone. (If you tried to do a tempo run every time your shoes hit the pavement, you might burn extra calories but you'd also burn out.)
The solution? Use a few minutes after your run to test your body in a controlled way. The trick is to constantly try new challenges. Burdick says, "Because your body is so good at adapting, it's going to quickly catch on to these afterburns, so you have to keep mixing it up to fuel that fire."
WORKOUT GUIDELINES
Complete any one of these finishers after an easy or moderate run. Strength-training beginners should start with a single session per week, while more advanced athletes can perform one up to five times weekly. Burdick says, "Start conservatively and listen to your body. If you're overly sore or tired, back off." She notes that most runners will start to see results in three to four weeks.
Photos: Craig Carpenter & Mike Christman
1. Sprint Finish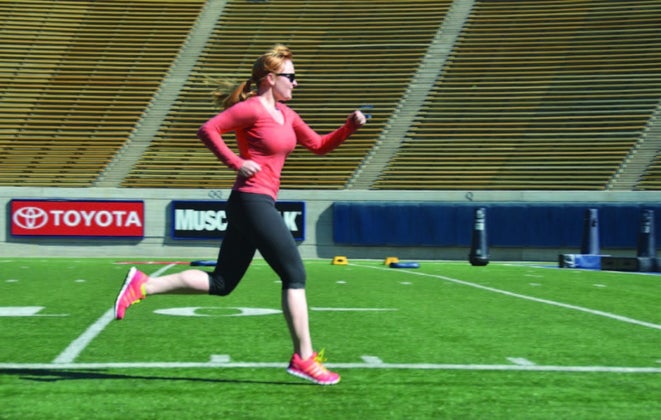 This one's easy. If you are going out for a normal run, start to pick up the pace in the last mile, accelerating gradually to an all-out sprint by the end.
2. Burpee Fail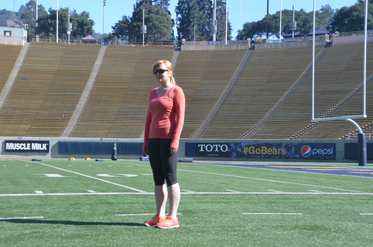 (A) Start standing tall.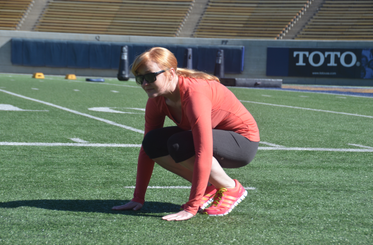 (B) Squat down to put your hands on the ground,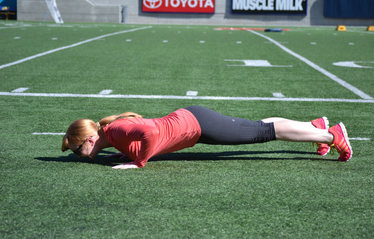 (C) then jump your feet out behind you so your body is in a pushup position.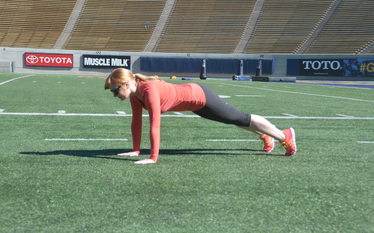 (D) Complete one pushup then jump your feet back into your hands.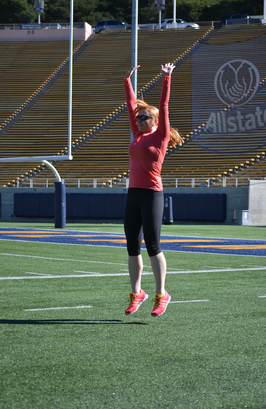 (E) Now jump straight up as high as you can. That's one burpee. Push yourself to see how many you can complete without resting (aka until you "fail"). Try this technique with almost any bodyweight exercise: squat jumps, mountain climbers, pushups, lunges—get creative!
3. Bench Jump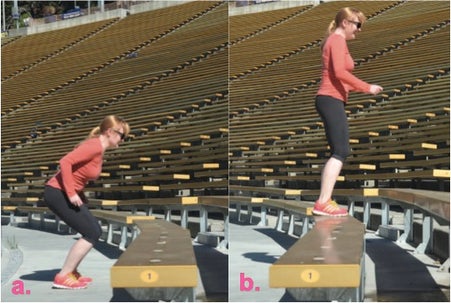 Find a box, step or bench that's roughly 1–2 feet high. (A) Lower into a squat and (B) explosively jump onto the bench. Step back down and repeat. Complete four sets of 20. 
4. Double Squat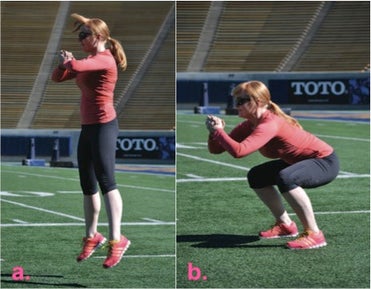 Complete (A) 10 regular squats, followed immediately by (B) 10 squat jumps (pushing your body off the ground at the top of the squat). Rest 10 seconds. Continue this pattern for 3–5 minutes.
5. Triple Lunge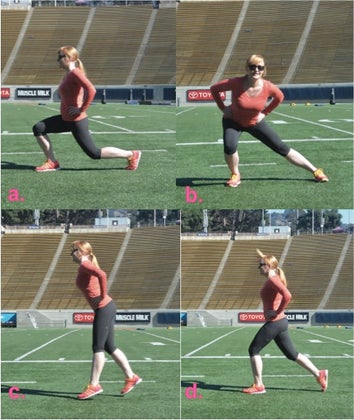 Complete (A) 10 walking lunges (5 each side, alternating legs), (B) 10 side lunges (5 each side, stepping out laterally while pressing your hips back as low as you can) and (C and D) 10 jumping lunges (5 on each side, alternating legs). Rest 20 seconds. Continue this pattern for 3–5 minutes. 
6. Stride It Out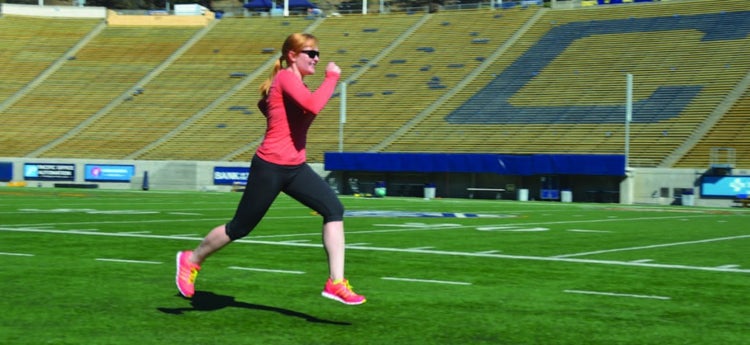 After you finish your run, find a place to stand where there's a marker about 100 feet away (the end of a block, a tree, etc.). Sprint in a controlled way to this landmark. Rest for 20 seconds. Repeat a total of six times.
Photos: Craig Carpenter & Mike Christman
Related: Running For Weight Loss Plan