This Is What An Olympian's Training Schedule Looks Like
Barbara Nwaba isn't just doing one event; she's stringing seven together to hopefully win gold in the heptathlon. Here's a week in the life.
Heading out the door? Read this article on the new Outside+ app available now on iOS devices for members! Download the app.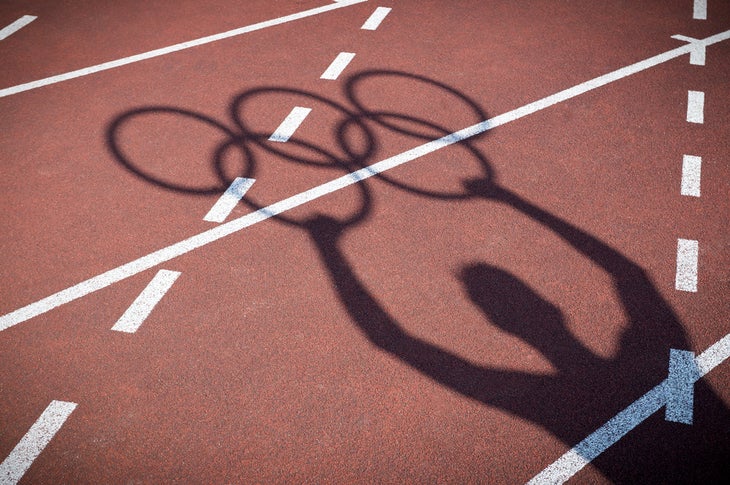 Just because most of us will never punch a ticket to the Olympic Games doesn't mean we can sweat like the best athletes in the world.
For Barbara Nwaba, the number-one female heptathlete in the United States, training for Rio was more than just sprint drills and miles logged. She needs to jump, hurdle, shot put and more to stay in tip-top shape. Why? The heptathlon is not your ordinary track and field event; it comprises seven mini track and field events to make up one whole sequence.
"On day one we have four events: hurdle, high jump, shot put and 200 meters. On day two we have three: long jump, javelin and 800 meters," explains Nwaba.
Each event earns the competitor points toward a total score to win the heptathlon. Some events are worth more than others, so placing first, second or third in a single event doesn't necessarily equal a top finish; running faster, jumping higher or throwing farther all add up to that podium spot.
Related: Take A Peek Inside The Track Bag Of An Olympic Athlete
"I don't really like to know my points during the meet, but it's sometimes helpful because you can use that energy to do better. You can see where you need to step it up in different events," Nwaba says of her during-the-race strategy.
Preparing for such a rigorous track and field event demands as much mental clarity as physical work. "During practice, I go through long days out on the track. This helps me get through the long days during an event," explains Nwaba. "We go through the same progressions during practice as we do during a track meet. It helps me get through transitions. When I get to one event, say the hurdle, I'm a hurdler and that's all I think about. Then when I transition to the high jump, I'm a high jumper and only focus on that."
To get to that unique way of separating events while still pursuing the whole takes a great deal of work. Training is spent as much on the track as it is off. Want a peek at what a week looks like? Here's a quick breakdown:
Sundays
Day off, complete rest day
Monday
Explosive med-ball throws
Shot put
200 and 100 repeats on the grass
Tuesday
High jump/hurdle day
A spring workout to get ready for the 200 meters
Weight training
Wednesday
Active recovery day
Thursday
Deemed a "hard day"
Long jump/javelin practice
Weight training
Friday
800-meter workout (see below)
Saturday
Morning weight-training workout
Recovery and foot care are also some of the most important elements for Nwaba when it comes to training. "I always make sure to recover and have a good shoe on my feet. With my stride, my ankle dips in sometimes, so I finally started wearing ABEO; the structure of the shoe is so much better. I feel like I'm striking the ground in a better position."
Are you ready to train like Nwaba? This 800-meter workout can definitely help you take your running to the next level.
Drills
300m sprint
2-minute break
200m sprint
6-minute break
300m sprint
2-mintue break
200m sprint
4-minute break
300m sprint
Catch Nwaba the week of August 12 as she strives for gold. See the complete schedule here.