A Great Reason To Run On Christmas
Our Marathon Maniac shares a tradition she holds on to with her family.
Heading out the door? Read this article on the new Outside+ app available now on iOS devices for members! Download the app.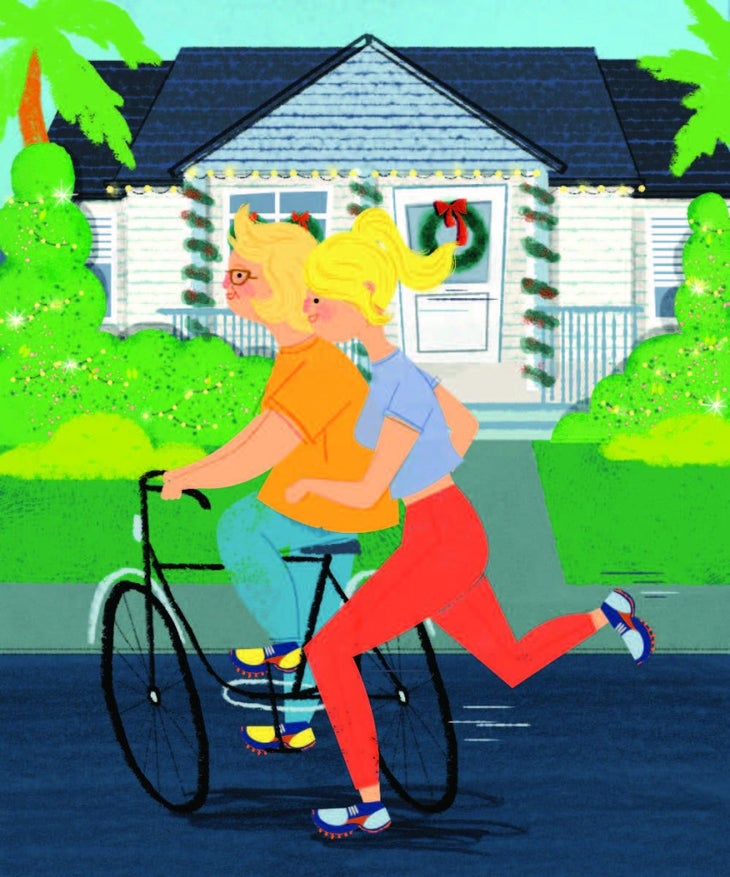 When I was little, I would fly out of bed on Christmas morning before the sun rose. Full of glee, I couldn't wait to lay my eyes on the bounty of gifts. And if you ask my parents, that was me on my best behavior. Some years, I was so excited that I didn't sleep at all.
Now that I'm an adult, I still wake up early on Christmas morning, although things have changed. There are no kids in my family anymore, and my husband and I don't have any little ones of our own. Our big event is my grandmother coming over to my parents' house no earlier than noon. If my brother happens to be home that year, we won't see him until late in the day. No, it's not about presents anymore—it's about the run.
Despite my penchant for marathons, I'm not always the most motivated runner in the world. I've hit the snooze button on long run mornings more often than I'd care to admit. But there's one day of the year I never have a problem waking up early and lacing up my running shoes: Christmas.
Since I've become a runner, it's turned into a kind of ritual for me. I'm often visiting my parents back home in Florida and have no other responsibilities. My mom (who happens to be my biggest running fan) is there to ride her bike next to me, entertain me with stories and carry my water bottle, and there is no set time we have to be home. The roads are quiet because kids everywhere are waking up and opening presents in their living rooms. If we leave early enough, Christmas lights are still turned on.
Related: How To Organize A Holiday Lights Run
One of the best parts: I can count on an excellent post–long run meal. After my morning workout, I'm free to put away all the marshmallow-covered sweet potatoes, pie, cookies, cookies and more cookies I want—in fact, I need to in the name of replenishing my glycogen stores, right?
As I've gotten older, I'm still waking up early and running to my presents (despite my husband's refusal to get me the pony I've been asking for). But the gifts are different now. Instead of toys and games from Santa Claus, my Christmas morning long run finds me unwrapping memories and cherishing my greatest treasures: my family, my health and, yes, my running. I may not always have the opportunity to get those holiday runs in, so, for now, I'll count myself grateful for every step and toast to my good fortune with a glass of eggnog.
Related: How Runners Are Like Your Favorite Holiday Desserts
Here are some (material) gifts I'd love to wake up to on Christmas morning—hint, hint!  If you are not related to me, consider them for other runners in your life.
 A sports massage: My poor IT bands. My poor, poor IT bands.
 Plane ticket to a destination race: Wishful thinking, anyone?
 A pedicure: This may be more of a gift for my husband and society than for me.
New running socks: Because you can literally never have too many pairs.