7 Race-Day Mistakes, 1 Good Samaritan And Biggest Lesson Learned
Why you should always stick to the basics on race weekend and never try to outsmart yourself.
Heading out the door? Read this article on the new Outside+ app available now on iOS devices for members! Download the app.
Hearing the words "fast and flat course" is a runner's heaven, whether you're a veteran or newbie. I was given the opportunity to run The Intertrust Cayman Islands Marathon/Half, I was told it's a fast and flat course. My mind immediately went, Fast and flat plus an oceanfront, tropical course on the Caymans? Sign me up!
Silly me, I thought I had this course in the bag. I've run dozens of races on all sorts of terrain. I thought a scenic, coastal course is a cake walk. I had my training nailed down since I had completed race a couple weeks prior to the half. So I packed my bag and headed to the Caymans.
Crystal blue water as the course backdrop is a dream, but I made plenty of rookie mistakes. In fact, this was the first half marathon I had to stop and walk. With a little motivation from a fellow runner, I pushed myself to cross the finish line, but it was not easy.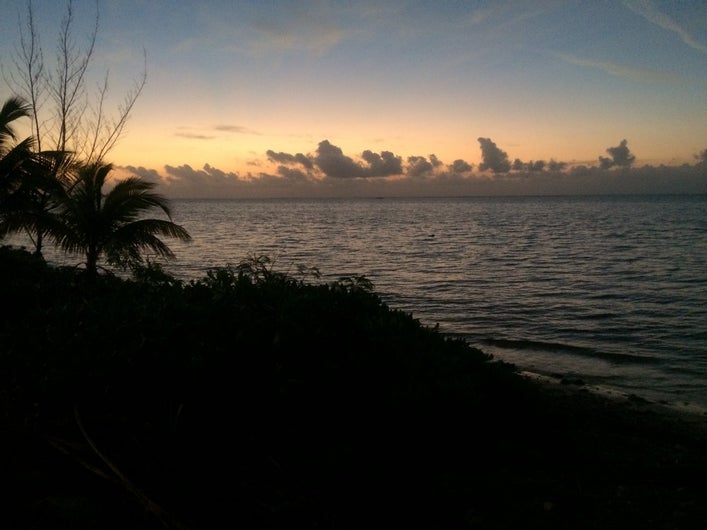 Whether you're off to a tropical race destination during the winter or navigating warming temperatures this coming summer, these are rookie mistakes I made while on the Cayman Islands.
I should have hydrated more before the race.

Before any race, whether it's in a cold or hot climate, you're supposed to drink plenty of water and get your electrolytes.
I knew the race was going to be hot because of the tropical weather, so I drank water, but didn't drink more than normal. My mistake: I sat in the sun all day long, exerting energy and getting dehydrated without refueling those electrolytes. Hey, I was on the Caymans; I had to go kiss Mr. Sting Ray at Stingray City for seven years of good luck!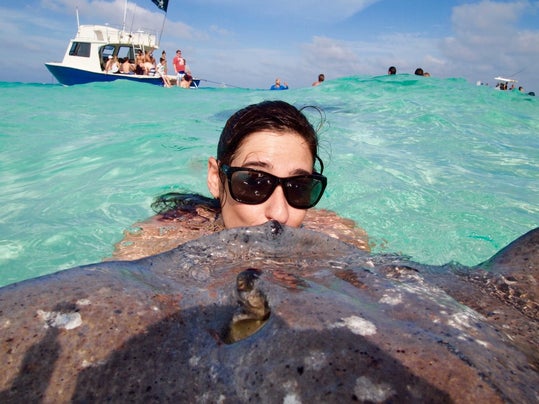 Photo: Caribbean Producer Services
I should not have tried the local sauces the night before the race.

So many people think the night before a race you need to eat a huge plate of pasta. I've never done that. I usually eat a simple piece of salmon and salad before a race. So the night before the race, I ordered a piece of salmon but had the local sauce on it. I had to try local cuisine! In hindsight, I should have just asked for a grilled piece of salmon with veggies and stuck to the basics my stomach has been used to this during training. Rule number one: Never try anything new come race day!
I should have allowed more time for time change adjustment.

Sleep is one of the most important things when it comes to race preparation. You would think I would know better, but the night before the race I got two hours of sleep. No, I was not out late. In fact, I was in bed by 10 p.m. However, I was not adjusted to the time change. I arrived Friday night and the race was Sunday morning at 5 a.m. The time difference is only three hours from California to the Caymans, but I did not give my body enough time to adjust to the time difference. Waking up at 3:30 in the morning to make a 5:00 a.m. start time was extremely challenging for this California girl.
As a result, my pre-race fuel didn't even agree. This was probably the only thing I did right for this race. I brought my own food because I had no idea what the food situation would be like come race morning. However, since my body was not adjusted to the time difference, it was rejecting my pre-race nutrition. I forced myself to eat a couple bites of my food, which made my stomach feel queasy.
I underestimated the start-line crowds based on registration numbers.
There weren't many runners for the race. The Intertrust Marathon had 112 registered full marathoners, 829 half-marathoners and 92 relay teams, plus 270 in the kid's fun run. So in my head, I thought the pre-race lineup would be easy. Gear check was simple, but the bathroom line was a madhouse. I should have given myself more time to warm up, use the restroom, check gear, and line up in the correct corral. Instead, I was a frantic woman, which led to a one-minute leg warm-up. Shame on me.
I totally wore the wrong gear—or no gear at all.

With a 5 a.m. start time, it's pitch black outside, you would think the course route would be lit up; silly me for assuming. Yes, there were some lights on the route, but there were many dark areas. A headlamp would have been helpful to see where I was running to avoid potholes and lizards. Instead, I ran over some critters and stumbled through rocks and potholes, thankfully not twisting my ankle.
Another overlooked mishap was my attire's color. I thought I was so smart for wearing my compression socks, shorts and a tank—it would keep me cool. While my attire was light and breathable, the color was black. At mile 7 the sun started to rise and I immediately realized I was wearing dark colors. Black plus sun is no good! From that moment I was racing against the sunlight. I tried to pick up my pace to avoid extreme sun, but my feet were not moving as fast as my head was trying to go. I should have at least worn a lighter-colored top to avoid heat absorption.
I did not review the course at all.

Every time I run a race I review the course. I look for landmarks on the map to help me understand each mile, and this helps me maintain a good pace on race day. If the race is near me, I try to drive through the course so I understand what I'm in for. This race I did no preparation. I had no clue if it was an out-and-back or a loop. I knew there was an oceanfront view and that's all that mattered to me. Big mistake. The heat and not knowing where I was on course really messed with my pace—and head. I should have at least looked over the course map online just to get an overview of what it looked like instead of relying on mile markers. Thank goodness they were in miles and not kilometers!
I let the head games get the best of me…

As soon as I took off my head started playing games with me. This was by far the most humid race I've ever ran in. My training has been in California, so my training weather had been 50 degrees with little humidity. On race day, it was 86 degrees and almost 90 percent humidity. It felt like the humidity was at 100 percent. Can we say weather shock?!
I kept telling myself how hot it was and that I needed water ASAP. I've never needed to stop within the first half-mile for water, but I did. And literally every mile after that, I stopped. I could not get the words "it's so hot" out of my head. I slowed my pace down to try to keep my body from overheating. Every other mile I dumped water down my head.
…but I also let another good Samaritan help me.
At 10.5 miles I stopped and walked. I was so ashamed, but told myself, "I'm going to finish this race. Just listen to your body." I tried to keep my chin held high to power through this moment. I tried to run again, but my head just kept saying, "I'm hot". It wasn't until I was at mile 11 when a fellow runner who had been pacing with me the past few miles came up to me and asked, "What's bothering you?" I told him that I was hot. And his response, "Your head is playing games with you." He then handed me a bottle of electrolytes, told me to take a sip and to start moving again.
This man, Scott Ruby, was pushing a young woman, Nikki Christian, who had cerebral palsy. He told me, "You have legs, you can power through this." That put a lot in perspective. Here is this man running the full marathon, assisting Nikki, and I am not pushing anything. He told me that they were going to be the first assist team to ever run the Cayman Marathon. He said we have our legs, we're lucky to move, so let's run through the pain, which is only temporary.
In the last three miles of my half, my head finally cleared up. Scott and Nikki ran with me, and we picked up a few other runners who were struggling as well. What was one of the biggest challenges in my life became a breeze. Scott and Nikki, also known as Nikki's Voice, were running for a cause. And pacing with them put my struggles in perspective. I was proud to run with these two locals; spectators alongside the course were cheering the duo on; they were like town heroes. The words that came out of Scott's mouth brought tears to my eyes:
"Nikki and I have been training since July. We are going to finish this marathon together. If she could take my place to give my legs a break, she would, she's the best ever." Scott continued, "Your mind will play games if you let it, but you have the ability to push past the pain. You have your legs, be grateful for that and just get out and move."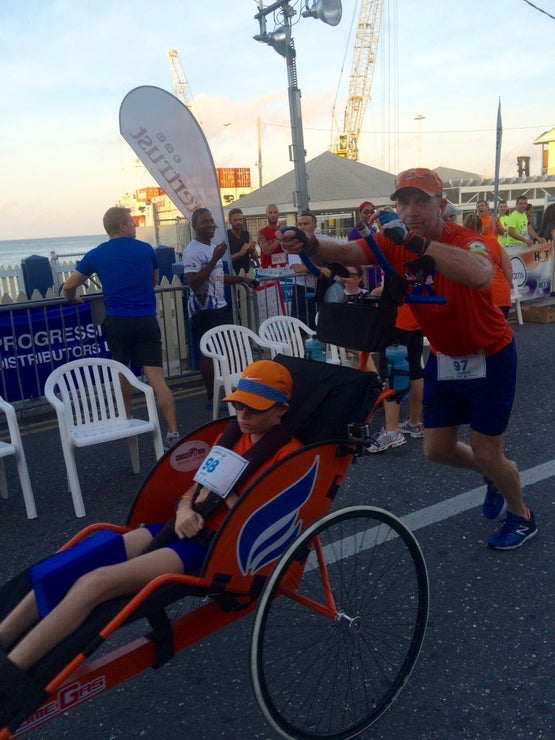 My runner's high kicked in, and we powered through to the finish. As I crossed, Scott and Nikki continued on to complete the second half of their marathon.
My lesson learned: Despite the fact that I struggled and did everything wrong, I still crossed the finish line and earned my medal–with the help of Scott and Nikki. From here on out I will always go back to the basics and not overlook simple things to prep for a race, regardless if it's fast and flat, cold, hilly or hot.