5 Hot Tips For Summertime Running
Summer is just heating up (it's the hottest year ever!), so here's some helpful tips to continue to hit your stride under the sun.
Heading out the door? Read this article on the new Outside+ app available now on iOS devices for members! Download the app.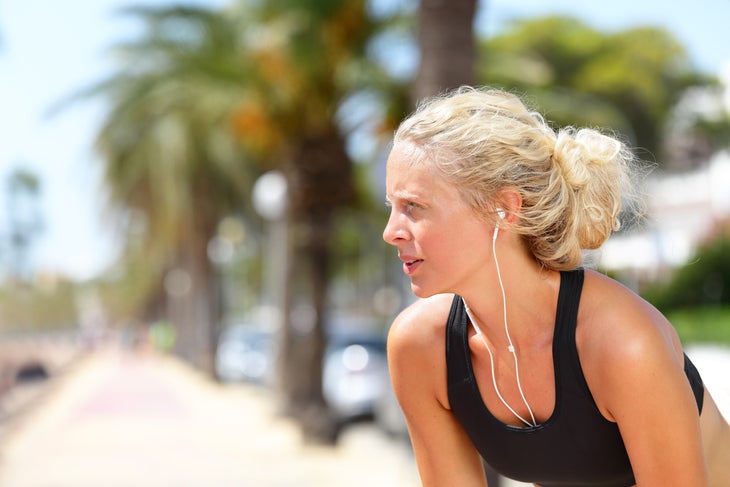 Summer is now upon us, which means that many runners around the country are already hitting the roads running in three-digit temperatures. With the Institute of Medicine reporting that 75 percent of Americans suffer from chronic dehydration, runners need to take extra measures to make sure to stay safe and healthy during the summer months. High heat and humidity can make summer running seem unbearable, but we have five tips to help you beat the heat.
Take Time to Acclimate.
When it comes to running in the heat, runners should take time to get used to the high temperatures. Not scheduling speed work for the first week that temperatures rise and slowly increasing mileage and time outside is a great way to acclimate yourself.
Keep Clothes Light and Loose.
When choosing your outfit, be sure to choose light colors and loose fits. The same goes with hats, as heat escapes from your head. If you have a tight-fitting cap, your head is likely to get overheated quickly. Getting clothes with special cooling properties, such as mesh and icy fibers, will help keep you cool as you sweat.
Choose Sunblock vs. Sunscreen.
When protecting your skin, be sure you are choosing sunblock instead of sunscreen, as it is known for staying put on sweaty skin. Be sure to check the package for a high SPF, which will keep you protected longer. Additionally, titanium dioxide or zinc oxide as ingredients will stand up to sweat as well, as they are more water resistant than other ingredients.
Hydrate, Hydrate, Hydrate!
When talking about running in heat, we of course had to add that hydration is key. Be sure to drink water throughout the day, not just on runs, so that you can avoid being a part of the chronic dehydration statistic and avoid getting overheated and dehydrated. Additionally, be sure to keep an eye on your clothes. If you see a salt ring from your sweat, it is definitely time to get some fluids in your body.
Hit the Streets Before Sunrise or After Sunset.
Running in the early morning, before 10 a.m., or in the late afternoon to evening, after 4 p.m., will help you be sure to stay out of the high-noon sun. Running in early morning temperatures will be the best to keep you cool, but for those who can't make it out on the roads or trails until after work, running as the sun goes down in the best. Of course, f you are running before the sun rises or after the sun sets, be sure to follow proper safety precautions to stay visible to drivers.