The 4 Best Ways To Stop Yo-Yo Exercising
Heading out the door? Read this article on the new Outside+ app available now on iOS devices for members! Download the app.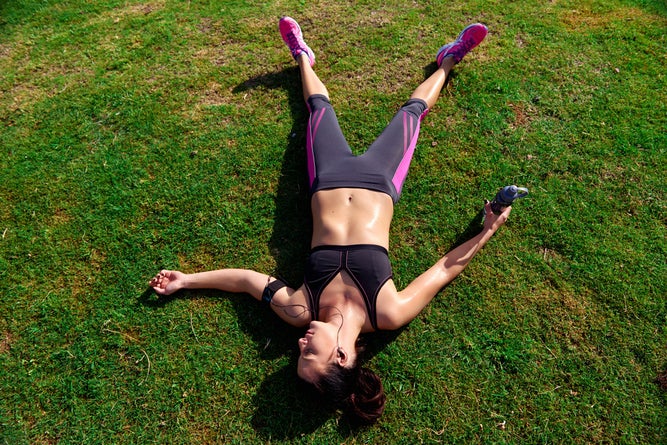 You've probably heard about yo-yo dieting, the cycle of eating well for a while and then slipping into a junk food habit, only to clean up your act again and start all over—not good for your sanity or your waistline. But what about yo-yo exercising? Could that be just as bad? As it turns out, yes. Every time you jump back into a fitness routine like running, you have to go through the physical struggle of adjusting to the activity again (hello, shin splints) and start from scratch building up your mileage. Arguably worse is the effect it has on your emotions; it's easy to feel disappointed in yourself every time you slack off, and even harder to constantly try to get motivated again. But it doesn't have to be that way! If you're struggling with an up and down relationship with running, consider these tips to commit for good.
Keep it interesting
We've all been there—you decide to take up an activity, vow that you're going totally commit, become obsessed…and then a few weeks later you're over it and give up. When you first start running, it can be easy to declare I AM A RUNNER! and work out hard every day. But before long you get sick of it and end up back on the couch, only to pick it up again the next time you get bit by the fitness bug. To prevent this cycle, keep the passion but trade a few days of running for some cross-training. Throw in some yoga, some spinning, some swimming—find another workout you enjoy and it will keep your running fresh and fun.
Related: The Best Cross-Training For Runners
Take time to recover
When the enthusiasm is flowing, it can be tempting to log some serious miles day after day. But without regular recovery days, you're bound to burn out, and from there it's a slippery slope to giving up completely. Just like it's important to mix up your running with cross-training, it's even more crucial to schedule regular rest. Plan to take a day off about once a week to prevent exhaustion and injury, even if you feel like you could keep going—treat yourself to a pedicure you don't want to wreck if you have to! Just make sure to give your sneakers a regular breather and you'll be running in them for the long haul.
Related: Top Ways To Maximize Recovery
Set a concrete goal
It's a great idea to set a goal for your running. Whether you want to run your first mile without stopping or conquer a 10K, keeping your objective in mind can help motivate you when you feel like giving up. But an even better way to hold yourself accountable and keep running consistently is to sign up for a race. It's much easier to ditch an intangible goal than to slack off on training for a race with a definitive deadline. The distance doesn't matter, so choose whatever you feel comfortable tackling. What's important is having the incentive of the impending event to keep up with your training plan.
Make it a lifestyle
If you sometimes work out to lose or stay at a certain weight, that's totally fine—maintaining a healthy weight is part of your overall well-being. But if you find that the number on the scale is your primary—or only—motivation for running, that may be the reason you stop and start so often.  It's so easy to slack off once you plateau at your goal weight, or worse, give up entirely if you fail to reach it, only to start working out again when the number creeps up. To keep both your weight and fitness levels steady, try changing your mindset about running; don't think of weight loss as the goal, but consider it a positive side effect. Instead, adjust your thinking and consider your workouts just another part of your healthy daily routine, as routine as brushing your teeth. Remind yourself that while weight loss can be one of running's benefits, so can endurance, energy, and a clear head.  It may take a while to shift your thinking but once you do, you'll put an end to the cycle for good.