4 Secrets To A Successful Lunch Workout
Throw in a little mid-day sweat session with these tips.
Heading out the door? Read this article on the new Outside+ app available now on iOS devices for members! Download the app.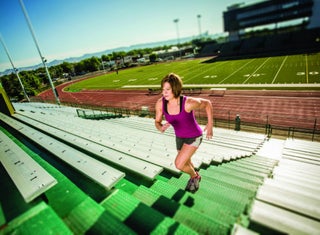 Whether you need a break from sitting at your desk all day or want to free up your evening for happy hour, exercising during your lunch break is a great option. However, getting sweaty during the work day can be a little unappealing—who wants to hurry through a workout, rush back to the office and try to grab lunch in 60 minutes or less? But it doesn't have to be that way! If you want to give midday exercise a go, try some of these time-saving tips to fit your workout into your lunch hour without breaking (another) sweat.
Fix Your Food
Before you head to work, take a moment to pack a lunch to avoid waiting in line for a sandwich later. While you're at it, bring a snack to munch on an hour or so before you exercise to give yourself a little boost. You'll not only save time, but you'll also save money and guarantee you have healthy fuel for your workout and recovery.
Time saved: 8 minutes
Related: More Time-Saving Tips For Lunchtime Workouts
Downsize Your Duffel
To make the most of your time, keep your gym bag organized with just the essentials. One workout outfit, sneakers, headphones and a small toiletry bag is all you should have in there; make sure you ditch any clutter like extra clothes or old water bottles. This way you can get changed and ready to warm up in no time.
Time saved: 2 minutes
Work Out Your Workout
The key here is to know exactly what your workout will entail so you can get right to it and don't lose steam (and time) trying to come up with something. If you're heading straight outside for a run, map out a route ahead of time so you know exactly how far and how long you can run. Going to the gym? Try running intervals or inclines for maximum effort. If it's a cross-training day, time your trip around a 30-minute boot camp or circuit-training class. Whatever you choose, make a plan in advance so you don't waste a second wandering the gym wondering what to do.
Time saved: 5 minutes
Related: What Going To The Gym Looks Like After Having Kids
Streamline Your Shower
Getting office-ready again doesn't have to be a production if you bring along the right products. If your workout wasn't too intense, you can probably just clean up with a towel and a couple of baby wipes. If you're taking a shower, skip the suds on your hair and pop a shower cap on to keep the steam from causing frizz (and consider using a soft scrunchie during your workout to prevent the hair dents tight elastics can cause). Finish by freshening up your mane with a little dry shampoo, and use makeup that pulls double duty—think tinted moisturizer for hydration and coverage, and a subtle tint that works on both lips and cheeks. Last but definitely not least, swipe on a fresh coat of deodorant, and you're good to go!
Time saved: 10 minutes
Depending on how many of these tips you follow, you could save up to 25 minutes that can be devoted back to your workout. But feel free to save a couple of those minutes to treat yourself to an afternoon coffee—you've earned it!
Alison Barsalona is a stay-at-home mom to one baby and one beagle.  She is working on getting her running and fitness groove back and perfecting the art of the jogging stroller.