4 Reasons You Need To Take A Break From Running
Yes, there are other reasons to take a tiny little break from your love of the sport besides being injured.
Heading out the door? Read this article on the new Outside+ app available now on iOS devices for members! Download the app.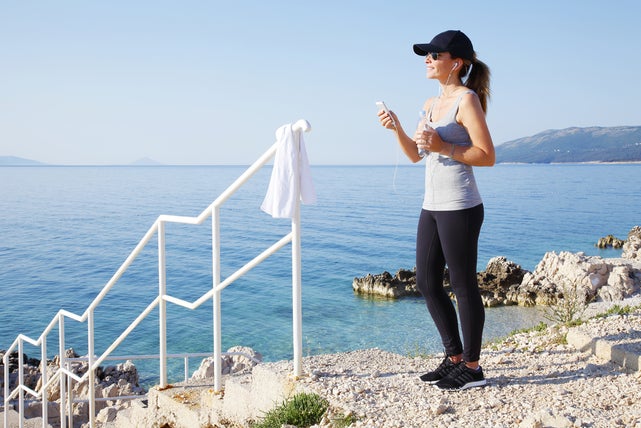 So I have to confess something. Recently, I hadn't been running. Life has been so hectic that most days I was lucky to have enough time to squeeze in 15 minutes of exercise, and running had gone by the wayside. I know, I know—how dare I sit here, writing about running, when my sneakers sat in my closet for weeks? For shame! But hear me out—a couple weeks ago, I made an impromptu trip to my parents' house and grabbed my sneakers at the last minute. My first night there, I headed out for a run to stretch my legs after the drive. And you guys?  IT WAS SO AWESOME. I ran an easy few miles at a comfortably hard pace and floated back on a perfect runner's high. Now I'm back home and still can't get enough. I realized that taking a brief hiatus from running ironically made it so much better. If you've lost interest in running, or have been over-training, or have gotten too busy, or are just in a running rut, consider taking a short break. I swear it will make you feel like a whole new runner. Here's why:
1. It can cure burnout.
Before my break, I didn't even realize my relationship with running was pretty stale. Looking back, I had been running the same loops around my neighborhood and was understandably bored. The time off not only reignited my passion but reminded me I need to mix up my routes or bust out the jogging stroller from time to time to keep things interesting. I guess absence really does make the heart (and feet) grow fonder.
2. It helps prevent injury.
Over-training is one of the top causes of injury. You might think that the harder you train, the tougher you'll become, but your body will actually be more at risk for things like stress fractures or pulled muscles without regular recovery. Taking a timeout will help ensure that you'll continue to run injury-free when you come back. I'm not exactly invincible now, but I do think I feel a little stronger and ready to take on my run/the world.
3. It gives your body a chance to recover.
Every runner probably has that nagging ache or pain that bothers her just enough to be annoying but not enough to do anything about it. Taking a little time off can be all the TLC your twinges need to resolve themselves. My left knee occasionally felt like it belonged to an arthritic grandma after a run but I never did anything more than stretch a little bit longer.  After my break, I'm happy to report my knee has felt like its 31-year-old self ever since.
4. It gives you a chance to cross-train.
It's easy to fall into a pattern of strictly running without any cross-training. Take this time to try out a few different classes or machines at the gym, or buy a new workout DVD. You may discover something you enjoy enough to keep up with once you start running again. I love me an at-home workout and rediscovered some addicting strength-training routines in my collection that I've kept up with even though I'm back on my running feet.
Oh and if I could pass along one final tip: no matter how much you missed running, be smarter than I was, and consider easing back into it and maybe avoiding hills the first time out. I did not take my own advice and spent the next two days crying every time I tried to sit down. Not pretty!
If you're still being stubborn, take a moment and read these:
4 Things Every Stubborn Runner Needs To Hear